Chris Hemsworth Reveals His Favorite Avengers: Endgame Scene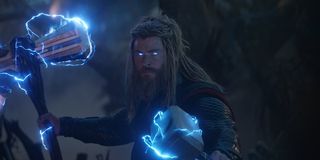 While visiting the Thor: The Dark World era during Avengers: Endgame, Thor Odinson was reunited with Mjolnir, his beloved mystical hammer that he'd lost in Thor: Ragnarok. Thor brought this past version of Mjolnir back with him to the present day MCU, wielding both it and his axe Stormbreaker in battle against Thanos.
But there was someone who proved themselves worthy of using both weapons in Avengers: Endgame, which paved the way for Chris Hemsworth's favorite scene in the movie, as you'll see below.
Ever since he slightly budged Mjolnir in Avengers: Age of Ultron, Marvel fans waited to see if like his comic book counterpart, Chris Evans' Captain America would prove himself worthy of fully wielding the hammer in the MCU. It seemed like that moment would never come when Mjolnir was destroyed by Hela in Thor: Ragnarok, but time travel provides new opportunities.
In this case, Thor was wise to bring The Dark World-era Mjolnir back with him, as Steve Rogers was able to summon the hammer and use it to save the God of Thunder from being killed by Thanos.
Evidently if you're worthy enough to wield Mjolnir, you can also use Stormbreaker, and resulting in the funny moment between Thor and Captain America in Avengers: Endgame that Chris Hemsworth enjoyed, as he told Marvel. While Thor was glad to have Mjolnir back in his hands, evidently he was more comfortable using Stormbreaker once the battle kicked up a few notches and passed off "the little one" to Cap.
This was a fun beat of levity in the midst of what is unquestionably the biggest battle in the MCU thus far. Still, maybe Thor should have used Mjolnir a little more during Avengers: Endgame's third act, as eventually the time came for Steve Rogers to return Mjolnir and the Infinity Stones to their proper points in time. Oh well, at least he still has Stormbreaker to use against his enemies.
While Avengers: Endgame marked the end of Black Widow, Iron Man and Captain America's journeys (although we'll be flashing back to earlier events in Natasha Romanoff's life in the Black Widow movie), Thor Odinson's not leaving the MCU anytime soon. He'll be back in late 2021 for Thor: Love and Thunder, where he'll reunite with Tessa Thompson's Valkyrie and Natalie Portman's Jane Foster, the latter of whom will become The Mighty Thor.
The fact that Jane Foster will also inherit the God of Thunder's mantle has me wondering if Mjolnir will somehow be brought back into play in the fourth Thor movie, either through time travel once more or something different. If it is, then perhaps Thor: Love and Thunder will see the two Thors passing off their respective weapons to one another similarly to what the Odinson and Steve Rogers did in Avengers: Endgame.
Avengers: Endgame is now available on Digital HD, and the Blu-ray and DVD copies will arrive next Tuesday, August 13. You can find out what the MCU has coming up in Phase 4 and beyond with our handy guide.
Your Daily Blend of Entertainment News
Connoisseur of Marvel, DC, Star Wars, John Wick, MonsterVerse and Doctor Who lore. He's aware he looks like Harry Potter and Clark Kent.