Black Widow: Release Date, Cast And Everything Else We Know So Far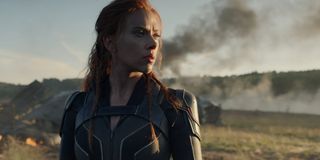 After more than a decade in existence, the Marvel Cinematic Universe is ready to launch a whole new era. While building upon what has already been established, the upcoming Phase 4 will expand the franchise in new and exciting ways, and a big part of that is giving solo movies to characters who have never gotten them before. As it turns out, this includes Scarlett Johansson's Black Widow, who will soon be seen in her own big screen adventure.
But what can we expect from a Black Widow movie? Who is responsible for making it? When will it be set? What other characters will be appearing? There are hundreds of questions currently surrounding the project – but that's why we've built this guide. Based on announcements, news stories, and interviews, we've collected all of the information that we know about the developing blockbuster, and included it here for you in an easy-to-read format. So, without further ado, here's what we know about Black Widow so far:
What Have We Seen From Black Widow?
It's common practice for studios to release trailers for the biggest films of the forthcoming year in December, and that's the exact move that Marvel Studios pulled in delivering the debut trailer for Black Widow in late 2019. That kicked off the movie's first marketing campaign... but that was also at a time when nobody knew what the COVID-19 pandemic would do to the world. Because of the scheduling delays, we've already seen quite a lot of footage from the blockbuster– but still Marvel is expected to put out new material prior to the movie's release to get people re-hyped. You can check out its first ever trailer for the feature embedded below:
What Is Black Widow's Release Date?
With Spider-Man: Far From Home closing out Phase 3 and providing a comedown from the insanity of Avengers: Endgame, Phase 4 of the Marvel Cinematic Universe has begun, and Black Widow will be the first feature film released as part of the announced slate. While the original plan was to have it be one of only two Marvel Studios releases in 2020, set to be followed by The Eternals, the global pandemic forced things to change. After initially being set for release in the first week of May 2020, the movie is now on the theatrical schedule for July 9, 2021, and it will not only be getting released on the big screen, but will also be made available to Disney+ subscribers through Premiere Access.
What Is Black Widow's Rating?
It has been officially confirmed that R-rated Marvel Cinematic Universe releases are on the horizon, as it's been promised that Deadpool will eventually be integrated into the franchise with the same limited boundaries he enjoyed as part of Fox's X-Men world. That's still years away from happening, though, and it definitely won't be Black Widow that begins the new era. Despite rumors to the contrary, the blockbuster will not be the first MCU title to hit theaters with a restricted grading from the MPAA, and will instead be PG-13 just like all of the other movies to date that have featured Scarlett Johansson's titular character.
Black Widow's Director
When it comes to choosing directors for projects, Marvel Studios clearly doesn't care much about filmmakers having past blockbuster experience. After all, James Gunn, Joe and Anthony Russo, Taika Waititi, Ryan Coogler, and more didn't have any prior to working on their respective Marvel projects, and they're responsible for some of the best films in the franchise. What Marvel is really interested in is storytellers and unique approaches, and so that's why they brought in Cate Shortland to take the helm of Black Widow. To date the Australian director has made three features – 2004's Somersault, 2012's Lore, and 2017's Berlin Syndrome – and while none of them are action-driven spy thrillers, the comic book movie company clearly trusts her to operate well in the genre.
Black Widow's Story
Marvel Studios has not yet revealed an full plot description explaining what Black Widow will be about, but certain details have been gleaned from the footage that we've seen thus far, and various interviews with the cast and filmmakers. It has been confirmed that the movie will take place between the events of Captain America: Civil War and Avengers: Infinity War (which isn't too big a surprise given that the eponymous hero died in Avengers: Endgame). Natasha Romanoff a.k.a. Black Widow will be an international fugitive at the start of the story, having violated the Sokovia Accords, and the adventure will take her to Budapest, Hungary, where she will be forced to confront demons from her past – including a reunion with her former colleagues in the spy community.
The Characters And Cast Of Black Widow
With Black Widow, a whole new arena of the Marvel Cinematic Universe is being explored, and within that comes the introduction of a number of new characters and stars to the ever-expanding continuity. We're sure there are going to be some surprises in store, but there are the heroes/villains and actors we know about:
Black Widow (Scarlett Johansson)
Black Widow has been a key player in the Marvel Cinematic Universe from nearly the beginning, first brought to the big screen by Scarlett Johansson in 2010's Iron Man 2 (a.k.a. the third movie in the franchise). She has been a massively important supporting character in seven blockbusters to date, with each adventure providing audiences a few more pieces of her troubled past, but with her first solo adventure we'll now have the chance to do a deep dive. We don't fully know what to expect, as Marvel is being incredibly secretive as usual, but what's revealed may wind up totally changing the way in which we reflect on the heroine going into the future of the canon.
Alexei a.k.a. The Red Guardian (David Harbour)
Steve Rogers a.k.a. Captain America is obviously a very special hero in the Marvel Cinematic Universe, but he was far from the only super soldier created in hopes of advancing a singular country's interest. The Russians have a hero of their own named The Red Guardian, and not only will he be making his live-action debut in Black Widow, but he will be played by Stranger Things star David Harbour. In the comics Red Guardian is at one point the husband of Natasha Romanoff, but based on what we have seen, he appears to be more of a father figure. Based on the footage we've seen, it also looks like the character will start the story in prison – which could mean that the film will feature some kind of prison break sequence.
Yelena (Florence Pugh)
With her roles in Fighting With My Family, Midsommar, and Little Women in 2019, Florence Pugh has quickly established herself as a new "it" girl, and Marvel Studios acted fast in getting her a part in their expansive franchise. Specifically, she will be playing Yelena Belova, who is another Russian spy who went through similar training to Natasha Romanoff, and also carries the Black Widow mantle in the comics. It would seem that the two characters have a good amount of conflict-filled history, as a bone-crunching bout breaks out between them mere seconds after they reunite, but ultimately it looks like they will be fighting on the same side during the adventure.
Mason (O-T Fagbenle)
While most of the characters we know about in Black Widow have a comic book counterpart, Mason remains a bit of a mystery to fans. It was confirmed at San Diego Comic-Con 2019 that Handmaid's Tale star O-T Fagbenle will be playing the part, and it was noted that he is both an ally of Black Widow's and a wannabe love interest, but no real details beyond those have been revealed just yet. It's possible that Marvel is keeping a tight lid on things because of some kind of big secret, but we won't actually know if that's the case until July 2021.
Melina (Rachel Weisz)
Marvel Studios has done an ace job getting Oscar-winning actresses to be a part of their Phase 4 plans, as they not only got Natalie Portman and Angelina Jolie to sign on for Thor: Love and Thunder and The Eternals, respectively, but they have also enlisted Rachel Weisz for a key part in Black Widow. This is another character who will apparently carry the titular moniker in the movie, but given what we know from the source material, she may take on a different name before the end of the film: Iron Maiden. In the comics she is one of Natasha Romanoff's key adversaries, and while she looks like an ally at certain points in the trailer, an antagonist turn isn't off the table just yet.
Taskmaster (?)
We don't yet know who is going to be under the mask, but Taskmaster – a fan-favorite villain from Marvel Comics – has been confirmed to be making his live-action debut in Black Widow. At this point it can't be said if the character's backstory will be altered for the cinematic treatment, but in the source material he has some fascinating abilities. Namely, he has what are called photographic reflexes, which is similar to a photographic memory in that he can instantly recall and imitate any movement of an opponent. He's so good, in fact, that he can study a foe's entire style in a moment (either in person or on video) and then process that information to predict and prepare for any attempted strike. He's one of the greatest fighters in the Marvel Universe, and Black Widow will be seriously challenged when going toe-to-toe with him.
General Thaddeus "Thunderbolt" Ross (William Hurt)
One of the biggest surprises in the Black Widow trailer was confirmation that an important antagonist in the Marvel Cinematic Universe will have a role to play in the movie: William Hurt's General Thaddeus "Thunderbolt" Ross. As seen in the still above, it would appear that the character is going to have a role in the film's flashback sequences (given the use of deaging technology), and reveal that his personal history with Natasha Romanoff goes back further than we know. On top of that, it's very likely that Ross will be continuing to pursue Black Widow during the course of her solo film, given the aforementioned setting post-Captain America: Civil War and the fact that her last action in that blockbuster was to go against the orders of the Sokovia Accords by letting Captain America and The Winter Soldier escape during the Leipzig-Halle Airport Battle.
Dreykov (Ray Winstone)
Best known for movies like The Departed, Beowulf, and Sexy Beast, Ray Winstone is set to make his debut in the Marvel Cinematic Universe playing a Russian general named Dreykov in Black Widow – and if you're a Marvel obsessive, that name probably rings a bell. If so, you may remember that one of the references that Loki makes when he is taunting Natasha in The Avengers about all of the "red in her ledger" is an incident involving "Dreykov's daughter." It seems fair to assume that the former assassin did something really terrible to Winstone's character's child, and he may be out for some revenge (though that's just speculation)
Where Can You Stream Other Black Widow Movies
If you're looking to catch up with all of the movies featuring Scarlett Johansson's Black Widow prior to seeing her first solo film, the good news is that task is remarkably easy to accomplish. After all, every single one of those titles – including Iron Man 2, The Avengers, Captain America: The Winter Soldier, Avengers: Age of Ultron, Captain America: Civil War, Avengers: Infinity War, and Avengers: Endgame – are currently streaming on Disney+ (opens in new tab). If you have a subscription, you can watch all of the films for free; though if you aren't signed up, you can always purchase/rent it digitally from all major platforms.
Be sure to keep checking this space, as we will be continuing to update this feature as we get closer and closer to Black Widow's release, and get excited for this next chapter of the Marvel Cinematic Universe!
NJ native who calls LA home; lives in a Dreamatorium. A decade-plus CinemaBlend veteran; endlessly enthusiastic about the career he's dreamt of since seventh grade.
Your Daily Blend of Entertainment News
Thank you for signing up to CinemaBlend. You will receive a verification email shortly.
There was a problem. Please refresh the page and try again.