Spider-Man: Far From Home Dethrones A Bond Movie To Be Sony's Top Movie Ever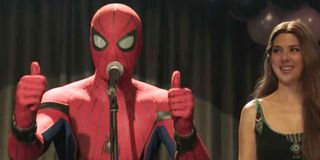 It's no surprise that Spider-Man: Far From Home has made a killing at the box office. The movie is fun and focused on furthering the MCU's goals in exciting new ways, making it a worthwhile entry in the franchise and a home-run for Sony and Marvel. Critics (especially our own Eric Eisenberg) have responded well to it, too. Now, with over $1 billion in box office bucks (so real money) and the world anxiously waiting for more, the Jon Watts-directed mega-hit has just passed another super important, super impressive milestone.
According to the analysts and reporters over at Deadline, Spider-Man: Far From Home is passing the phenomenal James Bond film Skyfall at the worldwide box office this weekend to become Sony's highest-grossing movie of all time. Far From Home is projected to make $1.109 billion this weekend, pushing it past Skyfall's $1.108 billion. The 2012 Bond movie cleaned up at the box office and quickly became one of Sony's most lucrative endeavors (as did its heavily-hyped but surprisingly inferior sequel, Spectre). Some crazy ROI for the company, lemme tell ya.
Far From Home is currently the second highest-grossing film of the year in China, with its preceding MCU installment, Avengers: Endgame, leading by a fair amount. Domestically, the film made $185 million during its first six days in theaters, breaking records for both Sony and the Independence Day holiday. Its opening day haul came in at $39.3 million, an insanely impressive box office pull for a Tuesday. On the domestic front, it's the second-highest grossing live-action Spider-Man film, with the Tobey Maguire-led, Sam Raimi-directed original still holding that coveted top spot. Worldwide, though, Spider-Man: Far From Home is the Spidey movie leader, and the only Spider-Man movie to pass $1 billion.
But while the film continues to rake in obscene amounts of cash, it won't touch Endgame's numbers. That film had far more anticipation and star power backing it, and that's not counting the 11-year build-up to its April release. For a Spidey solo outing, though, these numbers are insane and will only continue to climb. It outpaced its predecessor, Spider-Man: Homecoming, early in its theatrical run, so it will be interesting to see how its inevitable sequel will perform against its staggering success. The still-distant sequel may not benefit from having Jake Gyllenhaal around to charm us all into becoming Mysterio fans, but Watts and company will probably get someone just as talented to square off against the web-head. All of that aside, it's a good time to be a Sony executive.
Spider-Man: Far From Home is now playing in theaters, where it continues to thrill moviegoers of all ages. Haven't been able to see it yet? Get on it! We will likely get word regarding its digital and Blu-Ray releases within the next month or so. We still recommend you see it in the theater, especially because Mysterio's illusions are best experienced on a very large screen with very loud speakers playing.
While you're not doing that, remember to stay tuned for all things movies and television here at CinemaBlend!
Your Daily Blend of Entertainment News