The evolution of comic book movies over the last 19 years has been astounding. It used to be that superheroes were a questionable big screen entity, and thus characters established in fiction for decades were forced to fit a more traditional cinematic mold. But that is no longer the world that we live in. With stories about the exploits of costumed vigilantes now the most in-demand blockbuster material out there, filmmakers have been given the green light to hone closer to not only the more outrageous aesthetic elements of the source material, but the out-there story ideas as well.
Needless to say, this development has been a remarkable dream come true for lifelong comic book fans. Hollywood studios are now spending millions upon millions of dollars supporting visions that previously only existed in our collective imaginations – inspired by the images and words on the page. What we used to wish for is now not just anticipated, but expected; and what used to be niche is now popular and ubiquitous.
Jon Watts' Spider-Man: Far From Home is a perfect example of this phenomenon. Twenty-five years ago nobody would have spent $160 million on a movie about Spider-Man seeing his summer vacation interrupted by adventures featuring a mystery man wearing green and purple costume and a crystal ball for a head, but now it's a relatively standard July blockbuster – and a pretty damn good one at that.
It's not the zenith of web-slinger movies, as particular story elements and plot developments hold it back from real greatness, but its positive qualities certainly outweigh its faults. Picking up from where Spider-Man: Homecoming left off, once again we are presented with a cast of characters charged with tremendous charm and charisma playing out a narrative that is effortlessly entertaining and filled with wonderful, memorable set pieces.
The first feature to show audiences the Marvel Cinematic Universe in the aftermath of Avengers: Endgame, Spider-Man: Far From Home finds Peter Parker (Tom Holland) very much struggling without his mentor, Tony Stark a.k.a. Iron Man. As burdened as he is naturally because of his "with great power comes great responsibility" philosophy, societal pressure is also mounting to see him step up and become the world's new #1 superhero – and even with the love and support, respectively, of Aunt May (Marisa Tomei) and his primary Avengers contact, Happy Hogan (Jon Favreau), it's a bit more than the teenage hero can handle. Add in the craziness of having missed the last five years on Earth because of what's referred to as The Blip, and what he craves more than anything is a vacation.
Fortunately that's exactly what he has lined up through his school, which is organizing a summertime trip for his class traveling all around Europe. Peter has every intention to leave his Spider-Man suit behind and just be a normal kid for a few weeks, particularly so that he can woo his new crush, M.J. (Zendaya)… but this is a character that classically never ever gets what he really wants out of life, and that's a trend that continues here.
In the weeks leading up to Peter's trip, Nick Fury (Samuel L. Jackson) and Maria Hill (Cobie Smulders) have been facing off against extraterrestrial threats dubbed the Elementals, and while they've received assistance from a new hero named Quentin Beck a.k.a. Mysterio (Jake Gyllenhaal), they need Spider-Man's help in the matter as well. The wall-crawler is initially reticent, particularly because of his desire to keep his classmates in the dark about his secret identity, but eventually convinced by Beck to join the fight.
The film is big, bold, and littered with large-scale, globetrotting action, but its noticeable limitation is in the "Big Idea" arena. The best Marvel movies (like Guardians of the Galaxy, Captain America: Civil War, and Avengers: Endgame) and even the best Spider-Man movies (like Spider-Man: Into The Spider-Verse) stand out because they moved chess pieces around in ways that the superhero genre had never seen before, and that's not precisely one of the things that Spider-Man: Far From Home is able to accomplish.
It is certainly a blockbuster made with ingenuity, and it makes more than a few clever and smart choices, but it also never makes any deep dives into the unexpected with its plot, and it isn't exactly the game-changer you'd like to see this far into Spider-Man's big screen legacy (especially for those overly familiar with the hero's comic book legacy). Ultimately it feels like a lot more energy was put into the characters instead of the story, and while that approach winds up making it a good movie, it also holds it back from being a truly great one.
In the film's defense, the balance is understandable considering what it's working with ensemble-wise, and it really does do a wonderful job utilizing it. Tom Holland once again delivers a performance that furthers his claim as the one true cinematic Spider-Man, and his emotional journey over the course of the film is not only real, but perfectly fits the classic tenets of the character. As much as it may pain him, and as much angst as it may cause him, this is a hero who will always carry the weight of the world on his shoulders when he is needed, and that's entirely reflected in his Spider-Man: Far From Home arc.
While saying too much would be heading into spoiler-territory, Jake Gyllenhaal's Quentin Beck is also magnificent. Returning to earlier sentiments, just seeing Mysterio in his full fishbowl-headed glory feels like a miracle, as the costume in which he is outfitted couldn't be a better representation of the design originally imagined by Steve Ditko in 1964. But it's also a superb adaptation of the character in general, as while there are some important changes made to fit the story being told, the core elements always shine through.
This is one of the few sequels out there that also makes excessively good use of its returning supporting performers, which is very much a positive given the assemblage of such awesome young talent. Continuing to offer up a whole new interpretation of M.J., Zendaya brings a sharp, funny edge to the character, as she challenges Peter in precisely all the right ways. Jacob Batalon's Ned Leeds remains a delightful source of comedic relief – particularly because of his excellent chemistry with Tom Holland – and Tony Revolori's Flash Thompson interestingly provides a similar energy, albeit with a polar opposite relationship with the protagonist. It's also fantastic to see an expanded role for Angourie Rice's Betty Brant, who is made a part of the core cast, and has a nice collection of memorable moments.
Between its large ensemble and country-hopping script, this is a movie that very clearly required a lot to rein in, and Jon Watts deserves enormous credit for the work. Spider-Man: Homecoming seems tiny in comparison to the scope of this film, and it's amazing to see how far he has come as a blockbuster filmmaker in such a small window of time. Particularly thanks to both Mysterio and the Elementals, this is an adventure packed with epic action (made with stunning visual effects), and Watts keeps you on the edge of your seat and smiling through each and every one.
The 21st century world has never really been given an opportunity to miss Spider-Man on the big screen, as Far From Home is now the 10th feature in which the character has appeared in the last 17 years – but with films like this audiences aren't going to grow tired of him any time soon. It does leave much to be desired in the surprise department, but what it lacks in effective twists it mostly makes up for with impressive character drama, and enthralling, exciting, energetic entertainment.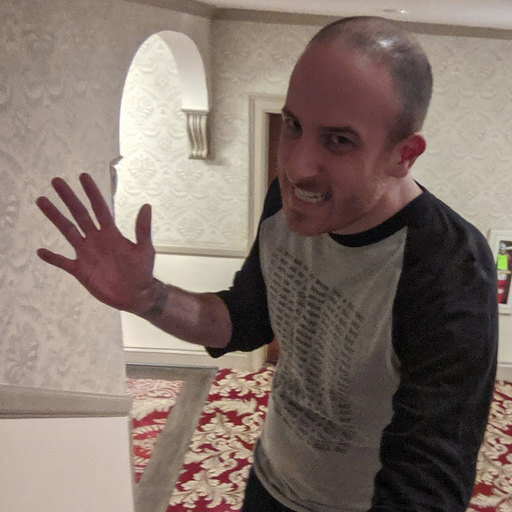 Assistant Managing Editor
NJ native who calls LA home and lives in a Dreamatorium. A decade-plus CinemaBlend veteran who is endlessly enthusiastic about the career he's dreamt of since seventh grade.