6 Walt Disney World And Disneyland Announcements We Hope To Hear At D23 Expo 2019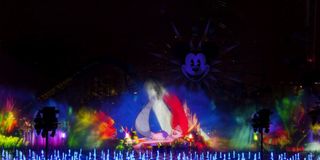 Walt Disney said that as long as there is imagination, his theme parks would never be finished. Disney's Parks division, encompassing both Disney World and Disneyland, has never been short of imagination, and as such, the parks are always in a constant state of flux. There are always new things being added to the likes of Magic Kingdom, Epcot and others, some of which we know about through leaks and rumors, although we often don't hear about many of them until D23 and other big events.
In fact, often the major announcements regarding what's coming to the Disney theme parks happen at Disney's big D23 Expo. On Sunday, the Parks division will take center stage at D23 and here's everything we're hoping to hear about.
Guardians of the Galaxy Roller Coaster Story Details
Disney's ability to use Marvel characters at Walt Disney World is severely limited, which means that the previously announced Guardians of the Galaxy roller coaster may be one of the only Marvel attractions we see in the resort for a very long time. However, beyond the fact that it will exist, and the sort of ride vehicles it will use, we know essentially nothing about it.
The plan is for this attraction to open in time for Walt Disney World's 50th anniversary in 2021, but it will certainly open earlier if possible. It would be great to get a more precise window for opening if nothing else. Also, an official name would likely give us an indication of the sort of story the ride will tell. There were rumors of the story a couple years ago, but so much has happened with this franchise since then, I wouldn't count on any of that still being accurate. We're assuming the MCU actors will return as they did for Mission: Breakout at Disney California Adventure. Could we see other members of the cosmic MCU making an appearance as well?
Play Pavilion Details
Epcot's Wonders of Life Pavilion is currently being renovated to make room for something new. It's being called a play pavilion and has been rumored to include attractions and/or meet-and-greets associated with Zootopia and Wreck-It Ralph among, potentially, more.
An official name for the pavilion, as well as confirmation of what sorts of things will be inside it, would be very welcome. The various Epcot pavilions are popular with diehard fans, so the loss of Wonders of Life is still felt by many. But if it's replaced by something equally impressive, all will likely be forgiven.
Spider-Man Attraction Details
Across the plaza from Disneyland, Disney California Adventure is currently building a new land dedicated to Marvel characters. On the eve of D23 it was revealed that the land will be called Avengers Campus, because actually using Marvel in the name apparently wasn't an option.
I'm very curious if we'll get any news detailing the Spider-Man attraction. Last week I would have guessed that Tom Holland would have been part of it, just as the Guardians of the Galaxy actors are part of the Mission: Breakout ride, but with the recent Marvel/Sony news, that might not be the case anymore. It will be interesting to see how the dealings on the movie side might be impacting the theme parks.
Star Wars Hotel Details
One of the more nebulous Walt Disney World items on the slate for the future is the Star Wars-themed hotel attached to Star Wars: Galaxy's Edge. A new rumor has indicated how much it might honestly cost to stay there, and while I certainly don't expect to get that confirmed, some new information, would be useful. We have already learned that the ship is called the Halcyon and is a Galactic Starcruiser that is part of the Chandrila Star Line.
A little tease as to the adventure that guests will be going on during their two-night stay wouldn't hurt either. Will this be a canon adventure in the Star Wars universe? If so, how will it tie into the movies? I'm not expecting a great deal of detail yet, but if rooms are going to cost as much as is rumored, giving people a reason to want to spend that kind of money isn't a bad move.
The First Fox Ideas For The Parks
It's only been a few months since Disney officially took ownership of 21st Century Fox, which means it's going to be a long time before we see any Fox properties really take hold in the parks. It was three years after Disney bought Lucasfilm that what would become Star Wars: Galaxy's Edge was even announced, after all. But that doesn't mean we won't get some sort of confirmation that something related to the Fox brands will be happening in the parks.
Most of this stuff is likely still very much in the "blue sky" phase, but we might still get an idea of what properties are being considered for potential attractions. Also, something like a walk-around character being added to an existing land would be a simple enough thing to do quickly, thus providing a hint of what's to come.
Something We Don't Expect
All too often, Disney parks news gets leaked prior to the official Disney reveal. We knew that a Marvel land was coming to the Disneyland Resort years before it was confirmed. Sometimes, however, something is truly kept behind close doors and fans get blown away when something they never suspected happens.
For the most part, we know everything that's coming to the Disney World and Disneyland in North America, but it would be awesome if the company announced something that hasn't been rumored. I'm not expecting a third gate at Anaheim or anything (though I wouldn't turn it down), but anything that we don't see coming would be exciting simply because it was unexpected.
I fully expect most or all of these items to be touched on in some way. The ones that we all know are on the way will be given some sort of update, but hopefully it won't just be concept art and teases, but some real confirmations of what we're going to get and when we're going to get it.
Your Daily Blend of Entertainment News
Content Producer/Theme Park Beat
CinemaBlend's resident theme park junkie and amateur Disney historian. Armchair Imagineer. Epcot Stan. Future Club 33 Member.