5 Big Things We're Hoping To See From Star Wars At D23 Expo 2019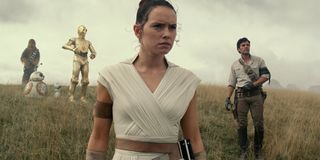 This upcoming weekend is a big one for Star Wars fans around the globe. The Walt Disney Company will be hosting their biannual D23 Expo down in Anaheim, California, and in addition to being a major venue for news about Pixar, Walt Disney Animation, Marvel, and more, it's also a major happening for the franchise set a long time ago in a galaxy far, far away. Big announcements are going to be made, and expectations are very high.
Between both the Disney+ and live-action movie presentations, there will be ample opportunity for Star Wars awesomeness during the D23 Expo festivities, and we couldn't be more hyped. And having been on the ground the last four times the event was held, here are the happenings that we are most hoping to see from the franchise at the convention:
A Wide-Released Mandalorian Trailer
In this particular case, it's not so much about a thing we're "hoping" to see, but instead a thing that we know we're going to see. But even if it weren't revealed early that we will be seeing a trailer for The Mandalorian at D23 Expo 2019, we still would have predicted it. The first ever live-action Star Wars series is set to debut with the launch of Disney+, and considering that's happening in early November, now is really the perfect time to give fans a glimpse of what to expect.
The first ever footage from The Mandalorian was shown earlier this year during Star Wars Celebration in Chicago, but that material was exclusively for that audience. This time around that won't be the case. While fans physically at the D23 Expo may also get treated to a complete scene or extended sequence (stay tuned to CinemaBlend on Friday for more on that front), there will definitely be a trailer that audiences around the globe will be able to see for themselves.
A New Preview Of Star Wars: The Rise Of Skywalker
Of course, The Mandalorian preview wasn't the only massively anticipated material that was shown at Star Wars Celebration in Chicago. It was during the April event that Lucasfilm revealed the first ever trailer for J.J. Abrams' Star Wars: The Rise Of Skywalker. That's important, because it was also the last time that we got to see anything from the actual movie. No other trailer has been launched for the blockbuster since then, and while we may still have to wait until after D23 Expo 2019, the event may not leave fans totally empty handed.
When it comes to the sequel trilogy, which has been coming out biannually just like D23 Expo, there is a certain pattern that is followed. Specifically, while there may be some new poster art revealed, it usually isn't the place where trailers are released. With Star Wars: The Rise Of Skywalker not due out until December, Lucasfilm has a bit of time before they put the hype machine into full gear, so we probably won't see Trailer #2 just yet. At the very least, though, the new artwork should come paired with get a cool behind-the-scenes featurette about the making of the blockbuster that may feature a hint or two about the plot and how the beloved characters factor in.
The Obi-wan Kenobi Disney+ Series Confirmed
Earlier this month the news broke that Disney+ is developing a series about Obi-wan Kenobi – and the timing of that story with the forthcoming events at D23 Expo 2019 is surely no coincidence. When it comes to big conventions, it's common for certain details about big announcements to break prematurely, and this seems to be one of those cases. Just think about the reports regarding Taika Waititi signing a deal to director Thor 4 right before San Diego Comic-Con back in July.
Of course, the news about Waititi's involvement with Thor 4 was ultimately only the tip of the iceberg, with the project also revealing a title, and announcing the return of Natalie Portman to the Marvel Cinematic Universe. Don't be surprised if the situation with the Obi-wan Kenobi Disney+ series winds up being similar. Right now we might know that the show is in the works, but it's very possible that the streaming service presentation at D23 Expo 2019 will reveal a lot more details (though not too much – this is still Star Wars after all).
First Details About The David Benioff/D.B. Weiss Trilogy
While Star Wars has been a constant presence in Hollywood since the "relaunch" of the bramd with Star Wars: The Force Awakens in 2015, things will be slowing down a bit after 2019. Not only will there not be any in-continuity titles released in 2020, but we won't be seeing any in 2021 either. In modern franchise filmmaking, that's a pretty long spell, but one way that Lucasfilm could stoke the coals is by revealing the first details from the next trilogy of films – specifically those being developed by Game of Thrones showrunners David Benioff and D.B. Weiss.
We don't expect that they will give the entire game away, but this happens to be a franchise where even the most minor details means a ridiculous amount to the fans. This includes material like confirming where the stories will take place in the timeline, or what kind of business the protagonist is in. Telling fans any of this kind of information at D23 Expo would be tremendously exciting, particularly because the trilogy wasn't brought up a single time at Star Wars Celebration, and it could launch speculation that will keep us talking until the next D23 Expo in 2021.
A Star Announced For The David Benioff/D.B. Weiss Trilogy
For this last hope, we're just taking a big swing. It's true we'll be lucky if we learn anything at all about the David Benioff/D.B. Weiss Star Wars trilogy at D23 Expo 2019, but we're going to keep our fingers tightly crossed that it also winds up being the venue where Lucasfilm announces the lead actors that will be at the center of the new series. It's not uncommon at all in Hollywood for franchise projects to be built around exciting and charismatic new stars, and it's not entirely unbelievable that the developing movies have been doing some incredibly quiet casting work.
The chances of this happening are tremendously slim, but the D23 Expo would be a great place for the reveal given the incredible star power that has graced the stage at the Anaheim Convention Center in past years. And if it does happen, you'll probably be able to hear the audience reaction all the way in London.
CinemaBlend will be on the ground at D23 Expo 2019 this weekend attending the presentations, reporting breaking news, covering the press lines, and filming reaction videos, so be sure to stay tuned on the site Friday, Saturday, and Sunday for all of the best action that comes out of the convention.
Your Daily Blend of Entertainment News
Assistant Managing Editor
NJ native who calls LA home and lives in a Dreamatorium. A decade-plus CinemaBlend veteran who is endlessly enthusiastic about the career he's dreamt of since seventh grade.
Your Daily Blend of Entertainment News
Thank you for signing up to CinemaBlend. You will receive a verification email shortly.
There was a problem. Please refresh the page and try again.