Rocketman And 7 Other Summer Movies That Were Surprise Successes For Hollywood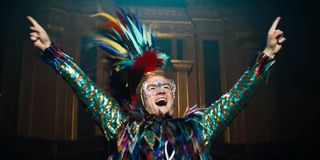 The year 2019 has often been one of box office victory stories, with the most gigantic one being that of Avengers: Endgame breaking the record to become the highest-grossing film ever. Though looking at the entire MCU, the picture is just as bright, and if you were to leave it at that property alone, it would be a pretty impressive year.
However, there have also been some pretty surprising successes that slipped under the radar as well. Summer movie season is a busy time of year, and as such, there's plenty of opportunity for smaller films to make a good amount of cash. This films sometimes do this by being really perfect counterprogramming or simply finding niche fans who will return over the course of several weeks.
Rocketman is a good example of this phenomenon, as its box office run is winding to a close and it is, in fact, headed to physical release on home video today. So we'll start there, and work our way through the rest of the summer's surprise successes. There were quite a few movies that ended up doing fairly well that you may not have guessed did quite so hot.
Rocketman
Release Date: 5/31/19
Budget: $40 Million
Worldwide Gross: $187.9 Million (to date)
In the wake of Bohemian Rhapsody's landmark success, it wasn't a given that Elton John's biography Rocketman would succeed at all. But sure enough, a late May slot allowed Taron Egerton's tour-de-force performance to rack up almost five times its production costs in theatrical exhibition.
Rocketman is technically still showing, so those numbers are bound to change. Considering the film will be out on physical media, and has been available on Digital HD for a bit, it probably won't move the needle too much.
The Intruder
Release Date: 5/3/19
Budget: $8 Million
Worldwide Gross: $36.6 Million
Out of the two films actor Dennis Quaid launched this year, no one would have thought that the thriller The Intruder would be the one that actually struck box office gold. The surprise success of A Dog's Purpose felt like a lightning rod that would electrify audiences to make it happen again with this summer's A Dog's Journey.
And yet, The Intruder put up numbers that, while smaller in quantity, are roughly on par with the performance of Rocketman. $36.6 million against an $8 million budget is a pretty penny for a movie that played to more of a genre-friendly crowd; but that's not the only niche hit you'll see on this list. Not by a long shot.
Brightburn
Release Date: 5/24/19
Budget: $6 Million
Worldwide Gross: $32.5 Million
Sure, Avengers: Endgame and Spider-Man: Far From Home both proved that superhero movies are still basically money printers. If you went into summer 2019 thinking that wasn't going to happen, you were a damned fool. However, James Gunn proved that even as a producer on a film as dark and exciting as Brightburn, there was gold in them there supers.
Mashing up The Omen and Superman: The Movie made this ultimate tribute to Richard Donner a $32.5 million smash on a $6 million budget; and that's with the first weekend bringing in a little over that production budget figure. While there was a huge drop in box-office between the first and second weekends of business, Brightburn still took quite a bit of the world's money, all things considered.
Ma
Release Date: 5/31/19
Budget: $5 Million
Worldwide Gross: $60.6 Million
If anyone knows how to make a movie for a micro-budget and hype it up to reap the benefits, it's truly the folks at Blumhouse Productions. The brand that's made a cottage industry out of hip horror flicks has had many successes chalked up to its name, even outside of its home base of scream-driven entertainment. So naturally, while a lot of moviegoers liked Ma enough to see it in theaters, they didn't exactly keep its name on their lips the whole summer.
It doesn't matter though, considering director Tate Taylor's exercise in making Octavia Spencer a frightening force to be reckoned with started with a $5 million seed and grew into a $60.6 million-grossing tree. An early September home video release will ensure this scream fest will be available for the Halloween season, which should pocket a nice booster of cash from seasonal enjoyment.
Yesterday
Release Date: 6/28/19
Budget: $26 Million
Worldwide Gross: $130.8 Million (to date)
Another movie that's still technically running in theaters, but is ready to come home to fans who missed it the first time, is director Danny Boyle's Yesterday. A story about how a freak electrical surge wipes The Beatles from the collective memories of the world, and the one man who brings their music back to life, it was a concept that sounded right in Boyle's wheelhouse.
Costing a respectable $26 million, Yesterday sang its way to $128.6 million in grosses at the time of this writing, the highest-grossing film of the director's career thus far. That seems to be the rough neighborhood that this film is going to land in when all is said and done, but with no pre-existing IP to build off of, this is an even sweeter win for original concepts at the movies.
Crawl
Release Date: 7/12/19
Budget: $13.5 Million
Worldwide Gross: $70.2 Million (to date)
Crawl is a movie that seemed to have snuck up on audiences when it was released in the middle of the July box office. With a stealthy marketing campaign that was as tight as the film itself, director Alexandre Aja's return to the horror genre took a pretty sizable bite out of the box office.
Much like the alligator menace that stalks this film's waters, Crawl has had a slow-but-steady race at the box office. For a movie with an original story, a runtime close to an hour and a half, and Sam Raimi's signature as a producer as its additional claims to fame, this is a pretty fantastic result for Crawl, particularly given the way that the box office tends to cycle these days.
Scary Stories To Tell In The Dark
Release Date: 8/9/19
Budget: $25 Million
Worldwide Gross: $71.9 Million (to date)
We round out this list with two hits that are still making a name for themselves, but have already gained a good level of ground in their early days. The first is a film that may have had more luck debuting around Halloween, but has still raised the dead for a late summer hurrah: Scary Stories To Tell In The Dark.
Guided by the pen and executive producer-ship of Guillermo del Toro, this adaptation of a legendary set of young adult novels didn't skimp on pushing the PG-13 rating to its hardest limit. As a result, good word of mouth had lead this film to not only land a second place debut in the wake of Hobbs & Shaw mania, but it's also brought in over doubled its budget and then some in three weekends. Cross your missing toes this leads to More Scary Stories To Tell In The Dark.
Good Boys
Release Date: 8/16/19
Budget: $20 Million
Worldwide Gross: $48.9 Million (to date)
Perhaps one of the most important -- and definitely the most recent -- stories of unexpected success is that of Good Boys bringing the R-rated comedy some much-needed assistance. This wasn't a sure bet, as audiences seemed lukewarm on attending the very similarly themed Booksmart, forcing some to question if this type of film was dead in a world where superheroes reign supreme.
Two weekends have given the Good Boys crew enough money to make another film on the same exact production budget, and then a little. That's pretty good news for a movie in a genre that was questioning its own existence. Whether or not the next couple of weekends will be as rewarding has yet to be seen, but the conditions could be right for the Seth Rogen-produced riff on some very Superbad material to sneak more money into its piggy bank in the coming weeks.
Every year has its summer surprises, and this class of flicks happen to be the ones that have made 2019's hotter months at the box office all the more exciting. It just goes to show that while the surface of the movie market picture may look like superheroes and countless adaptations or reboots, if you look closely enough, you can see the real action going on underneath the façade.
And bringing it all back around to the film that brought us to the dance, Rocketman is currently available on Digital HD, with DVD, Blu-ray and 4K Ultra HD hitting shelves tomorrow.
CinemaBlend's James Bond (expert). Also versed in Large Scale Aggressors, time travel, and Guillermo del Toro. He fights for The User.
Your Daily Blend of Entertainment News
Thank you for signing up to CinemaBlend. You will receive a verification email shortly.
There was a problem. Please refresh the page and try again.