The 8 Best Lord Of The Rings Characters, Ranked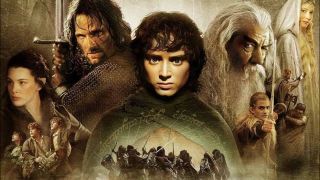 First created by author J.R.R. Tolkien in his indelible fantasy series, and later deservedly brought to life in Peter Jackson's gorgeous and sprawling trilogy, The Lord of the Rings has resonated with audiences everywhere, and for a very good reason. The epic, expansive story is a timeless one, offering a hero's journey in a clear, yet compelling, manner that provides great arcs, tremendous set pieces and incredible action beats.
Some of the best moments, though, were often centered on the characters, and how we watched them rise, fall, and ultimately grow, throughout their journeyed plight. In order to stay invested in the story with three prolonged chapters like The Lord of the Rings, you need to value the characters and want to follow there and back again in the midst of peril, personal anguish, selflessness and satisfying growths in the midst of their long and laborious journeys. It is, therefore, a credit to the author, the screenwriters, the director and the talented actors that these various characters have become so compelling and universally beloved throughout their adventures on the page and on the screen.
We'll be seeing more of these well-liked characters soon enough in the heavily-teased new LOTR streaming series, which will premiere on Amazon in the next couple years. Whether it lives up to the films and be worth the reported $1 billion investment from Amazon is totally up for question at this point, and we're both very excited and tremendously nervous to see what will become of this new take on J.R.R. Tolkien's acclaimed fantasy series and its surrounding mythos. For now, though, we're looking back at these famous, endearing characters and picking our personal favorites, while also explaining why we loved them throughout this beloved trilogy.
8. Galadriel (Cate Blanchett)
At once awe-striking and awe-inspiring, Galadriel is a high-standing source of great guidance and wisdom. Through her beauty and her elegance, she provides a captivating and divine sense of power and majesty. She has seen many wondrous things and lived through great triumphs and terrors, and while she looks young and pristine, it's clear that her soul has lived through many lives and years.
Galadriel knows of the utmost serious and grave importance behind what Frodo, Gandalf and all the other noble travelers must do in order to prevail against the outstanding terrors creeping within their wake. Played with sheer, ravenous godliness by a young Cate Blanchett, Galadriel was an early sign of the peerless thespian she would later become.
7. Saruman (Christopher Lee)
Undoubtedly among the most powerful and awesome characters populating The Lord of the Rings trilogy, Saruman is often a character relied upon to provide fear and threat. Still, there's no denying the conviction and persistence through which the late, great Christopher Lee brought such command and resolve into this menacing character.
Filled with vengeance and fury, Saruman allowed Lee to bring the magnetism and presence that served him well throughout his career into this all-important supporting character. It would ultimately serve as one of the actor's most famous and remarked-upon career performances.
6. Gimli (John Rhys-Davies)
Perhaps an unorthodox choice among the Lord of the Rings character ensemble, Gimli is nevertheless easily among the most identifiable and — in my view — lovable beings who graces the screen in Peter Jackson's three blockbusters. Gimli is played wonderfully and vividly by John Rhys-Davies, and the character actor makes what could've easily been an indistinctive supporting character into a vibrant, energetic and highly personable protagonist.
What he lacks in stature, he makes up for it in enthusiasm, integrity, ingenuity and a wealth of humor, and it's hard to think of any characters who brings such great joy from even the hint of their appearance than Gimli. That makes him an easy choice bring up for the best and most lovable of the Lord of the Rings characters.
5. Frodo Baggins (Elijah Wood)
As the central protagonist of this expanded tale, Frodo is the eyes through which viewers are thrown into the magical wonders, terrors and spectacles we see in the land of Middle Earth and Mordor. Played by Elijah Wood, Frodo is guileless and unassuming, but there's a genuine sweetness, commitment and loving kindness and determination that makes him an easy character to root for. He's clearly someone who wants goodness to prevail and prevent the darkness of the world to be unveiled.
Next to his trusted companion Samwise, Frodo might not be the most intriguing, layered or outright compelling character that draws attention in this long journey. But it's clear that Frodo is a very good, loyal hobbit. His fine, noble sense of duty and perseverance keep him humble and willing to cast away the evil which plagues the world. He's a character with whom we can trust that this awesome power is in safe hands.
4. Samwise Gamgee (Sean Astin)
Among all the pivotal characters in The Lord of the Rings, Samwise the Good is certainly among the ones who have the most loving, gratifying and essential narrative progressions found within the trilogy's outstanding turn-of-events. Played with great humor and heart by Sean Astin, Sam is once seemingly a stubborn and uninspired character who finds himself thrust almost unwilling into this graven and peril-filled adventure. He provides strength and inspiration for Elijah Wood's Frodo, proving his valor and devotion as a loving and lasting character in some of the series' richest and most emotionally-rewarding segments.
Sam is certainly among the characters who feels the most wholly-realized once his journey comes to a close at the end of The Return of the King, and it's clear that these events not only turn him in a moral and noble hobbit, but a great and essential one. To J.R.R. Tolkien, Samwise is the "chief hero" of the story, and the character without whom the quest would not be successful. We fully believe that here.
3. Gollum (Andy Serkis)
Both a technical marvel and a distinctly developed entity, Gollum isn't merely a special effect, but a character filled with tragedy, destruction, and terrifying complexity. Very memorably brought to life by the wonderfully talented Andy Serkis, Gollum is consumed by emotional depth and inner turmoil. Gollum is a literal two-sided character who often battles within himself to determine whether good or evil must win out as he helps to guide Frodo and Sam to their final destination.
Gollum is undoubtedly one of the most (precious) fleshed-out characters in the entire trilogy, providing audiences with a spellbinding display of CGI wizardry and revolutionary character work from one of blockbuster filmmaking's most gifted performers. Through this combination of great visual effects, outstanding acting and dark character pathos, it is easy to see why Gollum is not only among the most memorable and lasting characters in this expansive trilogy, but easily among the absolute finest characters in all of fiction.
2. Aragorn (Viggo Mortensen)
Filled with valor, strength and nobility, Aragorn is a great warrior and leader, and he's a character with whom inspiration and guidance can be found. The son of Arathorn, Aragorn was born from tragedy and destruction, and rises to great heights in the progression of these three films. Viewers watch Aragorn evolve into the character of legend that he was destined to become, and we see the character's resolve and majesty finally come fruition by the end.
Played with great triumph by Viggo Mortensen, Aragorn is a character who is captivating, commanding, compelling and filled with a sense of resolution that feels fitting and formidable as we follow him during these three intertwined films. It's easy to see why he ascends to greatness, and why movie viewers continue rewatching him do just that.
1. Gandalf (Ian McKellen)
Gandalf is a benevolent elder figure filled with depth, intelligence, insight and personality, and he also happens to tower over other central characters — both literally and figuratively — in their quest to restore prosperity and restore harmony and balance. The literal Christ figure in this Catholicism-drenched mythos, Gandalf dies and returns again in the midst of these three movies. The bearded mystic is a noble and wise character who doesn't so much progress linearly as he ascends throughout the journey, reaching his full wit, heart, depth and presence in the brave, bold transformation the elder wizard-like figure takes throughout this ongoing journey.
Ian McKellen gives an indelible performance throughout the films, completely transforming into the role, and Gandalf is THE character who completely becomes one with his in-print counterpart. McKellen gives an outstanding performance, and the character's wisdom and honor makes him an easy favorite.So much so that it's impossible to imagine anyone else in the role, though Sir Sean Connery was once rumored to be the first choice.
These are just eight of the many great characters in The Lord of the Rings. There are clearly many more worth considering (I can hear the cries of distain at the lack of Legolas inclusion), and there's a great case to be made for all the characters that weren't included in this list. Therefore, we recommend you hit the comment sections with your personal favorites, and why you think they deserve a higher ranking above the ones on this list. And stay tuned for the Lord of the Rings TV series hitting Amazon in the distant future.
Your Daily Blend of Entertainment News
Will is an entertainment writer based in Pittsburgh, PA. His writing can also be found in The Playlist, Cut Print Film, We Got This Covered, The Young Folks, Slate and other outlets. He also co-hosts the weekly film/TV podcast Cinemaholics with Jon Negroni and he likes to think he's a professional Garfield enthusiast.