Godzilla: King Of The Monsters Honest Trailer Goes In On Its Complicated Plot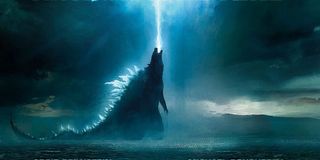 Touted as one of the biggest blockbusters of the summer, Godzilla: King of the Monsters proved to be a hit with those who actually saw it, and be somewhat well-received by critics. The film enjoys a "B+" on Cinemascore, indicating a general satisfaction shared by opening weekend audiences. At the same time, though, a healthy number of moviegoers really weren't happy. Basically, it seems like there's not any ambivalence toward the film; it's either reviled or revered. Maybe they just needed to see Kong: Skull Island to understand and appreciate King of the Monsters? Who knows. But Honest Trailers definitely picks a side, pointing out how busy and bloated the film is. You can check out the new video below:
The video makes some great points. Godzilla: King Of The Monsters has too many human characters we don't care about, and every monster fight takes place in near-darkness. It's frantic, disorganized, and a bore. It's arguably too ambitious, even for a big-budget monster movie.
Godzilla: King of the Monsters currently sits at 41 percent on Rotten Tomatoes - a much lower score than those received by both 2014's Godzilla and 2017's Kong: Skull Island. It's also the third lowest-grossing release in the nascent Monster-verse, failing to make more than $400 million worldwide while it's predecessors easily eclipsed $500 million.
The film functions as the lead-in to 2020's Godzilla Vs. Kong, which promises more monster versus monster action - and based on what we saw with this chapter, it will either thrill or bore audiences. Again, there probably won't be a fence for people to sit on here. Either they will hate it or they will love it. That being said, I still remain more excited for Godzilla Vs. Kong than I was for King of the Monsters, as I hope it delivers in ways that the recent sequel couldn't.
Directed by Adam Wingard, the film will see the return of Millie Bobby Brown, Kyle Chandler, and Ziyi Zhang in their established roles, while new additions to the franchise include Rebecca Hall, Jessica Henwick, Lance Reddick, Eiza Gonzalez, Alexander Skarsgard, Brian Tyree Henry, and more. As noted in the video, Godzilla Vs. Kong has already completed production, and will be heading to theaters in the first few months of next year. Knowing that it's post-production process is happening in the wake of the release of Godzilla: King Of The Monsters, it will be interesting to see how or if the film is ultimately affected by the criticisms.
What do you think? Did you agree with the thoughts in the new Honest Trailer? Or do you think that Godzilla: King Of The Monsters stands up against the criticisms leveled against it? Let us know in the comments section below, check out what the rest of the year holds for moviegoers, and give this video a watch to discover everything we know so far about next year's Godzilla Vs. Kong.
Your Daily Blend of Entertainment News
Thank you for signing up to CinemaBlend. You will receive a verification email shortly.
There was a problem. Please refresh the page and try again.