IT Chapter Two Director Reveals One Deleted Scene, What He Wants To Include In Supercut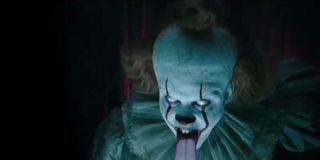 With IT Chapter Two having arrived in theaters, the film adaptation of Stephen King's massive novel is now complete. Well, not really. While the movies are done, director Andy Muschietti is already talking about putting together a supercut. This would be a massive combination of both movies that would also add in all of the scenes that were filmed for both movies but cut out, and now Muschietti has revealed what one of those scenes actually is.
The history of Pennywise the dancing clown and where he may have come from is dealt with to a degree in both movies, but never truly explained. It seems that a scene was originally shot that would have shown the clown's history, but the director decided that ultimately the scene didn't work as it actually explained too much.
The analogy to a magic trick Muschietti makes to Consequence of Sound is a good one. The fun in watching magic is in not knowing how it works. We know it's a trick, but the mystery of the execution allows for the suspension of disbelief.
In movies and television, frequently the revelation of a mystery isn't as satisfying as the mystery itself was. Stephen King himself often leaves the "why?" of his books out entirely. A terrible thing happens to an ordinary person but where the terrible thing came from isn't important. We don't know why Carrie has telekinesis, she just does. What's important is what happens because she does. When King does try to explain things, it frequently doesn't go well.
The scene Andy Muschietti filmed for the IT movie doesn't appear in King's novel, and it seems that ultimately the director decided to follow the author's example and not reveal too much about where Pennywise comes from.
In the end, the movie reveals less than the book about the origin of the evil. The book gets very ethereal and deals with concepts of the Macroverse and the multiverse and many would argue that the book goes a bit off the rails when it does that. It seems that Muschietti ultimately learned from Stephen King's bad example, and decided to hold back on too many explanatory details.
Of course, if the scene was felt to be confusing the first time around, it's a question how it will work in any supercut. Scenes that were removed simply for run time or pacing can be placed back in without much problem, but one wonders if we'll actually get every scene in an eventual supercut if there are some that still don't work, even in the new format.
Your Daily Blend of Entertainment News
Content Producer/Theme Park Beat
CinemaBlend's resident theme park junkie and amateur Disney historian. Armchair Imagineer. Epcot Stan. Future Club 33 Member.
Your Daily Blend of Entertainment News
Thank you for signing up to CinemaBlend. You will receive a verification email shortly.
There was a problem. Please refresh the page and try again.