Star Wars Rumor: Are Characters Being De-Aged?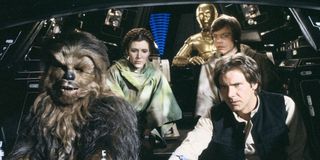 Until Star Wars: The Last Jedi, the Star Wars movies were firmly rooted in present day narratives (so to speak), but then the 2017 installment changed the game by winding back the clock to show audiences the reason why Kylo Ren turned to the dark side. Now a new rumor has surfaced for Star Wars: The Rise of Skywalker, claiming that movie could open with a flashback, specifically showing Luke Skywalker and Leia Organa in Original Trilogy times.
According to Making Star Wars, the opening scene of Star Wars: The Rise of Skywalker takes place on planet covered with trees, where two Jedi are dueling with lightsaber, one blade blue, the other blade green. White helmets with visors are obscuring their faces so we can't initially make out who they are, but eventually the individuals stop their duel and take off their helmets. They're revealed to be Luke and Leia looking just like they did in Return of the Jedi.
Again, this is just a rumor, and even if this scene does exists, it's possible it could be moved to a different part of Star Wars: The Rise of Skywalker. Regardless, it would be cool to see younger versions of Luke Skywalker and Leia Organa again, with this scene giving us some insight into Leia's early Force training under the tutelage of her brother.
It's worth noting this wouldn't be the first time we've seen a young Leia modern Star Wars film era. Rogue One: A Star Wars Story ended with a cameo appearance from her looking like her A New Hope self, with Carrie Fisher's 1970s likeness being digitally superimposed over actress Ingvild Delia. It's previously been reported that Carrie Fisher's daughter, Billie Lourd, is serving as her mother's stand-in on The Rise of Skywalker, in addition to reprising Lieutenant Connix.
It's unclear if these young versions of Luke and Leia will speak in the scene. If they do, then obviously archived audio or a new actress would need to be used for Leia's vocals, but it'd be interesting to hear if Mark Hamill recorded new material.
Making Star Wars also speculated that this flashback scene then transitions to the Leia and Rey training moments that were teased in the Star Wars: The Rise of Skywalker D23 footage. That said, it remains to be seen if Leia and Rey are on the same forest planet as Leia and Luke were decades earlier, which could possibly be Endor, or somewhere else.
Although Carrie Fisher passed away in late 2016, thanks to unused footage of her from The Force Awakens and The Last Jedi, Leia Organa will get to have a prominent role in Star Wars: The Rise of Skywalker. And with this movie marking the final installment of the Skywalker Saga, it'd also be fitting if we did indeed get a peek back at the time period where we first visited a galaxy far, far away.
Even with Star Wars: The Rise of Skywalker a little over three months away from release, no specific plot details have been revealed yet other than it will take place one year after The Last Jedi and bring an end to both The Resistance and The First Order's war, as well as the conflict between the Jedi and the Sith. Along with including plenty of familiar faces, including Billy Dee Williams' Lando Calrissian and Ian McDiarmid's Emperor Palpatine, the movie will introduce characters like Naomi Ackie's Jannah, Richard E. Grant's Allegiant General Pryde and Keri Russell's Zorro Bliss.
Star Wars: The Rise of Skywalker opens in theaters on December 20. If you're curious about what other movies coming out before the year is over, head to our 2019 release schedule.
Your Daily Blend of Entertainment News
Connoisseur of Marvel, DC, Star Wars, John Wick, MonsterVerse and Doctor Who lore. He's aware he looks like Harry Potter and Clark Kent.
Your Daily Blend of Entertainment News
Thank you for signing up to CinemaBlend. You will receive a verification email shortly.
There was a problem. Please refresh the page and try again.