Emperor Palpatine's 'Instrumental' Star Wars: The Rise Of Skywalker Role Is Tied To 'Redemption'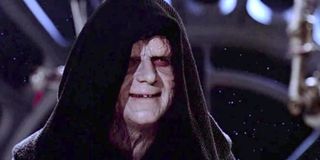 Ever since Lucasfilm revealed that Emperor Palpatine would appear in Star Wars: The Rise of Skywalker, fans have been clamoring for more details regarding his role. Is it a big role? A small one? No one really knew. Until now. The film's lead just dropped a sweet bombshell about Palpatine's place in the story going forward, and it is guaranteed to please fans of the character.
Rey actress Daisy Ridley recently revealed to IGN that Palpatine will return in a big way and that he's super important to the film's overall plot. This is still surprising given the fact that last we saw Darth Sidious, he was plummeting, screaming, down a Death Star shaft. I guess Luke was right when he spoke during the film's teaser. "No one's ever really gone."
Hopefully, Daisy Ridley's comments on the story are accurate and Palpatine's return is not only explained, but justified.
Rose actress Kelly Marie Tran added that the Emperor's storyline has a tie to her favorite Star Wars theme, "redemption." It's certainly interesting to associate Emperor Palpatine, the most dangerous Sith Lord we've seen, with redemption. Redeeming himself to (or for) whom? Or is someone else around him getting redemption? Guess we will just have to wait and see.
It's difficult to take stories seriously when they backpedal on previous creative decisions. Nothing feels final or impact. And, in this case, the villain's return completely undercuts Vader's sacrifice during the conclusion of Return of the Jedi. So yeah, his reappearance needs to make a ton of sense for fans to truly be onboard. Luckily, there will be other "new" villains in the conclusion to the sequel trilogy, so even if Palpatine isn't done very well, we will have other baddies to look forward to seeing. Oh yeah, and let's not forget Kylo Ren, who still stands as one of the best Star Wars villains ever conceived. He will be back, too (obviously) and he will have an epic confrontation with Rey at some point in the movie.
Supreme Leader Snoke had so much potential as a new big bad of the sequel trilogy, but apparently The Last Jedi director Rian Johnson had other plans. Now, we've got a narrative that's bringing back villains and kind of undoing the original trilogy.
Star Wars: The Rise of Skywalker is scheduled to hit theaters on December 20, 2019. What do you think? Are you excited for the film or are you more amped for the other big films coming in 2019? Let us know in the comments section below and keep your eyes on our newsfeed for any/all updates on the film!
Your Daily Blend of Entertainment News