Judy Director Explains Why Renée Zellweger Had To Sing For The Role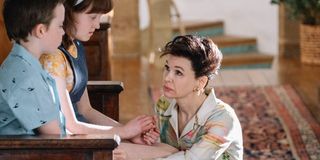 With the Renée-Zellweger-led Judy currently playing in theaters (to great reviews), behind-the-scenes anecdotes and tidbits have begun making their way onto the internet, giving audiences fun glimpses of how and why the film has been such a success. This is common, even expected, for any new release, but with Rupert Goold's Judy Garland biopic, we're actually getting insights into one of Hollywood's earliest, most iconic stars. Renée Zellweger's stunning performance as the eponymous actress has attracted some crazy attention, and not only because she transforms completely. That even included changing her voice. Now, we've gotten some information from the director himself that definitely helps explain her incredible turn as Garland. If you haven't seen her yet, do yourself a favor and do so!
During an interview with TheWrap, director Rupert Goold explained why Renée Zellweger had to show off her musical chops and what he felt that brought to the production as a whole. Speaking to the outlet as part of the film's promotion at TIFF 2019, Goold said:
Based on Peter Quilter's Tony-nominated play End of the Rainbow, Judy follows a depressed Judy Garland as she travels to London to perform five weeks' worth of concerts. The film depicts her drug and alcohol abuse with a rawness that stunned our critic Jessica Rawden, who called Renée Zellweger's performance as a whole "charming, delightful, broken, funny, in-the-moment, and unstoppable." Surprisingly, it's a tragic story that actually avoids being outright depressing. What Rupert Goold did with this film was unbelievably impressive, and everyone seems to agree that he hit a home-run with this beautiful, ambitious, raw portrait of one of Hollywood's greatest stars.
Rupert Goold has directed countless stage productions, some of his more well-known efforts being Othello, The Tempest, Hamlet, The Glass Menagerie, and MacBeth. He also functioned as the artistic director of Headlong Theatre Company from 2005 to 2013. Comparatively, his background in television and film is much more limited, but I expect that will change after people discover how beautifully he directed Judy. He really did do a bang-up job adapting Peter Quilter's play.
What did you think of Judy? Did Renée Zellweger completely kill it or what? What did you think of Goold's direction? Comment below and remember to check out what else is slated to hit theaters in 2019!
Your Daily Blend of Entertainment News