Mayhem At Joker Screenings Included Signs, Smoking And One Really Creepy Guy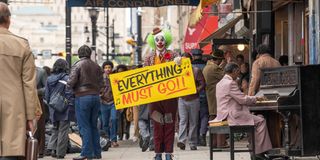 Yesterday, news broke that Joker jokesters everywhere were putting up signs in various movie theater chains alleging that single people and particularly "single males" would not be welcome in screenings of the new DC movies. The signs were a joke, but they honestly weren't the only "signs" of mayhem in theaters, as smoking and even one notably creepy dude marred particular showings of the new movie.
First, if you aren't caught up on the fake Joker signs, they were everwhere, with AMC, Regal and even the Arclight chains being forced to post rebuttals and note in the corners of the Internet that signs were fake and everyone was, in fact, able to go see Joker.
This was what movie theaters combatted during opening weekend:
But the mayhem didn't stop there. In Chicago, the local police department had committed to reassuring audience safety ahead of the opening weekend of Joker. You can see the post, below.
As it turns out, however, the major call the Chicago Police Department had to make happened at an AMC theater in Streeterville when two dudes who had been talking through a screening of Joker started smoking and blowing smoke in people's faces around the hour and a half mark, per the local Fox station. The two smokers were apprehended by police and exited the theater in handcuffs.
This wasn't the end to the mayhem, however. A notable screening in a New York City Times Square theater location also was interrupted when a man was escorted out of the theater after making moviegoers very uncomfortable. Reports from Manhattan, per the local CBS station, mentioned the young man in question was loudly cheering some of the movie's most violent moments as they played out onscreen.
Security eventually escorted the man out, but only after he allegedly got belligerent and even reportedly spit on some moviegoers. Eyewitnesses from the scene hedged he may have been drunk at the time and said he was talking to security outside of the theater when the screening eventually wrapped.
Ultimately, most of what happened at screenings over the weekend was stuff that security deals with from time to time in theater settings, although the prank signs seem to have been fairly widespread. Ahead of release, there were some concerns expressed about seeing Joker in theaters, particularly from the families of Aurora victims. This led to some changes to rules, like heightened security, and costumes were even banned at some locations. Yet, for most people, it was just another weekend at the movies.
Reality TV fan with a pinch of Disney fairy dust thrown in. Theme park junkie. If you've created a rom-com I've probably watched it.
Your Daily Blend of Entertainment News
Thank you for signing up to CinemaBlend. You will receive a verification email shortly.
There was a problem. Please refresh the page and try again.