Zombieland: Double Tap Post-Credits Scenes: What Happens And Why They're Great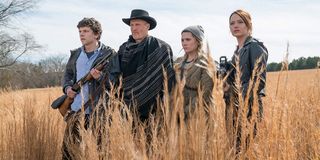 Warning: SPOILERS for Zombieland: Double Tap are ahead!
We waited 10 years for a follow-up to Zombieland, and now it's finally here. Woody Harrelson, Emma Stone, Jesse Eisenberg and Abigail Breslin reunited for another round of zombie-fighting action in Zombieland: Double Tap, and just like its predecessor, the sequel has been met with a solid amount of positive reception. But one of the things that distinguishes Double Tap from the first Zombieland is its use of something that's become way more popular in the last decades: mid/post-credits scenes.
Yes, Zombieland: Double Tap got in on this craze by including a scene in the middle of the credits and one for when they were done rolling, both featuring the return of a familiar face from the first movie… and, really, anyone who's remotely a fan of comedy. CinemaBlend will have more coverage on Double Tap's main story in the weeks ahead, but for now, let's over what happens in these scenes, how they came about and plenty more.
This is your final SPOILER warning, although to be fair, some of this has already been teased in previews.
What Happened In The Scenes
Zombieland came with a celebrity cameo in its arsenal: Bill Murray, who appeared when the main four characters took refuge in his Hollywood mansion and discovered that the comedy star was pretending to be a zombie so he could safely walk around town. Sadly, Columbus was the last to discover Murray was around and, initially thinking he was a real zombie, fatally shot him. Murray's final words were expressing regret that he'd starred in Garfield.
That was the end of Bill Murray's story in the Zombieland world, so naturally when it was reported late last year that he'd be present for Zombieland: Double Tap, fans wondered just how this would happen. Well, as Double Tap's credits roll, Columbus can be heard expressing his continued remorse about happened with Murray, which then transitions into a flashback showing what the actor was up on the first day of the zombie outbreak 10 years earlier.
Bill Murray is at the junket for Garfield 3: Flabby Tabby (which we were thankfully spared from in real life) and answering reporters' questions, such as acknowledging that the only reason he agreed to star in the threequel was so he could pay for drugs. Then, as Murray sits down with NBC personality Al Roker, who immediately turns into a zombie and attacks Murray. The comedy icon slams the zombified Roker with a chair, and when he realizes the zombie apocalypse has begun, he starts killing zombies left and right.
That all plays out in the mid-credits scene, but in the quick scene that's shown after the credits are finished rolling, Bill Murray is seen back at the junket, before all the zombie insanity unfolds, showing some reporters, specifically one from a Spanish speaking outlet, how he makes Garfield's hairball noise in this woman's native tongue.
Why The Scenes Are Great
Look, considering that Bill Murray was killed off in Zombieland, we should be glad that writers Rhett Reese and Paul Wernick, director Ruben Fleischer and the rest of the creative team found a way to bring him back. But to not only have him laying the smackdown on the first wave of zombies in his vicinity, but also have Al Roker play his first zombie victim is a stroke of genius. This isn't like a Marvel movie where Double Tap is setting the stage for a threequel (I vote it be called Zombieland: Third Time's The Charm), it's just a little bit of fun to cap off what went down in the main story.
How The Scenes Came About
It would have been easy enough to leave Bill Murray out of Zombieland: Double Tap considering what happened to him in the first movie. But director Ruben Fleischer explained to CinemaBlend's own Eric Eisenberg that because Murray was such a "key part" of Zombieland, Rhett Reese and Paul Wernick came up with the idea of flashing back at what Murray was up to right as the zombies emerged. Fleischer added:
Rhett Reese and Paul Wernick also noted that it was "such a slog" getting Bill Murray for the first Zombieland, but because he had such a fun time there, he was much more receptive to appearing in Zombieland: Double Tap when he got the call. Murray had fun playing around with the junket setting and getting to do his "own thing."
However, had Zombieland: Double Tap been made using one of the earlier drafts, we could've seen Bill Murray interacting with different celebrities in a different setting…
What Might Have Been With The Scenes
Contrary to previous reports, Bill Murray's Ghostbusters costar Dan Aykroyd does not appear in Zombieland: Double Tap, but he did in a previous version of the story. Earlier in the creative process, Rhett Reese and Paul Wernick set the Double Tap post-credits scene at a golf course, where Aykroyd, as well as the late Harold Ramis and Ernie Hudson, was trying to convince Murray to do Ghostbusters 3. Funny how things worked in real life on that front, as there is a direct sequel to the original two Ghostbusters movies in the works, Ghostbusters 2020, and it looks like Murray and Aykroyd will appear in that, as will Ernie Hudson, Sigourney Weaver and Annie Potts. But I digress.
Then, similarly to what happened with Al Roker, Dan Aykroyd suddenly becomes a zombie, and Bill Murray has to fight him off. But here's the kicker: Rhett Reese and Paul Wernick also had Joe Pesci playing in front of Aykroyd, Murray and the others on the golf course, and because he was playing too slowly, they "hit into him," resulting in Pesci understandable getting angry.
Recalling how he and Paul Wernick had tried to get Joe Pesci on the first Zombieland, Rhett Reese said:
It did indeed work out, although part of me wishes that Joe Pesci could still have been thrown into Zombieland: Double Tap in a different way so we could have had a quick snippet of him as an appetizer to the main course that is his grand return in The Irishman next month. Alas, that wasn't in the cards, but at least we now know what it would look like if a zombified Al Roker attacked Bill Murray.
Be sure to read CinemaBlend's review of Zombieland: Double Tap, and look through our 2019 release schedule to plan your trips for the rest of the year accordingly.
Your Daily Blend of Entertainment News
Connoisseur of Marvel, DC, Star Wars, John Wick, MonsterVerse and Doctor Who lore. He's aware he looks like Harry Potter and Clark Kent.