Maleficent Box Office: Mistress Of Evil Underperforms While Zombieland: Double Tap Surprises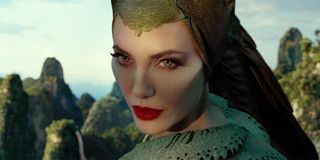 Coming out a full five years after the original, there was little chance that Joachim Ronning's Maleficent: Mistress of Evil was going to make as much money in its first three days as its predecessor. Robert Stromberg's Maleficent had a much stronger release date, hitting theaters in late May 2014, and released as part of the summer blockbuster season, and so there was really no way that the sequel was going to hit close to $69.4 million. Still, though, the new film wound up disappointing. While Disney had hopes of numbers closer to the $50 million range, the fantasy adventure feature only managed to pull in $36 million.
Check out the full Top 10 below, and join me after for analysis!
While Maleficent: Mistress of Evil can say that it's currently the biggest movie in North America, it's more of a consolation prize given the context. It's never great when your sequel makes only about half of the business that its predecessor was able to do, so the studio really can't be too happy about these numbers. The reality is that the film was barely able to surpass the total made by Todd Phillips' Joker over the Friday-to-Sunday, and that particular title was in its third weekend (albeit benefited by yet another shocking low week-to-week drop-off of less than 50 percent.
So what was the problem here? It's actually kind of hard to say. The first Maleficent didn't exactly ride into theaters on a tidal wave of positive buzz, so there isn't exactly a massive contrast between the two titles in terms of critical reaction (the original earned a 53 percent on Rotten Tomatoes, while the follow-up scored only a 40 percent). It should also be noted that audiences are actually really digging it, as evidenced by the fact that it earned an "A" overall from surveys taken by CinemaScore. It really just seems like there was a limited amount of interest in the film, so it didn't earn a lot of money.
Certainly also not helping its image is how the release compares to the slew of other Disney movies we've seen this year based on the studio's classic animated properties. There were admittedly probably zero people in the word who thought that Maleficent: Mistress of Evil was going to make anywhere near as much as either Jon Favreau's The Lion King ($191.7 million) or Guy Ritchie's Aladdin ($91.5 million) did in their opening frames, but one would have at least expected it to make more than Tim Burton's Dumbo. That movie was able to only bring in $46 million during its opening weekend, which was considered a huge disappointment, and so another release making $10 million less than that is definitely bad news.
The good news for Disney is that while Maleficent: Mistress of Evil may not have cast a spell on North American audiences, the movie is doing more than just fine all around the world. In fact, the domestic numbers account for less than 24 percent of the film's global grosses thus far, a number that currently stands at $153 million. By the time its done in theaters it probably won't be anywhere near the $758.5 million made by its predecessor, but it still will probably make a profit.
While Maleficent: Mistress of Evil's box office performance was a bit of a bummer, though, we actually saw some very positive developments unfold for the other new major wide release this week: Ruben Fleisher's Zombieland: Double Tap. Audiences had to wait twice as long for a Zombieland sequel as a Maleficent sequel, but the numbers suggest that fans were happy to wait. Sony prognosticators thought that the new movie would probably earn around $23 million, and while that's not exactly a high bar, it's still one that the release was able to clear by more than $3 million.
It should also be noted that without accounting for inflation, Zombieland: Double Tap actually made more in its debut weekend than the first movie, which made $24.7 million in October 2009 (which was also considered a big win). The big difference between the two movies is that the original was the number one feature in America, while the follow-up had to settle for third place. But in the film's defense, the OG Zombieland also wasn't dealing with any major competition (the second biggest new wide release during that particular frame was a 3D double bill of Toy Story and Toy Story 2).
As far as milestones go, we also saw a couple of big ones coming out of this weekend at the box office. The first is the aforementioned Joker, which added nearly another $30 million to its awesome big screen run. Along with money from abroad, that means that the feature has now made over $700 million in just three weeks, with nearly $250 million of that coming from North America. That's enough to make it now the eighth biggest film of 2019 worldwide (behind the $758.8 made by David Leitch's Hobbs & Shaw), and there still remains a very real possibility that it could wind up being the seventh billion dollar hit of the year.
The folks at STX Entertainment also have a reason to celebrate this week. While it's true that Lorene Scafaria's Hustlers had the biggest ranking drop of any movie in the Top 10 this weekend, they money it made was able to push it into the nine-figure club. That makes it only the third STX release to accomplish that feat, following both Jon Lucas and Scott Moore's Bad Moms, and Neil Burger's The Upside.
Coming up, we have a very diverse slate of features getting ready to hit the big screen on Friday, with an assembly of titles that includes Deon Taylor's cop drama Black And Blue, Alfonso Gomez-Rejon's historical drama The Current War, and Justin Dec's horror movie Countdown. It will be interesting to see how audiences wind up reacting to these, so be sure to come back next Sunday to see how these new releases shake up the Top 10.
Your Daily Blend of Entertainment News
Assistant Managing Editor
NJ native who calls LA home and lives in a Dreamatorium. A decade-plus CinemaBlend veteran who is endlessly enthusiastic about the career he's dreamt of since seventh grade.