Does C-3PO Die? Rise Of Skywalker Fans Ready To Riot After Final Trailer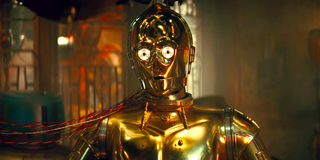 When Disney dropped the final trailer for Star Wars: The Rise of Skywalker, fans waited approximately one second before digging into the clues it offered. The highly anticipated closing installment of the franchise is clouded in mystery, and while the trailer didn't answer too many questions, it did leave us asking one big one. C-3PO isn't going to really die -- right?? Fans' reactions to one of the trailer's pivotal moments were understandably extreme -- and ranged from melancholy to mutinous.
The scene in question appears to show the beloved protocol droid with his wires askance behind him. When asked what he's doing, he tells Poe, Rey, and Finn that he wants to get "one last look… at my friends." The Rise of Skywalker's trailer doesn't give us any more hints as to why C-3PO is getting ready to say goodbye. But fans were already on edge after the D23 Expo, where we first saw a glimpse of the droid with some scary-looking red eyes. And on Twitter, they went into emotional overdrive at the mere hint that yet another original Star Wars character could bite the dust.
Some fans seemed eager to watch C-3PO's story come full circle -- or acknowledged that it would serve a symbolic purpose. But other fans were ready to start a riot, or a fire, or something equally destructive if the teaser turns out to be true.
While a lot of the fans expressed their sorrow in GIF form, some did start to delve into why his potential demise would be so tragic -- especially since he won't know everything we know about his incredible impact.
Or, worse, he'll have put up with everything he's had to deal with and never see the payoff.
And of course, there were those who thought about the ones C-3PO would be leaving behind, like his fellow droid R2-D2.
Then there were those that had some choice words for the film's director.
After all the losses Star Wars fans have faced, and another big potential death in The Rise of Skywalker looming, the intense reaction is understandable. However, it's too early to know for sure how, or even whether or not, C-3PO will actually bite the dust. After the red eye reveal in August, theories began cropping up about the droid either being taken to the "dark side," or being rewired to help the resistance. It's even possible that the trailer is just completely throwing us off.
We still have to wait a few weeks to learn the truth about C-3PO's fate. And even if he does survive, there will likely still be plenty for fans to debate and potentially riot over in the franchise's epic conclusion. Star Wars: The Rise of Skywalker hits theaters on December 20, 2019.
Your Daily Blend of Entertainment News