Here's How Stephen King Feels About The Early Doctor Sleep Reviews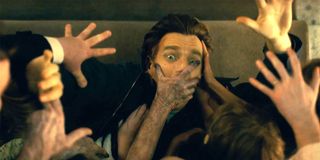 Doctor Sleep hasn't hit theaters yet, and it's already earning praise from critics. But what really counts is the final word from the story's creator, Stephen King. And if his response to early reviews of the film is any indication, then director Mike Flanagan should be thrilled.
On October 25, Stephen King informed his Twitter followers that he was well aware of the early buzz surrounding the adaptation of his sequel to The Shining. He tweeted, "The first reactions to DOCTOR SLEEP are nothing short of ecstatic. Delighted for Mike Flanagan and company." While that isn't an official endorsement of the film, it's clear that the author is pretty geeked.
It's no secret that Mike Flanagan had a unique challenge in bringing Doctor Sleep to the screen. There's the fact that despite widespread praise for Stanley Kubrick's The Shining, Stephen King was notoriously underwhelmed by the director's adaptation. Then there's the complexities of the novel itself. Doctor Sleep follows an adult Danny Torrance as he grapples with demons, past and present, and eventually has to return to the site of his biggest nightmares, the Overlook Hotel.
In true Stephen King form, the lengthy novel features some complex world building, and pays poignant homage to one of the author's most famous, and beloved, books. And there's an added layer of complexity: Stanley Kubrick's adaptation of The Shining, which many Doctor Sleep viewers will be familiar with, diverged significantly from Stephen King's version of events -- especially where the fate of the horrific hotel was concerned. But the Doctor Sleep novel obviously picks up with King's vision, not Kubrick's. Striking a balance between the two couldn't have been easy.
Responses from early screenings of the new film seem to indicate that Mike Flanagan succeeded in meeting that challenge. Though Doctor Sleep has already been noted for having a long runtime, the film's first viewers felt that the runtime was justified. And the fact that the beloved author seems pleased with its reception is a sign that he, too, is on board with the latest installment.
This isn't the first time Mike Flanagan has tackled a Stephen King story. His adaptation of Gerald's Game for Netflix was equally well received. And though the prolific author has seen dozens of his works adapted for the screen over the years, there's been a surge of adaptations as of late. A recent reboot of Pet Sematary and the global success of both chapters of IT -- as well as critically acclaimed Castle Rock, which leans heavily into King lore -- have helped introduce the author to a new generation of fans. Whether or not Doctor Sleep will catch their eye remains to be seen. The film hits theaters on November 8.
Your Daily Blend of Entertainment News