The 8 Best Stephen King Cameos In TV Shows And Movies Adapted From His Books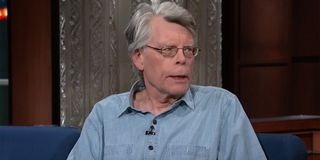 Stephen King has created an astonishing collection of iconic characters that continue to populate Hollywood. In The Tall Grass seems to be doing well on Netflix, Castle Rock's Season 2 debuted on Hulu, and Doctor Sleep is on the near horizon. That's in addition to his latest novel, The Institute, sitting on the New York Times bestseller list for weeks on end. It's a damned good to be the King of Horror. In addition to writing the books that become hit movies and TV shows, King has also made some highly memorable cameos on the screen.
Lots of authors and film directors have indulged in the fantasy of imagining themselves on the big and small screen, and Stephen King will periodically take the chance to slide into a nugget role that serves more as a wink than a pivotal part of narrative. Not unlike the late Stan Lee's cameos, Stephen King appearances are welcome additions to any adaptations of his famous texts, and sometimes serve as once-rare seals of approval for the production in question. (If not always the final product overall.)
Let's take a look at just a few of Stephen King's finest TV and movie cameos, with hopefully many more to follow in the years to come. Note that this list is limited to his appearances in projects based on his own novels and stories. Therefore, we won't include his appearances in George A. Romero's Diary of the Dead, for instance, nor his time on Sons of Anarchy and others. Nothing against these excellent cameos, of course, but we're sticking with King's works here.
Maximum Overdrive (1986)
Stephen King followed in the footsteps of Alfred Hitchcock and M. Night Shyamalan with his one-and-only directorial effort to date – the campy and ludicrous Maximum Overdrive. In it, the record-breaking author honored appeared in the very first scene of his own movie. King opens the film by playing a a disgruntled man at an ATM who is shocked to discover that the money machine called him an "asshole." It's a brief appearance that sets the tone for what is an extremely absurd movie (and by King's own admission, far from his best).
Maximum Overdrive's story, such as it is, is based (rather loosely) on Stephen King's short story "Trucks," which focuses on machines rising up to hunt and kill the suddenly helpless humans. The main story is set inside a gas station, where menacing sentient trucks roam the grounds outside, looking to turn any of the pedestrians into roadkill. It should be noted —if it wasn't already apparent — that Stephen King was self-admittedly high on cocaine when he made this film, and the cameo likely didn't fall outside that time period.
Pet Sematary (1989)
Typically, Stephen King has little-to-no involvement in the creative process of movies and TV shows adapted from his works. He provides the source material that that other screenwriters and directors take over, and the author rarely has a say in whether these fellow storytellers honor or change his text around. With 1989's Pet Sematary, however, King played a bigger role than usual. Specifically, he wrote the screenplay, which allowed him to build a relationship with director Mary Lambert and, inevitably, he ended up on the set in costume for a small but key role.
Based on the novel of the same name, Pet Sematary follows a physician who discovers a burial ground where dead animals can be brought back to life in alarming form in a cautionary Monkey's Paw sort of way. During the film's funeral sequence, King is seen as a minister heading up the proceedings. It's a brief appearance, but it's also one of his most memorable on-screen cameos. Sadly, though, King didn't appear in the 2019 remake, which he had some thoughts on.
Thinner (1996)
Tom Holland is perhaps better known for directing movies like the original Fright Night and Child's Play, but his career was filled with an assortment of other movies, including 1996's Thinner, adapted from Stephen King's work written under his Richard Bachman pseudonym. While this adaptation is far from the most well-acclaimed – the same goes for the novel – it does feature a notable cameo from the famous author as the local pharmacist named Dr. Bangor.
The body horror flick centers on an overweight attorney who receives a curse that initially seems like a blessing, as he starts to rabidly and uncontrollably shed pounds. The author's appearance in the film is a decently sized one that spreads across at least two separate scenes. Even if it doesn't amount to one of the better movies based on Stephen King's writings, it's always nice to see a movie that gives King time to shine.
The Langoliers (Part 2)
Though Stephen King is typically his own boss when it comes to crafting his novels, he's never in charge of the adaptations. But he did get to at least play a stereotypical employer for ABC's two-part adaptation of The Langoliers. In the mystery-driven tale, King got a chance to be the boss in the role of Tom Holby, a mustachioed pencil-pusher with a toothy smile and childish coif who appeared during one character's final hallucination sequence.
In this 1995 TV miniseries, The Langoliers followed an airplane where most of the passengers suddenly vanish, with the remaining passengers left to discover why there were left in a barren world. During the movie's final dream-like sequence, Bronson Pinchot's Craig Toomy gives his King-ly boss a very loud monologue about deliberately losing $43 million dollars in stocks that he knew to be worthless. It's a cameo where Stephen King's specific visual appearance is perhaps more noteworthy and memorable than anything else, and it's always fun to see the author ham in up in a minor role opposite Pinchot's hamminess.
The Shining Miniseries (Part 3)
Famously, Stephen King is not a fan of Stanley Kubrick's interpretation of his seminal early novel The Shining. The author has gone on at length about why he doesn't consider himself a fan of the film, and he was also vocally more favorable about the 1997 miniseries which aired on ABC. At least, that's based on his all-too-brief appearance as Gage Creed, who conducted the music during one particularly rowdy night at the Overlook Hotel. Oh, and also the fact that he wrote the teleplays for it.
Similar to the famous film, The Shining follows a struggling alcoholic writer who takes up a job tending to a snow-drenched hotel, only to slowly lose his sanity in the process. The TV adaptation doesn't stack up to what Stanley Kubrick did so masterfully, and this version won't have any real connection to next month's Doctor Sleep, but at least it allowed King a chance to play another role in what is perhaps his most celebrated work.
Creepshow 2 (1987)
To date, Stephen King's finest acting showcase was found in the original Creepshow film, and the main reason it doesn't appear on this list is because it's hard to categorize it as a cameo. If anything, King's role is more sizable than some of the other characters' bits in the film. But when it comes to Creepshow 2, which is also based on some of King's short stories, his appearance definitely fits the bill as a cameo, and it's among the finest (and funniest) of the on-screen performances that King has delivered yet.
In the anthology film, Stephen King appears in "The Hitchhiker," the last installment before the epilogue. The segment follows an unfaithful woman who commits a hit-and-run on an unknown man, only to realize that he won't leave her. As a talkative truck driver with an exaggerated Southern accent and no filter in his brain, Stephen King appears to have had a blast playing the small-but-lively part. He clearly enjoys acting, even in small bits.
Mr. Mercedes (Season 1, Episode 6)
Stephen King even enjoys it when there's no acting involved at all. Audience's adaptation of Mr. Mercedes, based on King's Bill Hodges trilogy, has gotten praise from the author across its first two seasons. In addition to championing the series, which stars Brendan Gleeson, King also made a bloody good appearance on the acclaimed TV show.
In Season 1's sixth episode, Stephen King can be prominently seen as a diner cook who'd been stabbed to death during a fantasy sequence from antagonist Brady Hartsfield. It's a little funny that he played a diner employee here, since King's prior cameo in Under the Dome found him playing a diner patron in a brief cameo. That's one of the only comparative qualities, since it would seem that Mr. Mercedes has earned King's stamp of approval more than Under the Dome ultimately did, based on comments made earlier this year.
IT: Chapter Two (2019)
Most recently, Stephen King snuck his way into one of the biggest and most profitable adaptations of his work to date. In IT: Chapter Two, there are no shortages of homages to King's work, as well as allusions to the author himself through the character of adult Bill Denbrough (the surrogate for King in his tome of a novel). When it comes time for Denbrough to retrieve his long-lost bicycle Silver, the character finds himself in an antique shop owned by a grumpy ol' character played by King himself.
The sequel follows The Loser Gang as they returned back to Derry in order to finish off Pennywise the Evil Clown for good (hopefully). As the shopkeeper, Stephen King got to act alongside James McAvoy and bust his chops a bit with some self-depreciating jokes about how Bill's books (really King's books) don't always have the best endings. It's a fun little appearance, one that allows King to play around in his creation without ever playing an active part in the horror.
These are just some of the on-screen cameos that Stephen King has taken on over the years. (His appearance in The Stand also verges on supporting role rather than cameo, so it also wasn't included here.) Thankfully, King will always keep himself busy with his typewriters, Constant Readers, but it's always fun to see him peak out from behind the curtain to wave hello to his attentive fanbase.
Will is an entertainment writer based in Pittsburgh, PA. His writing can also be found in The Playlist, Cut Print Film, We Got This Covered, The Young Folks, Slate and other outlets. He also co-hosts the weekly film/TV podcast Cinemaholics with Jon Negroni and he likes to think he's a professional Garfield enthusiast.
Your Daily Blend of Entertainment News
Thank you for signing up to CinemaBlend. You will receive a verification email shortly.
There was a problem. Please refresh the page and try again.