This Rotten Week: Predicting Doctor Sleep, Midway, Playing With Fire, And Last Christmas Reviews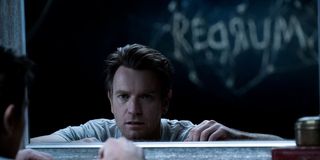 It's a packed week for the big screen with four movies hitting theaters in wide release. There's a sequel to a classic, a war movie, firefighter hijinks, and a holiday rom-com. Get ready for Doctor Sleep, Midway, Playing With Fire, and Last Christmas.
Just remember, I'm not reviewing these movies, but rather predicting where they'll end up on the Tomatometer. Let's take a look at This Rotten Week has to offer.
Thirty-nine years ago, the Torrance family made a bad miscalculation in their winter plans. Jack Torrance took a job his brain couldn't handle, shoved his head and an axe through a bathroom door yelling "Here's Johnny," and then died freezing in the cold. Mercifully, his family escaped and now we get the story of Danny and how the shining is still very much a part of his life. Doctor Sleep is a sequel to The Shining, following adult Danny as he struggles to come to grips with his past and powers. It looks pretty scary, though not exactly in the same way as the original.
Director Mike Flanagan has a number of smaller, psychological horror films under his belt, and all have fared well with critics. That looks to be the case this time around as well, as it's sitting at 78% on the Tomatometer with 68 reviews posted. Most critics agree it acts as a solid stand alone film while also being worthy of Stanley Kubrick's original. That's no small feat and I think we see Doctor Sleep's score stick in this range over the course of the week.
Hollywood loves a good war story, and Roland Emmerich likes to blow shit up in movies. So Midway looks like a match made in cinematic heaven. Based on the famous battle that acted as something of a turning point in World War II's Pacific Theater, the film seems to take a stylized and very schmaltzy approach to the war movie. There's all the bravado parlance we've come to expect in borderline cheesy takes on the genre. And while the action does appear to be a go big or go home approach, I'm not sure it will land with critics.
Roland Emmerich doesn't inspire a lot of confidence. His last five widely-released films all had underwhelming performances on the Tomatometer. They include Independence Day: Resurgence (29%), White House Down (51%), 2012 (39%), 10,000 B.C. (8%), and The Day After Tomorrow (44%). In fact, his only two warmly-reviewed movies have been The Patriot (61%) and Independence Day (65%). I think Midway ends up with the former group.
When I think of devastating forest fires and those who fight them, I just can't help but think of the hilarious comedy that must ensue. Am I right? Well that seems to be Playing With Fire in a nutshell, throwing in a fun fish-out-of-water parenting angle. Taking the tired old cliche of "tough men not knowing a single thing about kids at all and the jokes will write themselves" approach, the movie is about a group of smoke jumpers who are forced to temporarily adopt a group of kids after a rescue. If it sounds stupid, don't worry, it looks worse.
Speaking of directors who inspire no critical confidence, Andy Fickman falls right in that territory as well. His movies include Paul Blart: Mall Cop 2 (4%), Parental Guidance (17%), You Again (17%) and Race to Witch Mountain (42%). In fact, the average Tomatometer score for his movies is 32%. That seems like a good place to start with the prediction based on how Playing With Fire looks. It might even be a little high.
Halloween was like five minutes ago so that means it's time to start gearing up for the Christmas season. There isn't a second to waste when it comes to this holiday and commercialism demands we get the festivities and good cheer in front of our eyeballs ASAP. Last Christmas is a love story, set in London about a troubled young woman who works in a holiday store and a dude who just kind of stumbles into her life. It looks cute and romantic without being overly sappy even if it likely butts right up against those feels.
Paul Feig has plenty of comedic chops with films like Spy (95%), Ghostbusters (74%), The Heat (64%), and Bridesmaids (90%). I don't think this one will have quite the laughs, opting for more of the romantic angle. But there were some jokes thrown into the trailer that give me hope. I suspect it does well with the critics and sticks around as a holiday go-to for some folks.
I'd say last week was mostly a success with three movies falling within range, and one missing. For starters, Terminator Dark Fate (Predicted: 59% Actual: 69%) scored pretty well with the critics, and fell within ten percent of my prediction. From a critical angle, this is the highest-rated Tomatometer score since Terminator 3: Rise of the Machines. That's good news, even though box office reports about this one aren't super positive.
Motherless Brooklyn (Predicted: 58% Actual: 63%) also ended with a score within 10% of my estimate. I expected it to drop a bit more over the course of the week, but it never did. Edward Norton's first foray into writing/directing/starring in a movie was generally well-received. The story of a Tourette's inflicted private eye in 1950's New York scored mostly positive reviews primarily because of Norton's performance. It wasn't an across the board win, but a fresh rating nonetheless.
Meanwhile, Harriet (Predicted: 59% Actual: 73%) ticked up over the course of the week and my prediction ended up being too low. While the story is compelling, I worried the movie would be a bit too geared to a younger audience, going for emotions and one-liners rather than being a raw biopic. Critics were more than favorable on the latter account, and I missed the mark.
Finally, Arctic Dogs (Predicted: 15% Actual: 17%) was right on the money. This movie didn't screen for critics prior to its release, and there are only six reviews currently posted, but I'm still considering it a win as the tone of the write-ups that are online definitely fit within the tone of my write-up.
Next time around we've got Ford vs. Ferrari, The Good Liar and Charlie's Angels. It's gonna be a Rotten Week!
Doug began writing for CinemaBlend back when Terminator: The Sarah Connor Chronicles actually existed. Since then he's been writing This Rotten Week, predicting RottenTomatoes scores for movies you don't even remember for the better part of a decade. He can be found re-watching The Office for the infinity time.
Your Daily Blend of Entertainment News
Thank you for signing up to CinemaBlend. You will receive a verification email shortly.
There was a problem. Please refresh the page and try again.