This Rotten Week: Predicting Ford V Ferrari, Charlie's Angels, And The Good Liar Reviews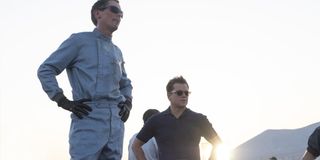 After a massive, eclectic week last time around with four new movies arriving in wide release, this Friday Hollywood is taking things a bit slower... and just putting three new big titles in theaters. This week we get a racing story, a female action reboot, and a psychological thriller. Get ready for Ford v Ferrari, Charlie's Angels, and The Good Liar.
Just remember, I'm not reviewing these movies, but rather predicting where they'll end up on the Tomatometer. Let's take a look at This Rotten Week has to offer.
One can appreciate when the richest and most powerful folks in a certain industry make business decisions based purely on grudges. That's the case with the story of Henry Ford II and Lee Iacocca versus Enzo Ferrari, with the two men creating Ford racing division because of a deal that went sideways with the Italian carmaker. It led to the events depicted in this movie, Ford v Ferrari, in which Carroll Shelby (Matt Damon) and Ken Miles (Christian Bale) team up to complete in the grueling 24 hours Le Mans race.
Director James Mangold has a made a good movie or two in his career, with flicks like Walk The Line (83%), Logan (93%) and 3:10 To Yuma (89%), but never been nominated for any of the big awards outside of Best Adapted Screenplay for Logan. This latest might get him at least into the discussion during the developing season. With about 74 reviews up, Ford V Ferrari is sitting at 91% so far on Rotten Tomatoes. Critics love the story, the stylized version of the historic events, and the interplay between Christian Bale and Matt Damon. It looks excellent, and we might talking about this movie a lot more in a few months.
Life comes at you fast. It's been nearly two decades since the last Charlie's Angels reboot, and now a whole new take is arriving for new generation. But really: have you been sitting around jonesing for more of this group? The slight twist on the story now is that the Angels have franchised, and there are multiple teams all over the world running an array missions that are no doubt dangerous and action-packed.
Charlie's Angels looks pretty damn stupid. I get the idea behind taking an iconic group of characters and transforming them into something more palatable for our modern times, but this also doesn't seem like the totally right way to do it. It appears incredibly pandering, though maybe Elizabeth Banks deserves some benefit of the doubt after directing Pitch Perfect 2 (66%). But this new version of the Angels could too vapid to get critics excited.
The Good Liar stars Ian McKellan is an aging con-artist, and Hellen Mirren as his sweet, wealthy mark. That's some high-caliber star power, but unless that is something that really gets you excited, the trailer suggests that the movie might put you right to sleep. I get that the folks who made this want to keep us on edge about the levels psychological intrigue, but there are only so many shots of the elderly characters kind of just staring at things until I get a little bored. It sure doesn't seem like much happens here.
Bill Condon's resume is all over the place. He's helmed Beauty and the Beast (71%), Dreamgirls (78%) and Kinsey (90%) but also has some stinkers like The Fifth Estate (36%) and the final Twilight two movies (25% and 49%). That's a lot of different films. I think this one falls somewhere in between. It's sitting at 72% with 18 reviews posted, but even the positive ones have plenty to dislike. I think we'll see the score drop some over the course of the week.
Overall, it was a really good week for the Rotten Watch last time around, with three of the four movies falling within range of my prediction. I had a head start on Doctor Sleep (Predicted: 80% Actual: 73%), so I suppose it's tough to take a ton of credit there. The sequel to The Shining generally impressed critics, but the score did drop over the course of the week. In the end, for a psychological thriller, especially one following a classic, this is a damn good score.
Meanwhile, Playing With Fire (Predicted: 32% Actual: 24%) dudded as predicted. This thing looked terrible based on the trailer, and I suppose from that end it didn't "disappoint." I'm not sure who thought this was a good idea from either a concept or a comedic standpoint, but it got made nonetheless. The story of three firemen taking care of a trio of children who'd been separated from their family in a forest fire didn't end up with the laughs I guess they thought were to be expected.
Midway (Predicted: 41% Actual: 41%) was my best call and ended up being a direct hit. This one looked like it was trying so damn hard to be one of those iconic/sentimental/emotional war films, but just fell short. Some critics liked the visuals (at times), but the majority panned it pretty hard for the script.
Finally, Last Christmas (Predicted: 62% Actual: 49%) fell just outside of range. It looked bland enough and geared a little too much toward the holiday season that a straight 50% prediction should have been in the cards. I got a little too bullish on the director and was swayed some by the story line. That was a mistake and it kept me from clean-sweeping the week.
Next time around we've got 21 Bridges, Frozen II, and A Beautiful Day In The Neighborhood. It's gonna be a Rotten Week!
Doug began writing for CinemaBlend back when Terminator: The Sarah Connor Chronicles actually existed. Since then he's been writing This Rotten Week, predicting RottenTomatoes scores for movies you don't even remember for the better part of a decade. He can be found re-watching The Office for the infinity time.
Your Daily Blend of Entertainment News
Thank you for signing up to CinemaBlend. You will receive a verification email shortly.
There was a problem. Please refresh the page and try again.