Disney+'s Version Of A New Hope Changes The Han Solo And Greedo Scene In A Weird Way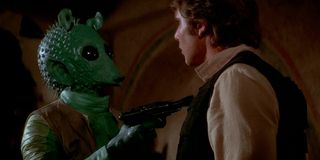 CinemaBlend participates in affiliate programs with various companies. We may earn a commission when you click on or make purchases via links.
Longtime Star Wars fans will remember how back when George Lucas still owned the franchise set in a galaxy far, far away, he would frequently edit and make changes the Original Trilogy movies for the various home releases starting in 1997. Well, seven years after Lucas sold Star Wars to Disney, we've been treated (is that the right word?) to another alteration, because if you watch A New Hope on Disney+, you'll see that the confrontation between Han Solo and Greedo in the Mose Eisley Cantina wraps up a little bit differently.
At this point, even casual Star Wars fans are familiar with the 'Han shot first' debate, so there's no need to go over that in detail again. But even taking that into account, one thing that had remained constant was Han Solo getting the last word in before Greedo met his untimely demise. Not so in the version of A New Hope airing on Disney+ (which is offering a free seven-day trial), as before he gets shot, Greedo exclaims (checks notes) "Maclunkey!" See for yourself.
Now what Greedo yells isn't shown in the subtitles, so if any of you know the correct spelling of that exclamation, please share it in the comments section. I'd also welcome any translation for "Maclunkey!" Does it mean something like "You're dead!" or "Goodbye!" Where's C-3PO and his fluency in over six million forms of communication when you need him?
In any case, now Greedo says this final word before being promptly gunned down right as he gets off a poorly-aimed shot at Han Solo. And just to be clear, this wasn't added in under the Disney regime. Lucasfilm has confirmed with various outlets, including Vanity Fair, that this was a change George Lucas included before selling the Star Wars franchise in 2012. And like so many of Lucas' changes to the original Star Wars movies, "Maclunkey!" is being ridiculed on social media.
I can't help wondering if there was some kind of contract stipulation mandating that Disney is not allowed to remove any edits George Lucas made to the Star Wars movies prior to selling the franchise. Otherwise, you'd think someone over at the Mouse House would have caught the moment and thought, "Hey, maybe we should take that out for… obvious reasons."
For any of you curious about how the Han Solo/Greedo scene has changed over the years, watch this handy video.
Since Disney+ only just launched, it's possible other alterations to the original Star Wars movies will be discovered in the days to come. George Lucas hasn't been directly involved with the franchise for nearly a decade, but it's funny that after all this time, his influence is still being felt in new ways.
The Skywalker Saga will conclude with the release of Star Wars: The Rise of Skywalker on December 20. For now, you can watch all the released Star Wars movies on Disney+ (except for The Last Jedi and Solo, which will be added to the service at a later date), as well as the original series The Mandalorian.
Connoisseur of Marvel, DC, Star Wars, John Wick, MonsterVerse and Doctor Who lore. He's aware he looks like Harry Potter and Clark Kent.
Your Daily Blend of Entertainment News
Thank you for signing up to CinemaBlend. You will receive a verification email shortly.
There was a problem. Please refresh the page and try again.