The 10 Best Tom Hanks Movies, Ranked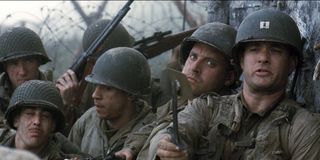 Later this month, Tom Hanks debuts his next Oscar buzz film, A Beautiful Day in the Neighborhood, where he plays real-life TV hero Fred Rogers, known to fans simply as Mr. Rogers. Hanks' performance in this film has already gained praise following early showings. No one can wait to see one of Hollywood's nicest guys play one of Hollywood's nicest guys. Among Tom Hanks movies, A Beautiful Day in the Neighborhood is sure to rank high.
Could his role as Mr. Rogers put Hanks back in the Oscars seat? A Beautiful Day in the Neighborhood has a lot of competition among classic Hanks films like Forrest Gump or Saving Private Ryan, to newer standouts like Captain Philips and the Toy Story movies. For this Tom Hanks movies ranking, I ranked based on which movies were most defining for Hanks' acting career, honing in on some of his best performances. I know I missed some of your favorites, so read to the end to give us your input on which Tom Hanks movies you love the most.
10. A League Of Their Own
During World War II, a All-American Girls Professional Baseball League forms with Jimmy Dugan (Tom Hanks) as the manager. He must coach the women from amateurs to professionals, and eventual champions. The cast of characters includes Geena Davis as Dottie, Madonna as Mae, Lori Petty as Kit, and Rosie O'Donnell as Dori.
A League Of Their Own is one of the career-defining movies for Hanks. It is one of his most remembered performances, especially from his early acting days. It's also one of the few Tom Hanks films where he plays a rough and tough character who eventually grows into the lovable Hanks persona that everyone has come to adore. He also gets to utter one of the most iconic lines in film history, "There is no crying in baseball!"
9. Cast Away
Tom Hanks gives a thought-provoking performance as Chuck Noland, a FedEx employee who becomes stranded on a deserted island for four years. He must learn to survive both physically and mentally, while maintaining hope for returning home. The film grossed over $429 million worldwide and earned Hanks his fifth Best Actor in a Leading Role Oscar nomination.
Essentially, Cast Away relies on Hanks' charm and abilities as an actor to carry the film, because it's one of those rare Hollywood movies without big explosions and fight scenes. As Tom Hanks is the only actor on the screen for most of Castaway, he gives one of his boldest performances: He uses his verbal and physical acting prowess--especially without the comfort of working with other actors--to emphasize the emotions that come with total isolation.
8. You've Got Mail
Meg Ryan and Tom Hanks join forces for their third outing in You've Got Mail. In this film, they play Kathleen Kelly and Joe Fox, rival bookshop owners. Kathleen owns an independent bookshop, and Joe owns a major franchise that plans to run businesses like Kathleen's out of town. The two hate each other at first, but fall in love both in real life and online, without knowing the two relationships are connected.
If we could fill this entire list with just Ryan and Hanks romantic pairings, we probably would because of their dynamic onscreen chemistry, and the likes of Sleepless In Seattle could have easily made this list. However, You Got Mail stands out the most, not only for how natural Ryan and Hanks work together, but also because of how relevant online dating has become since Tom Hanks and Meg Ryan made the film over 20 years ago.
7. Captain Phillips
Captain Phillips follows Captain Richard Phillips as a group of pirates take him and his crew hostage. Director Paul Greengrass and screenwriter Billy Ray based Captain Phillips on the 2009 true story of the Maersk Alabama hijacking. The movie received six Academy Award nominations, including Best Picture and Best Supporting Actor for Barkhad Abdi (who plays Abduwali Muse), the main and sole survivor behind the hijacking.
In the film, Tom Hanks must embody all the fear and anxiety that comes with someone's life being in danger, while also trying to protect the lives of others. It's a classic tale of man vs. man, with both sides having goals. For Captain Phillips, it's to make it home alive. The film excellently blends high intensity action with a look at human nature.
6. Catch Me If You Can
Catch Me If You Can is one of the many film pairings that brings Tom Hanks and Steven Spielberg together. In this one, Hanks stars opposite Leonardo DiCaprio. DiCaprio plays Frank Abagnale Jr., a professional con artist who poses in various careers, such as a pilot and doctor. His main crimes involve check forgery, which captures the attention of FBI agent Carl Hanratty (Hanks), who takes special interest in Frank Jr. and it becomes a game of cat and mouse. Spielberg based Catch Me If You Can on the real Frank Abagnale Jr.
Catch Me If You Can may not receive the same praise as some of the other hanks-Spielberg pairings, but it's one of their most fun collaborations. Not only is Frank Jr.'s real life fascinating, but Tom Hanks and Leo DiCaprio both give charismatic performances as two men really bound together until one of them ends this chase. The film also pays homage to the '60s and flashy lifestyles.
5. Forrest Gump
Forrest Gump follows the folk-like figure Forrest Gump throughout his life. People who meet Forrest know and love him for his extreme kind heart and bit of naïveté. The film highlights the many ways that he influences history and touches different lives.
Tom Hanks received his second consecutive Academy Award win for Forrest Gump. It also won several other Oscars, including Best Picture, Best Director, and Best Adapted Screenplay. Forrest has become one of Hanks most well-known characters, at least his most quoted character. The reason Forrest has become such a beloved pop culture character is because of the sincerity of Hanks' performance, and its story of a pure heart.
4. Toy Story
The original Toy Story surrounds Andy's toys, who are led by Woody (Hanks), Andy's favorite toy, until Buzz Lightyear (Tim Allen) comes along and Woody is pushed to the shadows. The film inspired three sequels, the final one (so they claim) premiered in 2019 to rave reviews.
The Toy Story franchise has grossed over $3 billion worldwide and become the 20th highest grossing franchise of all time. The story of toys who just want love has reached generations of fans, and has cemented Tom Hanks even more in the hall of fame of beloved movie actors. Woody and Buzz are the dynamic duo that fans will continue to rush to box offices to see, whether that means one more or 20 more sequels.
3. Saving Private Ryan
Set during World War II, Saving Private Ryan follows Captain John Miller (Hanks) and his squad as they try to find Private Ryan (Matt Damon). Fans and critics often praise the film for its realistic depictions of the violence and devastation of wars.
Saving Private Ryan is the first Spielberg and Tom Hanks collaboration. It received 11 Academy Award nominations, including Best Picture, Best Director, which it won, giving Steven Spielberg his second director Oscar, and Best Actor nomination for Hanks, who didn't win. The film relies on the actor to lead this ensemble cast as they navigate the obstacles associated with war, including the mental ones. Hank gives a respectable performance as a captain willing to make any sacrifice to ensure that his men make it home from the war.
2. Big
Twelve-year old Josh Baskin (David Moscow) makes a wish to become big, and transforms into the 30-year old version of himself, played by Tom Hanks. First, it's all fun and games being an adult, but then Josh starts to see just how stressful adult life can be, so he must find a way to become a child again.
Though not his first film or television appearance, 1988's Big has become one of Hanks most iconic performances. Not only for the piano dance scene, but for Tom Hanks' effortless blend of comedy and drama throughout the movie. Viewers watch as this big kid tries to navigate the challenges of adulthood without actually going through the struggles of growing up. The movie Big acts as a reminder to children and young adults to appreciate their youth while they have it, and to take growing up slowly.
1. Philadelphia
Tom Hanks stars opposite Denzel Washington in Philadelphia, a movie where Hanks plays Andrew Beckett, a man fired from his firm because of his sexuality and being diagnosed with AIDS. Washington plays Joe Miller, the lawyer who takes Beckett's case against his former firm. As the men work together, they find a new respect and admiration for each other, despite their differences.
Philadelphia earned Hanks his first Academy Award for Best Actor, rightfully so. Tom Hanks delivers a powerful performance that helps highlight the bigotry that many faced and still face. The film not only touched on such a powerful issue but it helped showcase two powerhouse actors as Washington and Hanks in a time when both of their careers were on the rise. It's not an easy film to watch, and is one of the actor's more dramatic roles, but it's an important and memorable one.
This list could go on forever because Tom Hanks has so many good movies. Everyone also has their own special relationship with them, so the world may never agree on the best ones, so let's us hear your opinion by voting in our poll below. Also, comment with the ones you would have put on the list.
This poll is no longer available.
Your Daily Blend of Entertainment News
Spent most of my life in various parts of Illinois, including attending college in Evanston. I have been a life long lover of pop culture, especially television, turned that passion into writing about all things entertainment related. When I'm not writing about pop culture, I can be found channeling Gordon Ramsay by kicking people out the kitchen.