Amazon's A League Of Their Own Series Casts A Good Place Star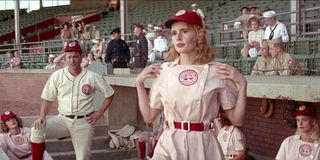 With The Good Place coming to an end in its fourth and final season, D'Arcy Carden is exchanging Janet's dress for baseball cleats. The actress, who's portrayed multiple versions of Janet on the critically acclaimed NBC sitcom, will be joining Broad City's Abbi Jacobson in Amazon's A League of Their Own.
According to TVLine, D'Arcy Carden has been cast in an undisclosed role in A League of Their Own. Amazon Prime Video's original programming continues to grow and they may have just hit a home run with this particular casting. The series, which is an adaptation of the 1992 baseball film starring Tom Hanks, Geena Davis, Rosie O'Donnell, and Madonna, was announced last year.
With shows like Fuller House and the upcoming Walker, Texas Ranger reboot, networks and streaming services are tapping into the 1990s nostalgia. A League of Their Own walks a bit of a tightrope, though, because it's not exactly set in the 1990s, but takes place in 1943. The series will follow a group of women before and after the formation of their baseball team, the Rockford Peaches. The characters will work to develop a bond, all while traveling across the rapidly changing United States to play baseball.
Amazon is adapting A League of Their Own into a half-hour sitcom that will maintain the basic DNA of the 1992 film, "while taking a contemporary spin on the stories of the women surrounding the All-American Girls Professional Baseball League."
D'Arcy Carden actually shares some history with Abbi Jacobson, who is also co-writing and executive producing A League of Their Own alongside Hailey Wierengo. Carden had previously appeared in five episodes of Broad City, playing the annoying Soulstice trainer Gemma. The Amazon series will serve as an onscreen reunion of sorts for the pair.
In the meantime, D'Arcy Carden has already wrapped filming on The Good Place, which is fast approaching its series finale. The show's final season was announced back in June, with showrunner Michael Schur comparing the ending of the show to that of Breaking Bad. According to Kristen Bell, though, The Good Place ending "will be worth it."
Production on A League of Their Own hasn't yet begun and a premiere date has not been scheduled. However, with this bit of casting news, Amazon is finally getting the ball rolling and I expect more casting announcements and information about the show to be revealed soon.
Stay tuned to CinemaBlend for the latest in TV and movie news. While waiting for more information about A League of Their Own, there are plenty of other TV shows to watch across networks and streaming, so be sure to check out our complete guide to every new and returning show premiering through the end of the year.
Your Daily Blend of Entertainment News
Thank you for signing up to CinemaBlend. You will receive a verification email shortly.
There was a problem. Please refresh the page and try again.