Marvel Has Given Release Dates To Five More Movies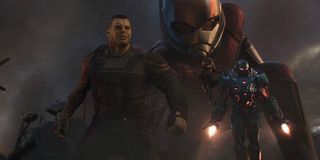 The leadership over at Marvel Studios may try to keep plot details for the Marvel Cinematic Universe movies secret for a long time, but one thing they do want you to know about as soon as possible is when movies are going to drop in theaters. To that end, it's been revealed tonight that not only has Marvel Studios set aside another release date for 2022, it's also scheduled four movies for 2023.
The MCU already had three 2022 release dates lined up: February 18, May 6 for Black Panther 2, and July 29. Well, now we can also count on another cinematic MCU installment coming out October 7, 2022. Marvel also announced (via THR) that its four 2023 movies will be released on February 17, May 5, July 28 and November 3 of that year.
Well, Alan Horn, the Chief Creative Officer and Co-Chairman of Walt Disney Studios, said that Marvel Studios would keep releasing three to four movies a year, and sure enough, it looks like four per year is becoming the new MCU norm. Where once we considered ourselves lucky to get two MCU movies per year, now we're getting basically getting one for every quarter over the next two years.
So what movies will fill those dates? Presumably we'll have to wait a while to learn that information. As mentioned earlier, so far Black Panther 2 is the only movie that's been officially slated for Phase 5, but that doesn't mean there aren't plenty of candidates we can consider.
It's been confirmed that Guardians of the Galaxy Vol. 3, Captain Marvel 2, Ant-Man 3 and Blade are in the works, as are reboots centered on the Fantastic Four and X-Men, which now belong to Marvel Studios thanks to the Fox merger. There's also still talk about if Deadpool 3 will ever be made, and let's not forget all the projects that the MCU bigwigs are discussing among themselves in private that the public won't catch wind about for a long time.
So yeah, it's not like Marvel will be lacking in content to put on the big screen, and feel free to leave your thoughts on what will go where. Personally, I think that October 7, 2022 date will go to Blade. We already know Mahershala Ali is primed to play the Day-Walker, so it'd be easy enough slot him in there, and what better time of year to watch a guy cut down vampires than during the Halloween season.
As for 2023, I suspect that Captain Marvel 2 will occupy one of those dates, and fingers crossed either the X-Men or the Fantastic Four will debut that year. But beyond that, it's anyone's guess. I expect Guardians of the Galaxy Vol. 3 and Ant-Man 3 will arrive in 2022 given that James Gunn plans to work on the former movie once he's done with The Suicide Squad, and Peyton Reed is confirmed to be returning to helm the latter movie. Who knows, maybe one of those 2023 dates is being saved for the sequel to a property that hasn't even gotten MCU screen time yet, like The Eternals or Shang-Chi.
Rest assured, when any of these release dates are filled, we here at CinemaBlend will let you know about it. For now, delve deeper into what the MCU has coming up in Phase 4 and beyond with our comprehensive guide. And don't forget that Marvel also has plenty of Disney+ shows on the way, and I wouldn't be surprised if Ms. Marvel, Moon Knight and She-Hulk all debut in 2022.
Your Daily Blend of Entertainment News
Connoisseur of Marvel, DC, Star Wars, John Wick, MonsterVerse and Doctor Who lore. He's aware he looks like Harry Potter and Clark Kent.