Spider-Man: Into The Spider-Verse: The Easter Eggs You May Have Missed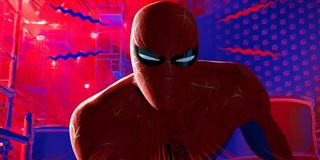 With a 97% score among critics on Rotten Tomatoes and an Academy Award to its name, Spider-Man: Into the Spider-Verse is easily one of the most acclaimed superhero movies — animated or otherwise — to ever grace the silver screen. The spunky, invigorated, hyper-realized Sony movie is fast, funny and full of creative wit and heart. It's also chalk full of easter eggs that you might have missed, even if you have watched the movie several times over.
You can watch Spider-Man: Into the Spider-Verse 20 thousand times and probably not catch everything. Even producers Phil Lord and Chris Miller admitted in the movie's commentary track that they're not totally aware of all the movie's hidden gems. That's the magic of this frenetic, immensely creative and lovingly produced animated feature. But if you're planning to check it out again soon, we'd recommend looking out for these easter eggs.
In Spider-Gwen's Origin Story, Peter Parker Has Blue Scales
In typical Spider-Man fashion, everyone has an origin story. One cannot simply become the web-shooting extraordinaire without a troubled story to accompany their superhero identity. Sure enough, in Spider-Man: Into the Spider-Verse, we get a glimpse of the origins of Spider-Gwen's story inside her own universe, and we see the body of Peter Parker covered with blue scales. As it turns out, this is a direct reference to the comics, as there was a comic where Peter Parker turned himself into The Lizard. For those who are familiar with the source material, this is a brief, but surprising nod to Parker's printed page past.
Seth Rogen Makes A Cameo In Spider-Man: Into The Spider-Verse... Kinda
There are a lot of celebrity voice talents sprinkled throughout Spider-Man: Into the Spider-Verse. Whether it's Chris Pine, Zoe Kravitz, Mahershala Ali, John Mulaney, Hailee Steinfeld or Nicolas Cage, to name a mere few, it's a loaded ensemble, and that's not even the half of it. As it turns out, Seth Rogen is also in the movie... At least, in some respect. If you look in the background of one shot set in Time Square, there's a billboard for a Rogen comedy titled Hold Your Horses, which appears to be a Seabiscuit-esque jockey movie with the popular actor/producer at the forefront. The tagline is quite telling: "Riding High In The Saddle."
Stan Lee Makes A Blink-And-You-Miss-It Cameo At The Beginning Of Spider-Man: Into The Spider-Verse
It should come to no surprise that Stan Lee made a cameo in Spider-Man: Into the Spider-Verse. The prolific comic book personality has a habit of appearing in small roles and quick cameos throughout a wide number of Marvel movies, and this one is no exception. While it was unfortunately one of the last times Lee was able to make a cameo before his passing, he did have a memorable voiceover appearance inside the animated film as the owner of the shop where Miles buys his Spider-Man costume. But Lee also made a brief blink-and-you-miss-it cameo at the beginning. As the subway roars past the screen, you can see Stan Lee zip past, complete with his signature green shirt and wide rim sunglasses. He can also briefly be seen later on in another subway train. It's gonna be sad to see Marvel movies without Stan Lee inside them, but it's nice to know that the guy made not one, but multiple appearances in this animated hit film (more on that later).
Donald Glover Made An Appearance In Spider-Man: Into The Spider-Verse, And Rightfully So
Several years prior, when The Amazing Spider-Man was in the gestation period, there was an online campaign to get Community actor Donald Glover to play Peter Parker/Spider-Man. The rising talent ultimately didn't get the part, but it did pave the way for the creation of Miles Morales in the comics. Therefore, when the character made his cinematic debut in Spider-Man: Into The Spider-Verse, it was only fitting that the multi-hyphenate talent should make an appearance in the film. If you look in the background at the TV in one select shot, you can see someone who looks an awful lot like Donald Glover wearing Spider-Man pajamas. This scene was taken from a Community episode where Glover was in the same attire. It's a loving nod to the actor — especially considering his indirect history with the character's creation. It's a shame he couldn't voice a character, but he's a busy guy.
The Daily Bugle Looms Ahead
One of the most well-known aspects about Spider-Man's mythology is Peter Parker's employment at The Daily Bugle. Since the amateur photographer knows the Amazing Spider-Man all-too-well, he can get the best pictures and score the exclusives with the elusive webbed superhero. Alas, the newspaper doesn't play a part in this new animated film, but that doesn't mean it's absent. The Bugle building can be seen in the background in a couple shots, most prominently in the scene where Spider-Man is seen swinging around New York City. It wouldn't be a Spider-Man movie with The Daily Bugle at large.
Miles Morales Is Connected To His Creators
Like many teenagers, Miles Morales has a lot of contacts in his phone. Those include two names that might seem inconspicuous, but actually play a big hand in Morales' existence: B Bendis, a.k.a. Brian Michael Bendis, and Sara Pichelli. The former is the writer who created Miles Morales. The latter is the artist who brought the character to life. Without these two, we wouldn't have a Miles Morales, so it's comforting to know they are only a call away.
In Miles Morales' Universe, Everyone Plays For A Different Team
There are several aspects to Miles Morales' on-screen universe that are different from our own. For instance, rather than the New York Yankees, there is a sign that promotes the New York Red Sox, which is certainly an odd distinction. What exactly does that mean? Do the Yankees play for Boston? Do any other major league baseball team belong to someone other than the home cities we associate them with? This one raises a lot of questions... But it should also be noted that Blake Griffin also plays for the New York Red Sox in this universe, which makes many things seem very unusual indeed.
Stan Lee Makes Yet Another Cameo In Spider-Man: Into The Spider-Verse
As mentioned earlier, Stan Lee is no stranger to cameos inside the world of Marvel movies. The comic book creator is certainly not camera shy, and he has adorned his face in many movies based off his famous literary creations. Therefore, it was fitting that he should appear in this film, though it wasn't one mere appearance. Or even two on subways. No, he made (at least) four separate appearances in the movie, including another cameo that you might not have seen upon first glance. Specifically, when Peter Parker and Miles Morales crash onto the ground and on-lookers walk around them, one such onlooker is none other than Stan Lee himself in another "blink-and-you-miss it" cameo. Excelsior!
Brian Michael Bendis Also Gets An Extra Bookmark
In addition to being a contact in Miles Morales' phone, Brian Michael Bendis gets a second nod in Spider-Man: Into the Spider-Verse. Specifically, there is a background shot that includes Bendis Used Bookstore, which serves as another nod to the comic book creator's influence in creating the movie's main protagonist. It's very subtle, but it only makes sense that a bookstore would be named after the comic book character's literary origins.
Steve Ditko Is Also On The Line
In addition to having Brian Michael Bendis and Sara Pichelli in his phone as contacts, Miles Morales is also connected to Steve Ditko, which is a direct reference to the late co-creator of the original Spider-Man. As many comic book lovers likely know, Steve Ditko never fully got the respect he deserved for creating such an iconic character, so it's touching that the filmmakers being Spider-Man: Into The Spider-Verse found a way to pay tribute to the comic creator.
The FLDSMDRF Has Made It Into This Universe
Fans of producers Phil Lord and Chris Miller are likely familiar with their feature directorial debut, 2009's Cloudy with a Chance of Meatballs. The fast-paced adaptation of the popular children's book is a wacky and winning little family movie, and it also features a machine labeled FLDSMDRF, which translates to The Flint Lockwood Diatonic Super Mutating Dynamic Food Replicator, which is an appropriate mouthful. Sure enough, in this newest animated film from the popular filmmakers, there is a loving nod to this machine as it is seen floating throughout the insane, universe-bending third act. It should be noted that Cloudy with a Chance of Meatballs and Spider-Man: Into the Spider-Verse were both distributed by Sony Pictures Animation.
These are literally just a few of the hundreds (maybe even thousands?) of easter eggs sprinkled throughout Spider-Man: Into the Spider-Verse. As we said earlier, this movie is chalk full of little goodies and surprises, and it'll certainly reward moviegoers who devour this movie upon several rewatches. Hopefully, these easter eggs in particular prove to be illuminating in your future Spider-Verse rewatches, but if you caught some particularly noteworthy easter eggs throughout Spider-Man: Into the Spider-Verse that weren't mentioned here, be sure to let us know all about them in the comment section.
You can look forward to Spider-Man: Into the Spider-Verse 2 coming out on April 8, 2022.
Your Daily Blend of Entertainment News
Will is an entertainment writer based in Pittsburgh, PA. His writing can also be found in The Playlist, Cut Print Film, We Got This Covered, The Young Folks, Slate and other outlets. He also co-hosts the weekly film/TV podcast Cinemaholics with Jon Negroni and he likes to think he's a professional Garfield enthusiast.