Donald Glover For The New Spider-Man? Here's What He Says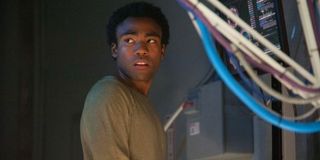 With the recent news that Spider-Man will finally make his debut alongside Captain America and the other Avengers in the celebrated Marvel Cinematic Universe of comic book movies, the search for the new cinematic Web-Head has officially begin. It's a situation that rings familiar to the period in which the vacancy filled by Andrew Garfield had first opened up. However, during those days, there was one long-shot candidate that seemed to be on tips of everyone's tongues: Donald Glover. Well, now that the wall-crawling gig is once again up for grabs, there's some curiosity regarding whether he'll be interested in finally donning the arachnid ensemble. His comments this time, however, tell a different story.
In an interview with Yahoo, actor, comedian and part-time rapper Donald Glover fields a question which he has been asked for years. However, in this case, the old question just received a new timely tinge of relevance. Asked whether he is in contention for the role of Spider-Man… again, Glover gives a disciplined answer, but nevertheless shows his continued enthusiasm for the character.
Back in the days of the original Internet campaign, Glover seemed to legitimately buy into the idea of at least nabbing an audition for the Wall-Crawler role. However, this time around, his attitude seems more muted. Regarding any possible momentum generated by the fans, Glover, who has left his days of social media participation behind, states:
Glover, the former star of TV's Community, with film roles in The Lazarus Effect and the upcoming Magic Mike XXL, is probably a more serious contender for a major gig with the weight of Spider-Man than he was back in 2010 when the original social media-driven campaign to get him the role was in effect. However, his association with the character from that failed effort has not yet faded, due to long memories and new rumblings of a non-white Spider-Man. Yet, despite the possibility of him walking through that door being a lot less of a longshot than it was back in the days when #Donald4Spiderman was trending, it does seem that Marvel is looking for a traditionally younger, teenage version of Spidey. It's a role that the 31 year-old Glover could not possibly play on screen, despite his recent voice portrayal of the young Miles Morales version of Spider-Man in Disney XD's Ultimate Spider-Man animated series.
The situation certainly feels like déjà vu all over again. Back in 2010, just a few years removed from Tobey Maguire's last run, we would see outrage-causing rumblings of Sony's intention to reboot the Spider-Man franchise. While fans had soured a bit on the Spider-Man franchise after the rushed, crowded mess that was Spider-Man 3, it was clear that a reboot so soon afterwards would signal disrespect to everything that was just so recently invested in the last rendition. It was also an especially sore point with fans since Marvel Studios already had already begun building its series of continuity-connected films that were resonating hugely with wider audiences and also making some serious green.
Consequently, the momentum that would be generated by the campaign to get Donald Glover his spider-suit (using crudely-Photoshopped mock-ups like the one seen above,) was motivated, in part, by rebellion against what was transparently a cash-grab. While it's safe to say that most fans preferred a version of Peter Parker resembling the one they grew up following, the mindset seemed to be that if Sony was insistent on rebooting Spider-Man so soon after the Sam Raimi-directed films, then the least they could have done was give fans a distinctive take on the iconic wall-crawler with an ethnically alternate version with a strong comedic background. Of course, that was not what they would get, as Andrew Garfield got the part, to good, but ultimately less revered results.
Going by his comments, Glover remains realistic about his chances, which are unlikely. Most of the reasoning behind the 2010 campaign seemingly is off the table and the MCU will need a younger Spidey who will become a long-term cinematic investment. However, the idea continues to reach mythological proportions in the annals of the Internet, which is certainly not a bad thing at all for the actor, whose star is nevertheless on the rise.
Your Daily Blend of Entertainment News
Thank you for signing up to CinemaBlend. You will receive a verification email shortly.
There was a problem. Please refresh the page and try again.