Frozen II: All The Confirmed Characters And Cast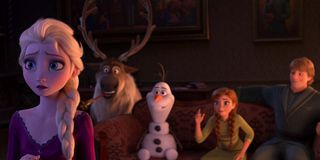 This weekend, six years after the original came out, Disney is finally releasing Frozen II. Millions will flock to the theater to see the return of their favorite Frozen characters. Young and old fans will finally get to see folks like Elsa, Anna, Kristoff, Olaf and Sven again in Frozen II.
Frozen, the spin on Hans Christian Andersen's The Snow Queen, received rave reviews and became a major global success. It earned over $1.2 billion worldwide and became the highest-grossing animated film of all time, and the 15th highest grossing movie of all time. The film inspired merchandise frenzy and a couple of short sequels, Olaf's Frozen Adventure and Frozen Forever.
Frozen ended with Elsa taking her rightful place as ruler and Queen of Arendelle, with Anna and new boyfriend Kristoff right beside her. By the time Frozen II premieres, Queen Elsa has already been running the kingdom for a couple of years. Disney has remained quiet about the plot of Frozen II, but Disney's press releases and trailers have given fans a lot more insight into what to expect from the sequel.
The film is expected to break even more box office records this weekend. But before not letting the cold bother you anyway, it's time to get to know some of the new characters inhabiting the Frozen world, and to see which of your favorite Frozen characters are returning for Frozen II.
Elsa (Idina Menzel/Mattea Conforti/Eva Bella)
Idina Menzel returns to voice Elsa, the Arendelle queen with a cold touch. In Frozen, Elsa felt like an outsider because she had the power to turn things into ice with her touch. In Frozen II, Elsa explores more of Arendelle's history and the origins of her powers. Frozen II also features more flashbacks to Elsa and Anna's childhood, with Mattea Conforti voicing young Elsa this time. Eva Bella also returns to voice another version of young Elsa.
Anna (Kristen Bell/Hadley Gannaway/Libby Stubenrauch)
Kristen Bell returns to voice Anna, Elsa's younger and more animated sister. The sister bonding and support continues in Frozen II, with Anna once again trying to help Elsa. This time, Anna plans to help Elsa find the origin of her powers. We'll also see more of young Anna with Hadley Gannaway and Libby Stubenrauch lending their voices to the character.
Kristoff (Jonathan Groff)
Kristoff along with his trusty reindeer Sven, makes a return in Frozen II. Despite being a fixer upper, Kristoff and Anna fell in love in Frozen, and they continue that relationship in the sequel. Jonathan Groff brings the character to life with his voice. The sequel continues to explore Kristoff and Anna's relationship, with Kristoff planning to propose. His plan gets derailed when Anna and him must drop everything to help Elsa.
Olaf (Josh Gad)
Josh Gad voices everyone's favorite snowman, Olaf. Olaf returns to join Anna, Elsa, Sven and Kristoff on their adventure. Frozen II occurs three years after the original film, so there is a bit more maturity and curiosity to this version of Olaf. He wants to know a lot more about humans and living.
Duke Of Weselton (Alan Tudyk)
The Duke of Weselton returns in Frozen II, with Alan Tudyk once again voicing the dubious duke. In Frozen, he leads the charge to kill Elsa because of her magic powers, and he tried to exploit Arendelle's riches. By the end of the film, Elsa and Arendelle cut ties with the Duke, so we'll have to see why he makes a return in Frozen II.
Hans (Santino Fontana)
The Santino Fontana-voiced Hans has been brought back to Anna and Elsa's world. In the original film, Hans was a prince from the Southern Isles. He manipulated Anna, pretending to be in love with her, so that he could marry her and take over Arendelle. Frozen Fever last showed Hans cleaning up after the horses as part of his punishment. We'll see if Hans is still doing manual labor in Frozen II.
Marshmallow (Paul Briggs)
The snow marshmallow giant monster that Elsa created in Frozen is back for Frozen II. Marshmallow caused a bit of havoc in the first film, but by Frozen Forever, he showed more of a tame side. He now resides in the ice palace.
Grand Pabbie (Ciarán Hinds)
The trolls have returned in Frozen II, probably to throw some shade at Kristoff again. Grand Pabbie, voiced by Ciarán Hinds, once again leads the trolls on whatever adventures they experience this time around.
Honeymaren (Rachel Matthews)
Rachel Matthews voices Honeymaren, a member of the Northuldra community and the sister of Ryder. She's a free spirit who dreams of bringing peace to the enchanted forest. Honeymaren has a strong connection to nature, and a bold and brave personality. Her love and connection of nature reflects in her costume design.
Queen Iduna (Evan Rachel Wood/Delaney Rose Stein)
Evan Rachel Wood voices Queen Iduna, Elsa and Anna's mother. Queen Iduna and King Agnarr made brief appearances in Frozen, but have bigger roles in Frozen II. The sequel explores more of Queen Iduna's past, which includes flashbacks involving young Queen Iduna, voiced by Delaney Rose Stein. We'll learn how Queen Iduna and Elsa are more alike than Elsa and Anna realize.
King Agnarr (Alfred Molina)
Alfred Molina voices King Agnarr, the husband of Queen Iduna, and Elsa and Anna's father. As Frozen II dives deeper into Queen Iduna's past, we also learn how that involves King Agnarr. He made it his mission to protect his family, and we'll see more ways he did so in Frozen II.
Lieutenant Destin Mattias (Sterling K. Brown)
Sterling K. Brown voices Lieutenant Destin Mattias, a soldier who protected Arendelle from their major enemy, the Northuldra. This quest led to the Northulda enchanted forest trapping Lieutenant Mattias with its magical mist. and he's been there for 30 years. Meeting Elsa and discovering her powers makes him question his belief about protecting Arendelle, and about the Northuldra people and their magic.
Yelana (Martha Pimpton)
Martha Pimpton voices Yelana, an elder of the Northuldra community who fights fiercely to protect the community against any presumed dangers. However, she's more open to outsiders when they show an understanding for the Northuldra people and culture.
Ryder (Jason Ritter)
Jason Ritter voices Ryder, Honeymaren's brother. He's optimistic and loves reindeers, just like Kristoff. Ryder has only seen the Northuldra community, but longs to go beyond the forest. His love of reindeers could mean that he becomes either Kristoff's best friend or a new rival. We wonder if their love of reindeers isn't the only thing that they share a love of in Frozen II.
King Runeard (Jeremy Sisto)
Jeremy Sisto voices King Runeard, the father of King Agnarr, which makes him Elsa and Anna's grandfather. Since Frozen II deals a lot more with King Agnarr and Queen Iduna's past, we're sure to learn a lot more about how King Runeard reacted to his daughter-in-law and grandchildren.
Bruni (Non-Speaking Role)
Bruni is the newest cuddly creature to enter the Frozen world. He's a curious salamander that ends up in the Northuldra enchanted forest. He's a little hesitant to interact with new people at first, but he feels an immediate connection to Elsa, as Bruni enjoys her magic and her snowflake creations. Bruni and Elsa also share a bond because of their feelings of being misunderstood.
The Voice/Siren (Aurora)
Not much is known about this character, but that it is a voice who calls to Elsa. Singer Aurora plays this siren voice, and she sings one of Frozen II's seven new songs. "Into the Unknown" features Aurora giving a sort of whispering call, while Idina Menzel sings a response to the calls. "Into the Unknown" reflects Elsa's doubt about staying in Arendelle. She doesn't want the siren to tempt her away from her home, but the call of adventure and the unknown seems too great to ignore. Elsa also seems to still not quite feel like she's found her place in Arendelle, and wonders if she might find someone else like her beyond the palace.
Fans of Frozen have been anxiously awaiting the sequel. Disney did not leave them without Frozen material for the last six years—they've had books to go along with the animated shorts. These additional stories have let fans continue to revisit Arendelle repeatedly. Nevertheless, Frozen II gives fans an official new chapter into Elsa and Anna's story. These new and returning characters will help the sisters continue to grow and bond. Along with the new characters to love, Frozen II makes sure that the fans have plenty to sing about with the new songs featuring music from the main cast: Kristen Bell, Idina Menzel, Josh Gad, Jonathan Groff, and Evan Rachel Wood.
Songs on the album include new music from Panic! At the Disco, Kacey Musgraves and Weezer. Frozen II also dives a lot deeper not only into Elsa and Anna's past and history, but the mythology surrounding the Frozen universe, which leans on Norse mythology and folk tales. Frozen II will definitely be one of the most talked about things this movie season.
Which Frozen II characters are you most looking forward to seeing? Let us know in the comments below.
Your Daily Blend of Entertainment News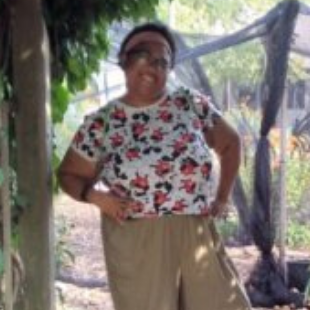 Spent most of my life in various parts of Illinois, including attending college in Evanston. I have been a life long lover of pop culture, especially television, turned that passion into writing about all things entertainment related. When I'm not writing about pop culture, I can be found channeling Gordon Ramsay by kicking people out the kitchen.