Theater Defends Pulling Movie After Machete Mob Incident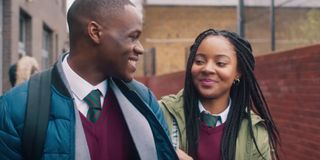 Over the weekend, a Birmingham theater owned and operated by Vue cinemas dealt with a massive mob brawl that involved machetes and other weapons. Upwards of 100 teenagers were involved in the incident, which started while Blue Story and Frozen II were options to screen at the theater. In response, Vue pulled Blue Story from its theaters and is now defending the decision to do so.
As part of Vue's statement, the theater chain said Blue Story, which is about two friends who become rivals on the streets and violence ensues, led to over "25 significant" incidents over the weekend when it was released in only 60 theatrical locations. That large number led the chain to pull the movie. Per Vue:
In a statement (via Deadline), the theater chain defended its decision to pull the Paramount and BBC Films movie Blue Story from each of its locations, including the Star City complex where the machete mob occurred.
It's not the only theater that has pulled Blue Story from its theatrical release. Showcase cinemas also pulled the movie in the U.K temporarily. Ultimately, however, it looks as if Blue Story will live to see another day in Showcase cinemas, as that theater chain noted yesterday:
Currently, there is no U.S. release for Blue Story even planned. The movie looks at gang violence on the streets of London and is based on a popular YouTube series "Shiro's Story." The movie's director Andrew Onwubolu also spoke out to pray for those involved and to clarify his opinion on Blue Story getting pulled, which he compared to Joker incidents.
The brawl in question left seven police officers with facial injuries, it led to the arrest of five teenagers and batons, tasers and dogs all had to be used to bring the machete mob to an end. Unfortunately, at the time of the incident, a lot of families had been seeing Frozen II and inadvertently ended up near the fray. No one was seriously injured, but the situation was clearly not one a theater chain would hope for.
The violence has not officially been linked to the Blue Story screening, but given the subject matter and the fact the movie also has characters wielding machetes, it would not be a surprise to learn this is why Vue made the correlation. You can take a look at the official trailer for the movie below.
Earlier this year there were similar concerns about Joker screenings, but those incidents mostly seemed to be limited to a few oddball interactions in theaters and pranksters putting up signage about no-singles being allowed.
Reality TV fan with a pinch of Disney fairy dust thrown in. Theme park junkie. If you've created a rom-com I've probably watched it.
Your Daily Blend of Entertainment News
Thank you for signing up to CinemaBlend. You will receive a verification email shortly.
There was a problem. Please refresh the page and try again.