Should George Lucas Return As Director For The Next Star Wars Trilogy?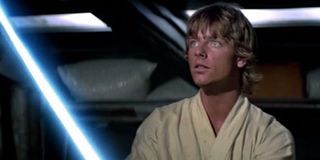 George Lucas sold Star Wars to Disney in 2012, and ever since, the director has had a diminished role in the universe. Since that day, there's been debate amongst fans on whether or not the franchise is better off with his lessened influence, or if the franchise has lost its way without him calling shots. Now, with the sequel series and Skywalker Saga drawing to a close some may be asking, is it time to bring Lucas back?
Disney may slow the pace of its Star Wars movies, but the franchise will be making more trilogies in the future. If he was willing, would it be a good idea to bring back George Lucas to direct a trilogy? Let's dive into the current situation with George Lucas, Star Wars, and whether or not that's as good idea as some think it is below.
George Lucas' Directing History In Star Wars
To date, George Lucas is responsible for 4 films in the Skywalker Saga. Lucas directed Star Wars: A New Hope, The Phantom Menace, Attack Of The Clones, and Revenge Of The Sith. Two of those movies rank among the favorites of many fans, and the other two are close to if not at the very bottom.
Given those 4 movies, it's really hard to measure how George Lucas would do with a new Star Wars trilogy. This franchise wouldn't be as big as it is without A New Hope, and Revenge of the Sith has some truly gut-wrenching and iconic scenes. Then there's The Phantom Menace, which has a lot of things someone can gripe about, and Attack of the Clones, which somehow managed to make a massive Jedi fight boring.
The point is, anyone arguing for or against George Lucas directing a new trilogy have equally valid points. The man gave us the Force, but also created Midi-chlorians. Folks can debate all they want on the merits of the sequel trilogy and if the prequels outrank them, but few will argue The Empire Strikes Back as the gold standard. Lucas provided the film's story, but let's not forget the screenplay and directing came from elsewhere.
George Lucas' Role In Star Wars Since Selling To Disney
Since he sold the rights to Star Wars to Disney, George Lucas has been in semi-retirement. Lucas has remained active in the world of Star Wars, though mainly as a creative consultant to various films and shows that have come in the years since then. As Lucas explained to Bloomberg back in 2013, a bulk of his contributions are explaining what is and isn't possible in the world of Star Wars.
George Lucas even provided his original story ideas for Star Wars Episodes 7-9, though has since revealed that very little of what he passed on was used. That may have been evident when the Star Wars creator spoke out against Star Wars: The Force Awakens, and stated he felt the work was too retro and reminiscent of what he had done in A New Hope. Lucas has reportedly liked other works since, and has given praise to Rogue One, The Last Jedi, and is apparently "fine" with The Mandalorian.
George Lucas may not agree with everything the franchise is doing, but nothing so far has been so egregious that he has elected to step away from it permanently. He may not be taking the lead on any movies, but he's always around should one of the many people running bits of this franchise need his assistance.
Does George Lucas' Want To Make More Star Wars Movies?
When George Lucas retired, he did state he still wanted to make movies. With that being said, the Star Wars man said he wanted to step away from the world of blockbuster major motion pictures. Instead, he hoped to focus more on independent features, and projects with a smaller scale. Does this scale mean he'd do another Star Wars project?
Possibly, although, even with television projects like The Mandalorian nearing budgets of a quarter of a billion dollars, it's hard to imagine anything in the Star Wars universe being "low budget" and "independent" for quite some time. George Lucas has spent a bulk of his life doing Star Wars, and his retirement plans seem to indicate he has no plans of continuing that in the future.
George Lucas' son Jett told The Guardian that part of his father's decision to sell the rights to the franchise was so he could get away from Star Wars. Lucas ultimate goal was to hand the franchise over to a new generation and to be around to guide when his help was needed. In terms of what we know publicly, George Lucas is doing exactly what he wants to do, and that's about it.
Should George Lucas Direct The Next Trilogy Of Star Wars Movies?
Given all we know about George Lucas and his current feelings on Star Wars, it's hard to say a director who is very much happy being out of the driver's seat should hop back in the saddle and make a new Star Wars movie. One can't force a camera in his hand and tell him to get to work, so it feels like a moot point to even discuss it.
George Lucas wanted to pass the Star Wars franchise on to a new generation, and that's what is happening now. Sure, he hasn't been a fan of everything that has happened under Disney, but he's still working with them, and continuing to expand the franchise further and ensuring it will be around for future generations to enjoy. Star Wars may outlive many of us, and a large part of that is thanks to Lucas relinquishing control of his franchise and allowing the great current minds of Hollywood to play with it.
In the hypothetical world where George Lucas did want to jump back into Star Wars, it's hard to argue he shouldn't. Sure, he may have had some misses with his contributions, but he's ultimately the reason why this franchise exists today. Again though, it doesn't seem like there's any chance of that happening, so until there's any real talk about it happening, that's where I'm at.
10 Star Wars Movie Facts You Probably Didn't Know
Do you think George Lucas should direct another Star Wars trilogy? Share your thoughts in the comments below, and continue to stick with CinemaBlend for all the latest news happening in the world of movies and television.
Your Daily Blend of Entertainment News
Mick likes good television, but also reality television. He grew up on Star Wars, DC, Marvel, and pro wrestling and loves to discuss and dissect most of it. He's been writing online for over a decade and never dreamed he'd be in the position he is today.