How J.J. Abrams Feels About George Lucas' Disappointment With Star Wars: The Force Awakens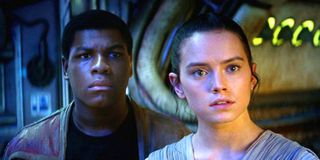 While Star Wars: The Force Awakens was an enormous success, it's had its fair share of detractors -- and it seems that Star Wars' creator was one of them. The film's director, J.J. Abrams, addressed revelations that George Lucas was disappointed with his first chapter in the franchise. And his response was incredibly gracious.
Earlier this year, Disney CEO Bob Iger released his memoir, The Ride of a Lifetime. He provided some insight into George Lucas' reaction to The Force Awakens. He said the director had believed that the studio would use the story ideas he submitted after they purchased Lucasfilm. When he realized they were going in a different direction with the franchise, he was disappointed. George Lucas addressed this frustration after The Force Awakens hit theaters, and hinted that he was not entirely pleased with Disney.
In an interview with Rolling Stone, Star Wars: The Force Awakens' director, J.J. Abrams, shared his thoughts on the revelation -- and made it clear he had sympathy for his fellow filmmaker:
Now in the midst of promoting Star Wars: The Rise of Skywalker, J.J. Abrams shared how his working relationship with George Lucas has progressed. He also opened up about how he felt when he learned the director and producer wasn't happy with The Force Awakens:
While George Lucas felt The Force Awakens strayed too far from his vision, some fans criticized the film for being too similar to the original trilogy. J.J. Abrams has responded both these perspectives with respect. And now, he'll need to gear up for another round of fan response: anticipation for his final chapter of the Skywalker saga is extremely high -- and both fans and George Lucas will be watching.
Your Daily Blend of Entertainment News
Thank you for signing up to CinemaBlend. You will receive a verification email shortly.
There was a problem. Please refresh the page and try again.