6 Oscar Nominations Jordan Peele's Us Should Have Gotten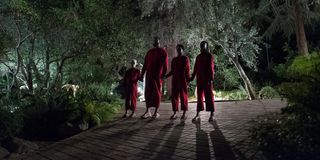 The Oscar nominations for 2020 are out, and there were so many notable movies missing from the list. About the most egregious omission is Jordan Peele's Us, which received a whopping zero nominations despite the buzz and acclaim it got in the first half of 2019.
It's astonishing not just on one front, but multiple. I personally expected Us to score quite a few Oscar nominations, and maybe even a win before the big night is over. Here's some of the categories that it should've received some recognition in, if not have won the award outright.
Best Actress - Lupita Nyong'o
The most glaring snub of the bunch, it's astonishing that Lupita Nyong'o was not given a nomination for Best Actress. She gave us not one, but two powerful performances in Us. Of course, the same argument could be made for many people in the movie, but there's no denying the Nyong'o's performances as Adelaide and Red drive the film home from start to finish. She showed us two wildly different characters, and the roles will go down as a clear example of her versatility as an actress.
And just to say it, there were few characters as intriguing and as captivating to watch on camera in 2019 as Red. A lot of that was because of Lupita Nyong'o, who found her voice for the character after researching a neurological condition that can afflict people who have undergone trauma. Nyong'o doubted herself throughout filming that she could handle two roles, but at the end of the day, she may have delivered one of the best performances of her career.
Best Supporting Actress - Elisabeth Moss
I'll admit her role in Us isn't meaty, but Elisabeth Moss is captivating both in her roles as Kitty Tyler and Dahlia. Us is a movie where each actor got a chance to play completely normal and also unhinged, and Moss was one of the folks who really went crazy with her role. It also helped that she was paired alongside Tim Heidecker, who channeled some of his bizarre comedy to play his Tethered character.
Maybe it was seeing Elisabeth Moss in a more unrestrained role when she's more inclined to take serious roles, or maybe she's just a great actress. Moss is one of those actresses who has proven herself in television, and in my opinion, Us was evidence that she deserves more roles on the big screen. I'm not sure she would've won Best Supporting Actress, but I think the nomination and recognition would be justified.
Best Original Screenplay - Jordan Peele
I'll admit that 2019 has a stacked lineup for Best Original Screenplay, and that it's hard to see a scenario where Us would topple nominees like Parasite, Once Upon A Time In Hollywood or Knives Out. Still, Jordan Peele delivered yet another awesome horror movie to audiences two years after Get Out, which earned him his first Oscar win for this very category. Past winners tend to get a nod quite often, so why not this time?
It's disappointing, especially given the lengths that Jordan Peele went to find a purpose for the multitude of things that happen in Us. The movie is drenched in references to the past, such as the Tethered's look being inspired by Michael Jackson's Thriller outfit (via Variety). Watching the movie will bring out all sorts of references a person may have missed, which I think speaks to the level of thought Peele puts into his work. He was deserving of a nomination at the very least, and he could've won for the second year in a row.
Best Director - Jordan Peele
There's a case to be made for Us to win multiple Oscars, and of course Best Director is one of them. Jordan Peele did a phenomenal job orchestrating this modern horror classic, and while it may not be quite as scary as some may have expected, it really managed to give us a legitimate thriller that ranks among the best of 2019.
What's most powerful about Us is how it presents a message on many levels. At its base, it may make someone freaked out about how we have no idea what's living in underground tunnels and caves, but others can see further at the commentary on privilege afforded simply because of a person's birth location, and the fear of invaders trying to take away the things we love. A viewer can see some or all of those things, and still be affected by the movie, and that's powerful.
Original Score - Michael Abels
Michael Abels collaborated with Jordan Peele on Get Out, and given that Peele rang him up again for Us, the two may work together frequently going forward. Abels' unconventional mixture of instruments for the score help drive a tension that starts with a slow build at the movie's beginning, and continually gets more tense and insane as the movie continues.
If there's one reason I can think of why Abels didn't get nominated for Us (beyond the fact that it was snubbed on many different fronts), it could be the revelation that work on the score began before filming. Still, I almost consider that more impressive because it speaks to the understanding Michael Abels and Jordan Peele share as creators, and how it all still came together to tremendous effect.
Best Picture
Last, but certainly not the least, Us really should've gotten a nod for Best Picture. Without naming any names, I can say for certain there are a few movies up for the honor that I enjoyed a whole lot less than Jordan Peele's horror romp and felt much more influential on the whole. Us was a story unlike a lot of what came out this year, and unless a sequel ever comes about, it's unlikely we'll see anything quite like it in the near future.
It's hard to quantify the cultural or lasting impact of a film so close to its release, though it's hard not to see Jordan Peele's first two movies and recognize that it is likely the start of what will be a long career directing and writing critically acclaimed relevant films in Hollywood. Us should be awarded because it's a fantastic movie, and also because Peele gave audiences a truly entertaining and original premise not once, but twice in just a few years when Hollywood is full of sequels and adaptations.
Do you think Us deserved any Oscar nominations, or were the snubs against it justified? Voice an opinion one way or another in the comments below and, as always, stick with CinemaBlend for all the latest happening in the world of movies and television.
Your Daily Blend of Entertainment News
Mick likes good television, but also reality television. He grew up on Star Wars, DC, Marvel, and pro wrestling and loves to discuss and dissect most of it. He's been writing online for over a decade and never dreamed he'd be in the position he is today.