Why A Flashpoint Movie Might Not Be As Big A Deal As You Think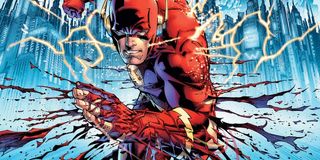 If you follow DC Comics news closely, you know it's been a long wait for The Flash. The DC Extended Universe version of the movie was part of the franchise's initial slate announcement in late 2014, with the goal being for it to come out in spring 2018. However, the Scarlet Speedster's standalone feature has been hit with numerous obstacles and delays in the years since, and as things stand now, IT's Andy Muschietti is helming The Flash and getting it ready for a 2022 release.
While we're still a ways off from learning specific plot details about The Flash, Andy Muschietti recently revealed that it will adapt Flashpoint, the 2011 storyline that saw Barry Allen waking up in a drastically version of the main DC reality. The original storyline had big ramifications for the DC Comics universe, but if you think that this means it will perform a similar function for the DC movies, you might want to temper your expectations, as I'll get into why it's unlikely the Flashpoint movie will be as grand in scale.
This Isn't The First Time A Flashpoint Movie Has Been A Possibility
First, a quick history lesson. At the 2017 San Diego Comic-Con, The Flash's title was changed to Flashpoint, and while we never learned anything specific about what to expect from this version of the movie, it implied big things. After all, at the end of the original Flashpoint resulted in the New 52 reboot, which changed nearly all of DC continuity. I'll touch on this more later, but if the DCEU was still chugging along in its original form, then the prospect of it similarly altering its characters and history would be noteworthy, to say the least.
However, by early 2018, it was reported that The Flash was no longer being called Flashpoint. From then until earlier this month, it seemed as though The Flash, while still being as much of a blockbuster as most superhero movies are, had opted for a smaller-scale story. And for all we know, even though this movie is back to being Flashpoint, it could still be taking that approach, which brings us to the next section.
The Flashpoint Movie Will Be "Different"
Naturally with The Flash movie still years away, Andy Muschietti isn't willing to reveal any specific details about the story just yet. That said, when he revealed that his version of The Flash would adapt Flashpoint, he specifically said that this would be a different version of the storyline than we're expecting. That right there should indicate that this will not come close to be a faithful retelling of Flashpoint. Granted, every superhero movie takes creative liberties with the storyline it's adapting, but if Muschietti was looking to go a more direct route with Flashpoint, why bother saying it won't be what fans are expecting?
Plus, this isn't the first time fans have gotten a Flashpoint adaptation that was quite different from the original story. The animated movie Justice League: The Flashpoint Paradox did quite well with following those main beats for its 81-minute runtime, but The Flash TV series' version barely resembled the source material outside of Barry Allen traveling back in time to save his mother and his undoing that action resulting in the Arrow-verse being changed in unexpected ways. And rather than be stretched as an arc, the Flashpoint of it all only lasted one episode!
I suspect that at the very least the Flashpoint movie will involve Barry Allen time traveling to undo his mother's tragic fate since that's the main crux of the original story, but even that's not necessarily guaranteed. However, because the direction of the entire DCEU has been adjusted, the likelihood of the Flashpoint movie's fallout leading into a similar kind of reboot that the New 52 was is slim.
There's No Need For Flashpoint To Reboot The DCEU
When the DCEU was first announced, the plan was for weave together a tight web of interconnectivity among its various movies, similar to what's been with the Marvel Cinematic Universe. However, Justice League underperforming critically and commercially led to the DCEU brand being evaluated and adjusted. While there is still some of that connectivity, such as in Shazam! and Black Adam corners, for the most parti, it's been toned down in favor of emphasizing individual character/team stories and filmmaker visions.
Back when The Flash was first identified as Flashpoint, it made sense to speculate on if the movie could reboot the DCEU reality. This was at a time when the perceived darker tone of the franchise had received a lot of criticism, and with talk already surfacing of Ben Affleck leaving the Batman role (which would be confirmed at the beginning of 2019), Flashpoint could have been a way to keep any elements of the franchise that worked and toss out whatever didn't. Plus, the main storyline also would have provided us a chance to see radically different versions of characters like Wonder Woman, who was actually rumored to appear one point.
However, because connectivity is no longer a priority in the DCEU, there's no need for Flashpoint to carry this kind of load. Granted, I suspect that when things are done in the movie, Barry Allen's personal life will have been altered somehow. But when it comes to the other corners of this franchise, there's really no need to address anything now that the interconnectivity has largely been shelved, especially among the Justice League characters. These heroes/protagonists are going their separate ways, and as long as there's continuity within their respective film series, why draw attention to something that doesn't really matter anymore?
Besides, if people really need an explanation for why the current DCEU doesn't reflect how it was initially presented, there's already one available. Earlier this week, The CW wrapped up the "Crisis on Infinite Earths" crossover, and during the Arrow portion, Ezra Miller's Flash came face-to-face with Grant Gustin's Flash in the Speed Force. Their meeting was brief, but by the end, it seemed like Miller Flash finally realized that the multiverse was a thing. In the final episode of "Crisis on Infinite Earths," we saw that the multiverse had been changed, with it now being a mix of previously existing worlds and brand-new ones, as well as the main characters from The Flash TV series, Arrow, Supergirl, Legends of Tomorrow, Batwoman and Black Lightning now all living on one Earth, Earth Prime.
While the DCEU wasn't shown as one of these new Earths, since we're getting more big screen appearances from Ezra Miller's Flash, Gal Gadot's Wonder Woman, Jason Momoa's Aquaman and more, one can logically surmise it still exists within the DC media multiverse. As such, if you need rationale for why Diana's depiction in Wonder Woman 1984 doesn't quite match up with what we saw from her in Batman v Superman: Dawn of Justice or Justice League, or why we're now examining on the world of Robert Pattinson's Batman, just look to "Crisis on Infinite Earths."
For now, The Flash, Flashpoint or whatever you want to call it is scheduled to race into theaters on July 1, 2022. Keep checking back with CinemaBlend for more updates on what we can expect from this project, and be sure to look through our comprehensive guide on what other DC movies are coming down the pipeline.
Connoisseur of Marvel, DC, Star Wars, John Wick, MonsterVerse and Doctor Who lore. He's aware he looks like Harry Potter and Clark Kent.
Your Daily Blend of Entertainment News
Thank you for signing up to CinemaBlend. You will receive a verification email shortly.
There was a problem. Please refresh the page and try again.