Oscars 2020 Voter Thinks Adam Sandler's 'Arrogance' May Have Cost Him Uncut Gems Nomination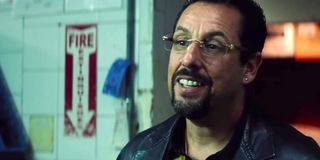 A wise woman recently said "Truth hurts." And while she wasn't talking about the brutally honest feedback some 2020 Oscar voters just leveraged on Adam Sandler, she may as well have been. Because when asked about why the actor was snubbed for his performance in Uncut Gems, they said it was partly because of his arrogance.
Though there are many worthy Academy Award nominees this year, it wouldn't be Oscar season if we didn't complain about the snubs. This year, some of the most obvious absences were J-Lo and Hustlers, Awkwafina (who won a Golden Globe for The Farewell), and Adam Sandler. His electric performance as a compulsive gambler in the Safdie Brothers' Uncut Gems earned rave reviews -- and for many, it marked a turning point in his career. He wasn't nominated for a Golden Globe, but many thought the buzz surrounding the thriller would be enough to earn him an Oscar nod.
They were wrong. And a few anonymous Oscar voters have explained why they didn't throw their weight behind him. One voter said that Adam Sandler's attitude rubbed them the wrong way (via The New York Post):
That voter seems to have been referring to a specific moment from Howard Stern's recent interview with Adam Sandler. The actor quipped that if he wasn't nominated for Uncut Gems, "I'm going to fucking come back and do one again that is so bad on purpose just to make you all pay. That's how I get them." Another voter, who identified themselves as a character actor, said that while Sandler's performance was great, they think the rest of his career is too lackluster:
The same voter also revealed that, for him, an actor's "brand" is just as important as one singular performance -- and that hurt Adam Sandler's chances in the end:
These are just the opinions of a couple of Oscar voters. But there's still a lot to unpack here. First, it shows that these voters have short memories -- yes, Adam Sandler does a lot of dumb comedies. But he's also given stellar turns in films like The Meyerowitz Stories: New and Selected and Punch Drunk Love. And while there's undoubtedly a case to be made that a whole actor's career can often influence their chances at Oscar glory, it's worth asking whether or not that's entirely fair. A great performance is a great performance, after all.
Your Daily Blend of Entertainment News
Thank you for signing up to CinemaBlend. You will receive a verification email shortly.
There was a problem. Please refresh the page and try again.