Uncharted Has Been Delayed... Again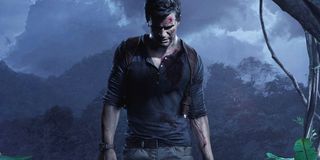 A cinematic adaptation of Uncharted has been in the works for more than a decade. But it looks like we'll still have to wait a while to see Tom Holland step into Nathan Drake's shoes, because the film's release date has been pushed back once again.
In June 2019, Sony Pictures announced that Uncharted would be hitting theaters on December 18, 2020. Now, THR is reporting that the film won't be released until March 5, 2021. It appears that the delay may be tied to director Travis Knight's decision to step away from the film right before the turn of the year. He was the second director to leave the project in the last year, following Dan Trachtenberg's departure in August 2019. Thus far, Sony has not announced his successor.
This creative shakeup is just the latest of many snags the Uncharted adaptation has faced. In fact, since 2009, the film has undergone so many changes (David O. Russell was once on board to direct the film, which says a lot), it's hard to guess what the finished product will even look like.
Here's what we do know about the film: It will be a prequel to Naughty Dog's wildly popular video game series, which follows fearless treasure hunter Nathan Drake on dangerous adventures. Despite his busy Spider-Man schedule, Tom Holland is still slated to star as the protagonist. Mark Wahlberg, who was originally supposed to play Nathan Drake, is also still attached -- though he is said to be playing the hero's mentor, instead.
And that's about it as far as concrete details. Travis Knight appears to have left Uncharted because Tom Holland's MCU commitments overlapped with the production schedule. The Spider-Man: Far From Home sequel should start filming this summer, which begs the question as to whether or not it's even feasible for Tom Holland to stay with Uncharted if it will be ready for its March 2021 release.
If he's not, that would mean an even bigger shift for the long-awaited adaptation. While there's no shortage of young actors who could bring Nathan Drake to life, Tom Holland seemed like a perfectly natural fit for the role, and his star power could definitely help sell the film to fans who aren't familiar with the video game series.
While we're waiting for Uncharted, there's pretty slim pickings for video game enthusiasts at the box office. Sonic the Hedgehog hits theaters next month, but it's definitely got a different tone than Nathan Drake's gritty adventures. And though Tomb Raider might be a bit more up to Uncharted fans' speed, the sequel for the 2018 reboot still seems to be a way's off. At least we know for sure we'll get to see Tom Holland scale something when the next Spider-Man hits theaters in July 2021.
Your Daily Blend of Entertainment News
Thank you for signing up to CinemaBlend. You will receive a verification email shortly.
There was a problem. Please refresh the page and try again.