Tomb Raider 2 Just Got Announced And People Are Already Talking About How It Could Bomb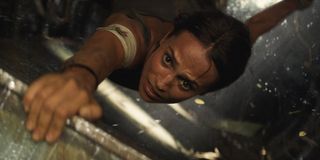 Earlier this year Tomb Raider 2 starring Alicia Vikander took a major step forward when MGM and Warner Bros. brought in writer Amy Jump to pen the script for a sequel. Then yesterday, it was officially announced that Amy Jump's husband and frequent collaborator Free Fire director Ben Wheatley has been hired to direct the sequel. So it looks like Tomb Raider 2 is actually happening, and although it's not scheduled to hit theaters until 2021, people are already talking about how it could bomb.
Looking at the sequel's prospects, Forbes' Scott Mendelsohn makes some compelling arguments about what's working against it, noting how it will release around a month after Marvel's Shang-Chi and the Legend of the Ten Rings, which could wind being huge both domestically and internationally, in China especially.
He also argues that even if Tomb Raider 2 is great, it could suffer because the first film wasn't, just as Lara Croft Tomb Raider: The Cradle of Life was superior to Lara Croft: Tomb Raider but made over $100 million less because audiences felt burnt by the quality of the first movie. Those arguments have merit and could very well prove true, but I'm not interested in refuting them. What is interesting to me is that the outlook for this film, according to some people, is already so bleak.
First, it's worth looking back at the first film and why the very existence of a sequel is something of a surprise in the first place. Drawing inspiration from the 2013 reboot of the video game series, 2018's Tomb Raider was directed by The Wave's Roar Uthaug and starred Alicia Vikander, fresh off her Oscar win, as Lara Croft.
Given those factors, particularly the talents of the leading lady and the updated source material, there was at least some hope that Tomb Raider could break the enduring video game movie curse and, by some accounts, the film did an admirable job at it. But Tomb Raider was not the hit Warner Bros. had hoped and critical response was mixed at best.
Tomb Raider did poorly domestically, only making $58.2 million, although it did release in the massive wake of Black Panther, which no one could have predicted. It fared better overseas and finished its run with $274.6 million worldwide, which is close to three times its $94 million budget. That's not terrible, it's in fact OK, but it couldn't really be called a hit. And with a 52% on Rotten Tomatoes and no obvious swell of fan support championing a sequel, I think it's fair to say Tomb Raider 2 comes as a bit of a surprise.
The performance of the first film, both critically and commercially, is part of why some think that Tomb Raider 2 is DOA. And those factors don't necessarily inspire confidence in the sequel's box office prospects, but it is interesting that we are this far out and know so little about Tomb Raider 2 and already its grave is being dug by some. That perception will certainly not help Tomb Raider 2 find its audience and you've got to wonder how MGM and WB are viewing this belief that the film will bomb.
Consider this summer's Dark Phoenix. There was a perception that it would be terrible and while it did itself no favors by living up to that fear, audiences didn't even give it a chance and it managed to come up short of its low box office forecasts. While we'll have to wait to see the critical merits of Tomb Raider 2, the fact that its announcement was met with not excitement but doomsaying is less than ideal.
Personally, it seems like outside of superhero movies, franchises don't really get a chance to build nowadays. A franchise-starter has to hit and hit big and ideally, although not necessarily, succeed critically to have any hopes of getting a sequel. Independent of its budget, Alita: Battle Angel did well at the box office, but likely not well enough to guarantee a sequel. Power Rangers didn't hit and is already getting rebooted. It seems the thought process is to abandon or start over these franchises when the windfall is not immediate.
I get it from a business perspective, but franchise-building takes time. Iron Man was huge to be sure, but MCU movies weren't making $1+ billion right away, they had to work toward it. So, it is encouraging to see MGM and Warner Bros. not throwing the baby out with the bathwater here. They wouldn't be making Tomb Raider 2 if they didn't have some reason to believe it could succeed.
Maybe it's how well the film has performed on home video and the like or maybe they were really sold on what Amy Jump and Ben Wheatley had in mind for the sequel or maybe it's something else -- like the fact there's a ton of Lara Croft source material to pull from out there. We are a long ways out, but as of now, confidence in Tomb Raider 2's box office prospects does not seem to be high, which may not be totally fair. Fortunately, there is plenty of time to change this perception.
Tomb Raider 2 opens in theaters on March 19, 2021. For movies hitting a bit sooner, check out our 2019 release schedule.
Your Daily Blend of Entertainment News
Nick grew up in Maryland has degrees in Film Studies and Communications. His life goal is to walk the earth, meet people and get into adventures. He's also still looking for The Adventures of Pete and Pete season 3 on DVD if anyone has a lead.