Dune Movie: All The Key Characters And The Cast Members Who Play Them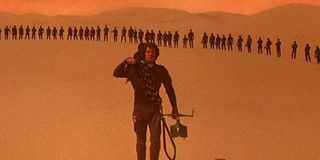 For the first time since 2014, zero Star Wars movies are slated to come out this year. But, that doesn't mean some badass sci-fi action isn't coming our way. The visionary filmmaker behind Arrival and Blade Runner 2049 is adapting Frank Herbert's Dune for the big screen this December. Denis Villeneuve's feature adaptation of the 1965 classic novel is not only an incredibly highly-anticipated 2020 movie, it's packed with an absurdly-talented cast. Check them out and read up on the Dune characters they'll be portraying here:
Paul Atreides (Timothée Chalamet)
Dune's central character is young Paul Atreides, who is the heir to the noble family that rules the planet of Arrakis. But since Arrakis is home to the most valuable substance in the universe "The Spice", his family becomes threatened by rival house Harkonnen. Paul must then lead an uprising against them with the help of a desert tribe. Dune's protagonist will be played by Oscar-nominated 24-year-old Timothée Chalamet. He's well known for his roles in Call Me By Your Name, Beautiful Boy and Greta Gerwig's Lady Bird and Little Women.
Duke Leto Atreides (Oscar Isaac)
Paul Atreides' father is Duke Leto, who the leader of House Atreides and the main character of the 1999 to 2001 prequel book trilogy, Prelude To Dune. Duke Leto is a compassionate and fair leader who is asked by the world's Emperor to leave Caladan with his family and manage Arrakis. But, with this new power comes betrayal. Duke Leto will be played by Star Wars' Poe Dameron. Oscar Isaac's other notable works are in the Coen Brothers' Inside Llewyn Davis, Ex Machina and Netflix's Triple Frontier.
Lady Jessica (Rebecca Ferguson)
Duke Leto's wife and Paul's mother is Lady Jessica who will be played by Rebecca Ferguson in the upcoming Dune movie. Lady Jessica is actually the illegitimate daughter of Baron Harkonnen, who the central villain. She is raised to give birth to a powerful daughter who will have all the memories of their ancestors and see into the future. But, she falls in love with Leto and disobeys orders when she gives birth to a son instead. Ferguson is famously Ilsa Faust in the Mission: Impossible franchise and appeared in The Greatest Showman and Doctor Sleep.
Chani Kynes (Zendaya)
Paul Atreides' love interest in Dune is Chani Kynes. When Paul and his mother are forced to flee Arrakis, they meet Chani, who trains with them and the two young characters form a romantic connection. She is part of a group of travel Fremen the mother and son come across. After an early career on Disney Channel's Shake It Up and K.C. Undercover, Zendaya has made a name for herself with roles in The Greatest Showman, as MJ in the MCU's Spider-Man movies and HBO's Euphoria.
Baron Vladimir Harkonnen (Stellan Skarsgård)
Dune's antagonist is Baron Vladimir Harkonnen, who is the ruler of House Harkonnen. He has a strong dislike for the Atriedes family that spans decades before they come to Arrakis. Vladimir is the villain behind the events that force Paul and Lady Jessica to flee their home and the force Paul must ultimately face as he molds his uprising. The Baron will be played by Stellan Skarsgård, who is known for his roles in Good Will Hunting, the Mamma Mia! movies and as Erik Selvig in the MCU.
Glossu 'Beast' Rabban (Dave Bautista)
Baron Harkonnen's evil-doings are accompanied by his brutal but shallow nephew, Glossu 'Beast' Rabban. He helps his uncle with his schemes to take over Arrakis and therefore acts as a secondary villain in Dune. The character will be played by Dave Bautista who is an accomplished wrestler and famously Drax the Destroyer in the Guardians of the Galaxy films. Bautista worked with Denis Villeneuve in Blade Runner 2049, along with finding roles in Spectre and Stuber.
Stilgar (Javier Bardem)
Perhaps the most legendary name on Dune's cast list is Javier Bardem, who will portray the leader of the Fremen tribe, Stilgar. Paul and his mother come across him while on the run from the Harkonans in the desert and he gives them shelter. Bardem is an incredible character actor who has starred in the Coen Brothers' No Country For Old Men, Skyfall and Mother!
Gurney Halleck (Josh Brolin)
Looks like Dune is going to be a No Country For Old Men reunion since Josh Brolin is also part of the cast. The actor, who recently portrayed famous Marvel villains Cable in Deadpool 2 and Thanos in the MCU, is finally playing a more good-natured character for Dune. Gurney Halleck is Warmaster for the Atreides family and mentor to Paul. He's loyal to the family and a key friend in Dune. Star Trek: Picard's Patrick Stewart played the character in the 1984 version.
Duncan Idaho (Jason Momoa)
Another good guy in Dune will be Jason Momoa's Duncan Idaho, who is a skilled swordmaster, ladies' man and fiercely loyal to the Atreides family. Idaho is the only character to have a role in all six Dune novels, so depending on how well the movie does, Jason Momoa could have another franchise on his hands. The actor is, of course, known for playing Khal Drogo in Game of Thrones and Aquaman in the DC Universe.
Piter De Vries (David Dastmalchian)
After finding a role in Denis Villeneuve's Prisoners back in 2013 and then again in Blade Runner 2049, David Dastmalchian is collaborating with the filmmaker again for Dune. He will play the twisted and sadistic Piter de Vries, who is a "mentat" who serves under the House Harkonnen. Mentats are humans trained to perform computer-like functions. Dastmalchian has been seen in Christopher Nolan's The Dark Knight, the Ant-Man movies and DC shows Gotham and The Flash.
Reverend Mother Mohiam (Charlotte Rampling)
Finally, Oscar-nominated British actress Charlotte Rampling will also play a key role in Dune. The Oscar-nominated actress will play Reverend Mother Gaius Helen Mohiam. She is a truthsayer who serves the Emperor and has powers to sense the intentions of others (including if what they say is the truth or a lie) and manipulate their emotions. She is a mentor to Lady Jessica and is interested in Paul's unique and unusual potential. Rampling is known for her roles in 45 Years, London Spy and Never Let Me Go.
Excited for Denis Villeneuve's Dune yet? The sci-fi epic hits theaters on December 18.
Your Daily Blend of Entertainment News
YA genre tribute. Horror May Queen. Word webslinger. All her writing should be read in Sarah Connor's Terminator 2 voice over.