Mission: Impossible 7 And 8 Are Bringing Back A Key Character From The 1996 Movie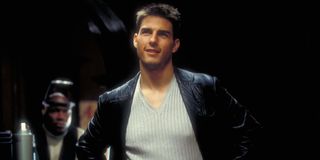 The Mission: Impossible series has given fans plenty of excitement, twists and surprises over the years. But as the franchise has grown, it's also stayed true to its roots. And that is clearer than ever, now that we've learned that Mission: Impossible 7 and 8 will feature the return of a key character from the very first film.
On February 1, Christopher McQuarrie -- who is directing both of the upcoming installments -- shared an exciting, yet cryptic, bit of casting news on Twitter. First, there was the message:
Then, there was the accompanying picture -- of Henry Czerny, circa 1996. The picture of the actor, who has most recently appeared in Sharp Objects and Ready or Not, was enough for long-standing fans of the franchise to jump into action, because that all but confirms we will see Mission: Impossible's IMF Director Eugene Kittridge once more. And it has been a while. The character played a key role in the original film, first suspecting, and then working with Ethan Hunt to root out Jim Phelps' identity as the mole. But Kittridge was replaced as IMF Director in subsequent films, first by Swanbeck, and then later by Theodore Brassel.
Thus far, there are no other details about how, or why, we'll see Kittridge return -- though there is once again a notable absence in the IMF leadership at the moment. He could return to the fray that way -- or end up working with Ethan (or maybe even against him) in some other capacity. One thing is clear: even if Kittridge doesn't return to his original position, it stands to reason that he'll play an important role, if his presence warrants such an ominous tweet. And though Christopher McQuarrie seems to be referring to Kittridge when he refers to "the past," he could be hinting that the franchise may return to its origins in more ways than one.
The Mission: Impossible franchise has certainly experienced a resurgence in the last few years. Though there have been some lengthy gaps between some installments, Fallout, in particular, proved that the series still has the ability to captivate audiences worldwide. And if the hype coming from the Mission: Impossible 7 crew is to be believed, we'll have another wild ride on our hands.
We already know that Simon Pegg and Rebecca Ferguson will return for Mission: Impossible 7 -- and there will also be several new players on board. Though there are few details about what the story will center on, Christopher McQuarrie has hinted that, at least as far as the film's stunts are concerned, Tom Cruise is planning on topping his death-defying feats from Fallout. We'll see how it all comes together when Mission: Impossible 7 arrives in 2021.
Your Daily Blend of Entertainment News