Mission: Impossible 7 - What We Know So Far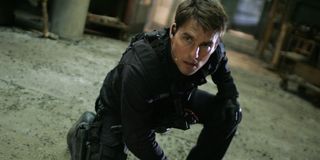 Ethan Hunt will return once more! After the phenomenal critical/commercial success of 2018's Mission: Impossible — Fallout, there was very little doubt that the Tom Cruise-led franchise would sprint back onto the big screen with Mission: Impossible 7. Information about the new Mission: Impossible film is currently limited at this time, but we do know at least a few details regarding what will be in store for this much-anticipated action blockbuster.
It should be noted that Mission: Impossible 7 is still in the middle of production, but e'll do our best to provide whatever limited information is available, while also offering a bit of speculation and character details to provide us with context for what we might expect from this seventh installment in the long-extended Mission: Impossible series. With that, let's jump in, shall we? Should you choose to accept this mission, of course.
The Mission: Impossible 7 Release Date Is Set For 2022
As it was announced back in February 2019, Mission: Impossible 7 is a relatively short while away. To be more specific, Mission: Impossible 7 is set to be released on May 27, 2022. That'll be just over three years after Mission: Impossible — Fallout was released into theaters. Based on the big plans that are currently underway for the upcoming blockbuster, it's apparent they'll need that time between the last sequel and this new one in order to pull it off.
Mission: Impossible 7 Will Not Be The Last Mission: Impossible Movie
As it was announced shortly after Paramount gave the greenlight for a seventh Mission: Impossible feature, there will also be an eighth Mission: Impossible movie on the way, and it's set to be released on November 4, 2022. Clearly, that's a very short window between seven and eight, and the reason why is because the studio is making these newest sequels back-to-back, working on two Mission: Impossible films simultaneously. As if there isn't enough stress in making one Mission: Impossible movie. Alas, this series has always striven for the ... you know.
Christopher McQuarrie Is Directing Mission: Impossible 7
While the Mission: Impossible franchise once relied on an exquisite corpse approach, with each installment being helmed by a different very renowned director (Brian De Palma, John Woo, J.J. Abrams, Brad Bird), Christopher McQuarrie has taken over these filmmaking duties ever since Mission: Impossible — Rogue Nation. Similar to how David Yates took over the Harry Potter franchise after the fifth feature film, Harry Potter and the Order of the Phoenix, it would appear that Mission: Impossible and actor/producer Tom Cruise are perfectly content with McQuarrie handling the reigns. And, it's hard to argue with the results. By many people's estimations, both Rogue Nation and Fallout are two of the best Mission: Impossible movies we have gotten to date.
Therefore, it makes sense that Christopher McQuarrie is on board for what might very well be the last two installments in the action-friendly franchise. He has established a long-standing working relationship with Tom Cruise, including 2012's Jack Reacher, and they've got a good collaboration going. There's no sense in breaking things up now. Hopefully, though, the pressure of making two Mission: Impossible movies at the same time isn't too much. At one point, McQuarrie said that he would "rather have leprosy" than direct Mission: Impossible 7. Clearly, something changed if he decided to make not only one additional Mission: Impossible movie, but two more, and both at the same time. That's quite a big change of pace, but that's how it goes with M:I.
What We Know About Production On Mission: Impossible 7 And 8 - Including COVID-19 Delays
Christopher McQuarrie started work on Mission: Impossible 7 and Mission: Impossible 8 back in October 2019 when it was revealed that the writer-director was storyboarding out what would become the next two installments in the espionage franchise. Principal photography officially got underway a few months later but the project was temporarily halted not long after shooting began when the COVID-19 pandemic first started to force studios to press the pause button on productions around the world. Mission: Impossible 7 was one of the earliest victims of the worldwide shutdown as it was filming in Italy (one of the first countries to be ravaged by the virus) at the time of the pandemic's early stages.
Despite that, Tom Cruise, being who he is and everything, continued to film some of Mission: Impossible 7's most dangerous stunts on a test track in England to not waste any more time than necessary. Word that the rest of the cast and crew would be joining Cruise in resuming production began to circulate throughout the spring and summer of 2020 before the shooting officially resumed in September. What followed were more exciting yet extremely dangerous stunts involving trains, automobiles, and other forms of transportation throughout the tail end of the year.
Production on Mission: Impossible 7 and its direct sequel continued through 2020 and into 2021 after positive COVID-19 cases on set brought shooting to a halt. And then there was the whole saga involving Tom Cruise yelling at the crew for not following safety protocols put in place because of the virus. At this time, both movies remain in production, with no word on how all of these delays will affect the fast approaching release dates.
The Mission: Impossible 7 Cast
Naturally, Tom Cruise is on board to produce and star in these two new Mission: Impossible movies, reprising his long-labored role as Ethan Hunt. It is also confirmed that Rebecca Ferguson, who has been a mainstay in the series since Mission: Impossible — Rogue Nation, is also set to come back in this sequel(s). There's also a casting announcement which will certainly come as a big, winning surprise for viewers still mourning the loss of Agent Carter.
As it was revealed by writer/director Christopher McQuarrie, then confirmed by the actress herself, Hayley Atwell is joining the ensemble for both the seventh and eighth film, though her role has not been confirmed at this time. She will likely play a key part, though whether or not she's a friend or foe to Ethan Hunt will need to be determined in the months to come. Either way, it will certainly be good to see Atwell playing another tough, smart woman who knows how to handle her business on the big screen.
Ethan Hunt (Tom Cruise)
It would be impossible, or at least not as enjoyable of an experience, if Tom Cruise wasn't returning to push himself to the limit once again as IMF lead agent Ethan Hunt. Over the course of the first six movies in the Mission: Impossible franchise, we've watched as Hunt has been taken on all comers both professionally and personally, which happens to be the case for a certain member of his team (hint: she's mentioned just below). And by the looks of what Cruise has been doing on set (no, not the late 2020 meltdown), his Ethan Hunt is going to give audiences thrills and chills like never before.
Ilsa Faust (Rebecca Ferguson)
First making a highly memorable introduction in Mission: Impossible — Rogue Nation, Rebecca Ferguson's character, Ilsa Faust, provided a thrilling friend and adversary in equal measure for our main super spy in her first movie. The relationship proved to be less tenuous in the newest sequel, but it'll certainly be interesting to see where Ilsa Faust lands in the upcoming movies, and whether or not Ethan Hunt can fully trust her during his latest adventures. And while we don't know where Faust will fall in Mission: Impossible 7, Ferguson looks to be packing some serious heat no matter what her character does this time around.
Luther Stickell (Ving Rhames)
Ving Rhames' Luther Stickell, Ethan Hunt's closest friend and most trusted member of the IMF team has been around since the early days of the franchise starting with 1996's Mission: Impossible, so it should come as no surprise he'll be hacking and providing backup again in Mission: Impossible 7. It has yet to be revealed just how Stickell will be involved in the plot of the series' seventh (not to mention eighth) installment, but judging by his track record, the seasoned IMF tech wiz will be there for Hunt when he needs it the most.
Benji Dunn (Simon Pegg)
Since its introduction as a nervous yet trustworthy IMF technical field agent in Mission: Impossible 3, Simon Pegg's Benji Dunn has done more than just provided support for Ethan Hunt on any number of death-defying missions to save the world. Whether it be impersonating Wolf Blitzer in Mission: Impossible - Fallout or bypassing multiple levels of security to ensure Hunt doesn't drown in Mission: Impossible - Rogue Nation, Dunn (and Pegg for that matter) has become a key part of the IMF team, even if he's not the biggest fan of putting himself in danger.
Alanna Mitsopolis AKA White Widow (Vanessa Kirby)
Introduced in the stacked tour de force that was Mission: Impossible - Fallout, Vanessa Kirby's Alanna Mitsopolis, aka White Widow, will look to expand her role in the plot of the upcoming seventh movie just as the actress portraying her is quickly becoming one of the most sought after stars in Hollywood. And there's a good chance Mitsopolis' family history (she's the daughter of Max from Mission: Impossible) will play some kind of role in the franchise moving forward, considering Kirby has signed on to appear in Mission: Impossible 8 as well.
Eugene Kittridge (Henry Czerny)
Speaking of characters that have ties to the early days of the Mission: Impossible franchise, Eugene Kittridge, the former IMF director portrayed by Henry Czerny in Brian De Palma' 1996 spy thriller is back in the game after a 25-year absence. Hopefully the reason for Kittridge's disappearance and abrupt return will be revealed over the course of Mission: Impossible 7.
Erika Sloane (Angela Bassett)
Erika Sloane, Angela Bassett's commanding and mysterious CIA director first introduced in Mission: Impossible - Fallout, was revealed to be returning for the next installment in the spy saga in November 2020. There aren't any specifics in regards to how large of a role one of the Ethan Hunts' staunchest critics will play this time around, but considering how things ended for her and IMF's top agent, I don't expect we'll see her holding him back this time around.
Esai Morales As The Mission: Impossible 7 Villain
Prior to production being temporarily halted on Mission: Impossible 7, Nicholas Hoult was slated to be playing one of the film's villains, but had to drop out despite being a massive fan of the franchise's rich history. According to Deadline, Hoult had to step away from the project due to a scheduling conflict shortly before Morales, who has appeared in Ozark, Titans, and How to Get Away With Murder, was hired to replace the Mad Max: Fury Road star.
In addition to all of those actors whose characters have been revealed, there are several other notable stars who have signed on to appear in Mission: Impossible 7 in some shape or form. When the movie drops in May 2022, expect to see Hayley Atwell, Pom Klementieff, Gregory Sanon, and Shea Whigham in some capacity.
What Is Mission: Impossible 7 Rated?
Obviously, Mission: Impossible 7 isn't anywhere near having an official MPAA rating as the movie is still in production. There's a great certainty that Mission: Impossible 7 will share the same PG-13 rating as the other six Mission: Impossible movies. Unless the series is really looking to get hardcore in the last installments (or, inversely, really wants to tone things down), there's good money to be placed on any bet that says that Mission: Impossible 7— as well as 8 — will very likely get the PG-13 rating.
There is still a lot that we do know about Mission: Impossible 7, specifically what's going on with the story and how it will lead into the events of Mission: Impossible 8. But considering how the franchise has very rarely let us down, there's a good chance all of this waiting won't be for nothing.
And since you're here, go ahead and check out CinemaBlend's 2021 Movie release guide. Don't worry, this message won't destruct in five seconds
Will is an entertainment writer based in Pittsburgh, PA. His writing can also be found in The Playlist, Cut Print Film, We Got This Covered, The Young Folks, Slate and other outlets. He also co-hosts the weekly film/TV podcast Cinemaholics with Jon Negroni and he likes to think he's a professional Garfield enthusiast.
Your Daily Blend of Entertainment News
Thank you for signing up to CinemaBlend. You will receive a verification email shortly.
There was a problem. Please refresh the page and try again.