12 Best Mission: Impossible Action Sequences, Ranked By Greatness
Action this great is impossible.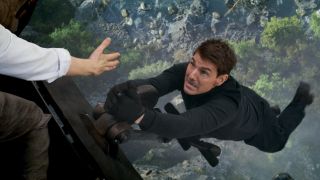 (Image credit: Paramount Pictures)
In the 1960s, no one could have predicted that the hit TV spy drama, Mission: Impossible, would one day inspire a series of films that some believe is the greatest action movie franchise of its time. Honestly, that claim is a hard one to argue against when you take a look back at the cleverly crafted, viscerally astonishing, and (literally) death-defying sequences Tom Cruise and co. have delivered over the years.
Even the seventh and most recent installment, Mission: Impossible - Dead Reckoning Part One – a 2023 movie release that will be available on digital October 10th – arguably boasts a climactic scene that immediately earned itself a spot among the all-time greatest action sequences from the Mission: Impossible movies. We are looking forward to seeing what sort of elaborate stunt or crazy fight Ethan Hunt gets himself into next in the upcoming eighth installment, Dead Reckoning Part Two, but, for now, let's go over some of our favorites so far.
12. Shark Tank (Mission: Impossible)
A fan of the 1960s television series, Cruise always planned to make Mission: Impossible a big, showy action film that looked as though it had cost an incredible amount of money to make. In order to do that, the film needed set-pieces that would showcase just how ambitious it was. Luckily, the 1996 thriller is full of them.
One of the film's most unique and enthralling blockbuster action moments comes after several members of Hunt's IMF team have been killed in Prague. After meeting with IMF director Eugene Kittridge (Henry Czerny) in a glass-walled restaurant, Hunt is accused of being a mole, but manages to escape after creating one hell of a distraction: blowing up a huge lobster tank with an explosive piece of chewing gum. Cruise began a legacy of doing stunts himself after Brian De Palma insisted the sequence didn't work with a stuntman, and the director increased tension through his various use of dutch angles. Danny Elfman's score is deliciously uneasy, too.
11. Ethan And Ilsa Vs. The Syndicate (Mission: Impossible - Rogue Nation)
Easily one of the best additions to the franchise's ever-expanding ensemble is Rebecca Ferguson as Ilsa Faust. The Swedish actor certainly made a lasting impression with her beautifully choreographed first scene as the undercover MI6 agent in 2015's Mission: Impossible - Rogue Nation.
A knocked out Hunt awakens in a dimly lit room, chained to a pole, when a woman enters with seeming intent to torturously interrogate him, only to discover minutes later that she is his only hope in escaping the Syndicate members who do intend to do just that. After Hunt kicks "The Bone Doctor" into unconsciousness, the remaining goons close in on Faust after she tosses him the keys, which prove unhelpful, forcing him to escape with an inventive upside down climb. The strangers' ensuing, exhilarating team-up – during which Faust puts an opponent in a headlock with her legs, similar to some of Black Widow's best MCU fight scenes – would be the start of a beautiful collaboration.
10. Skyscraper Jump (Mission: Impossible III)
Unfortunately, despite pairing Cruise with John Woo, Mission: Impossible 2 proved to be hugely disappointing. The series' future relied on 2006's Mission: Impossible III being a resounding success (both critically and financially) and, in order for that to become a reality, Cruise looked to J.J. Abrams to mold the action flick. The first-time feature filmmaker delivered with aplomb and created some intensely memorable action moments – including the fantastic skyscraper jump.
The scene – in which Hunt has minutes to infiltrate a Shanghai high-rise to steal the central MacGuffin, the "Rabbit's Foot," and save his wife, Julia (Michelle Monaghan) is a perfect example of why Abrams was perfect for the job. It's modern, ambitious, funny, surprising, stylish, and rousingly cinematic and allows Cruise to increase the tension with a dose of nerves and humanity in his performance. Watching him swing across the city on a wire like an urban Tarzan and then sliding down the side of a building while effortlessly shooting down his adversaries is sensationally badass.
9. Prison Escape (Mission: Impossible - Ghost Protocol)
The success of Mission: Impossible III restored confidence and interest in the series, which is why it was no surprise when 2011's Mission: Impossible - Ghost Protocol was announced. Brad Bird – writer and director of some of the best Pixar movies, The Incredibles and Ratatouille – was hired to oversee the blockbuster, and he immediately brought a swagger to the series.
This was instantly noticeable in one of the film's opening scenes, which sees Jane Carter (Paula Patton) and Benji Dunn (Simon Pegg) looking to orchestrate Hunt's escape from a Moscow prison. Patiently structured, yet delicately orchestrated to the exact millisecond, not only do we get to see Hunt playing catch with a rock but there's also a full-scale prison riot too, all of which is set to Dean Martin's "Ain't That A Kick In The Head." Funny, chaotic, and suspenseful, while also a tad brutal, it perfectly leads into the film's spine-tinglingly scintillating credits sequence.
8. Motorcycle Chase (Mission: Impossible 2)
We previously established that director John Woo's Mission: Impossible 2 was a disappointment for many. However, the sequel does have its fans and a key reason why are the gloriously over-the-top action sequences – especially Cruise's obligatory motorcycle chase.
Following one of the franchise's coolest mask reveals, Hunt's race to evade Sean Ambrose (Dougray Scott) and his henchpeople and deliver a cure for a deadly virus to Nyah Hall (Thandiwe Newton) is as exhilarating as any of the other brilliant chases you can find in the M:I series (more on those later). While its use of slow motion and unnecessary rapid repetition certainly could be tedious to some, the scene boasts one of the better uses of these tactics from an era of action cinema that abused them to ad nauseam. Not to mention, Cruise's stylish gunplay here is pretty choice, if not a far cry from the Ethan Hunt we know today.
7. Bridge Attack (Mission: Impossible III)
One of the main reasons for the success of Mission: Impossible III was the presence of Philip Seymour Hoffman as the film's dastardly villain Owen Davian. Not only was the Academy Award winner just the right side of over-the-top, but he basked in the glory of being able to portray such a heinous character. Arguably, the threequel's most impressive action scene sees the IMF's attempts to transport Davian to prison interrupted by a fighter jet.
Abrams surprises audiences with his choice of camera angle for the initial attack (we see it in the background over Hunt's shoulder), while Hunt and Ving Rhames' Luther Stickell struggle to go toe-to-toe with Davian's posse of well-armed and well-trained soldiers. As Davian's soldiers look to break their employee free from the prison van, Hunt winds up fighting back, but also getting totally rocked by an explosion as he makes a leap to freedom. All his efforts leave him with nothing to do but share a glorious staredown with Hoffman in a pitch-perfect conclusion that delightfully sets up the film's final act.
6. Tunnel Chase (Mission: Impossible)
Mission: Impossible set itself apart from other spy and action films of the mid-1990s with its audacious channel tunnel chase and fight sequence. The ambitious set piece gave the film a chicness and edge that also then took advantage of the perils that would come when trying to chase down a baddy in such a confined space.
After climbing on top of the speeding locomotive, Hunt clings to it with his bare hands as he looks to bring Jon Voight's devious Jim Phelps to justice. He's also almost smashed into by a passing train, while Jean Reno's Krieger then looks to decapitate him with the rotors of a helicopter he stupidly decided to fly inside the tunnel). Hunt is able to spring himself to safety after using the foreshadowed explosive chewing gum to destroy the helicopter, but the charred remains of the aircraft still come perilously close to slicing his neck at the very end. It's all very much edge of your seat stuff.
Unsurprisingly, Mission: Impossible - Rogue Nation also has a great motorcycle chase. However, even that one pales just a bit in comparison to the car chase that comes right before it – and not just because the adrenaline is still clearly riding high from Cruise's heart-stopping underwater stunt minutes earlier.
Hunt proves to a nervous Benji in the passenger seat that, even moments after he was practically dead, he is an expert behind the wheel in the way he brilliantly uses rigorous obstacles to his advantage when evading the Syndicate. His use of their car as an impromptu weapon against their enemies also gives this sequence an easy leg up on the aforementioned M:I-2 motorcycle chase, which is very gunfire heavy. The most memorable moment is the conclusion, in which Hunt and Benji's vehicle flips an innumerable amount of times and still manage to come out unscathed.
4. Helicopter Chase (Mission: Impossible - Fallout)
Perhaps the M:I franchise's most exciting chase, however, does not take place on the ground. The pulse-pounding finale to 2018's Mission: Impossible - Fallout (which already moves at a brisk, adrenaline-kicking pace throughout) gets off to a shocking start when, as he tries to hijack an airborne helicopter, Hunt falls and is barely saved by the payload. According to The Wrap, many of Cruise's co-stars did not realize that moment was unintentional when he filmed the stunt.
When he finally does commandeer the aircraft, Hunt sets out to catch up to another helicopter carrying August Walker (Henry Cavill), who is planning a nuclear wipe out underneath them. Their chase right above (and, in some moments, in between) the Himalayan mountains is breathlessly and explosively intense and the tension does not stop when the fight is forced to move from the helicopter and onto a cliff.
3. HALO Jump (Mission: Impossible - Fallout)
The climactic helicopter chase is not even the best action sequence from Fallout, and not the best argument for why the film boasts the best overall display of action sequences from a single installment yet. That would occur in the scene when Hunt and Walker have to, literally, drop into a Parisian night club by jumping out of a plane and straight into a lightning storm.
That storm, by the way, was one of the only elements of this sequence that was achieved by any CGI trickery. Indeed, Cruise trained for weeks to actually perform this HALO jump – which means a "High Altitude, Low-Open" parachute fall – on camera and in one take. That alone makes it one of the most astonishing achievements for the franchise, let alone cinema in general.
2. Vertical Train Escape (Mission: Impossible - Dead Reckoning Part One)
However, even watching Cruise fall though the sky in real time does not get one's adrenaline going quite like this climactic sequence from the following installment. The third act of Mission: Impossible - Dead Reckoning Part One takes place predominantly on a train, which is relegated to a pile of busted scraps by the end, only for Hunt and his new friend Grace (Hayley Atwell) to miraculously come out on top.
Watching the train cars plummet from the edge of the damaged railing one-by-one as Hunt and Grace desperately struggle to climb to the top before the next fall makes for a relentlessly hair-raising high-wire act from the start to its seemingly unreachable end. It makes the ironically lively Dead Reckoning worth the price of admission by itself and continues the franchise's tradition of successfully one-upping itself in terms of action sequences just about every time.
1. Climbing Burj Khalifa (Mission: Impossible - Ghost Protocol)
That being said, the Number One choice for the Mission: Impossible movie's greatest action sequence goes to Ghost Protocol – the fourth installment from 2011, which is still considered by some to be the best mission yet. Then again, some fans probably had little doubt that Hunt's scaling of the world's tallest building, the Burj Khalifa, would manage to climb its way to the top.
Cruise brings incredible realism and tension to his performance in this scene – shot in beautiful IMAX and with gusts of high altitude wind driving the soundtrack to heighten the drama – simply because of the fact that, as per usual, he was actually performing the stunt. The conclusion packs a real punch, with Hunt is forced to go full on John McClane and use a fire hose to make his way back through the team's hotel room window. Brandt and Carter have to pull him back in themselves when he misses by just a fraction. Until he is safe and sound, there is never a moment in which you doubt he is in real peril – and it's incredibly powerful.
Mission: Impossible is now considered the kind of franchise that gets better as it continues with a key reason being action sequences that, with some exceptions, only get better with each installment. Now all we can do is wait for Mission: Impossible - Dead Reckoning Part Two's 2024 movie release to see how the franchise will try to outdo itself with another tremendous stunt next.
Your Daily Blend of Entertainment News