Surprise, Martin Scorsese And Jonah Hill Reunited For A Super Bowl Coca-Cola Commercial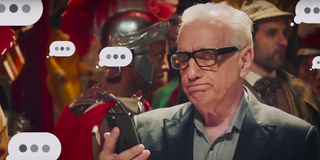 If you had Martin Scorsese and Jonah Hill on your Super Bowl commercial BINGO card, you're in luck. Because the director and actor, who famously worked together on The Wolf of Wall Street, have reunited for a Coca-Cola ad. And it's every bit as weird as you'd guess it would be.
The ad, for the new Coca-Cola Energy drink, begins with Martin Scorsese looking a bit out of place at a costume party. He texts Jonah Hill, who's half-asleep on his couch, to remind him that he's supposed to be at the party -- a fact that the actor pretty clearly forgot. When the famed director asks whether Jonah Hill is coming, he seems to be at a loss, and leaves Martin Scorsese anxiously watching those dreaded three dots that indicate he's typing. For a really, really long time.
Somehow, the news media gets wind of the intense exchange between the two (just go with it). Before long, the whole world is on edge alongside Martin Scorsese as he waits for Jonah Hill. Headlines announce that the director is being "dotted" by the actor. A fortune teller tries to divine the outcome in her crystal ball. An alien spacecraft leaves a three-dotted crop circle in its wake. Pac-Man pauses in front of his meal (three dots, obviously). And YBN Cordae stops by to lambast sleepy star, telling him, "Everyone's waiting!" Oh, and for some reason, there's a three-eyed frog that is also very invested in the outcome.
Martin Scorsese is equally aggrieved. He watches the three dots in agony, texting his BFF to complain, "I just got mistaken for a waiter!" That's enough to get Jonah Hill off his couch, and into his nearest convenience store, where he picks up a Coca-Cola Energy. After taking a sip, he gets some pep back in his step and finally, finally texts Marty back, telling him he's on his way. The whole world, now apparently watching a livestream of their text messages, rejoices. And the two friends meet up at the party to embrace, as the tagline drops on top of them: Show up.
Check out the Super Bowl commercial:
It makes sense why Coca-Cola would enlist some star power to help introduce its first energy drink to the world. And even though the commercial feels a little all over the place, it's definitely memorable, which is probably what the team was counting on. The iconic soft drink isn't the only brand to enlist celebrities to help sell products during the Super Bowl -- at this point, it's pretty much a tradition. This year, we'll also see ads starring Game of Thrones' Maisie Williams and Breaking Bad's Bryan Cranston. And last year, everyone from Sarah Michelle Gellar to Harrison Ford cropped up in Super Bowl commercials.
As for Martin Scorsese and Jonah Hill? Maybe they were able to discuss another cinematic collaboration during this all-too-brief reunion.
Your Daily Blend of Entertainment News