The 10 Best Dog Movies On Disney+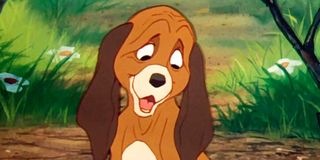 CinemaBlend participates in affiliate programs with various companies. We may earn a commission when you click on or make purchases via links.
Dogs are man's best friend and great subjects for major motion pictures. Disney has long been the home of good dog movies, and if one boots up Disney+, there are quite a few movies starring caninies to choose from. As someone who loves dogs, I've decided to list the best of the best, and recap the 10 best options on the service for dog lovers to binge.
Full disclosure, Togo is not on this list. Though it received rave reviews and got top 3 status on another list written on the site, I can't bring myself to list a movie that besmirched the name of my childhood hero Balto. So keep in mind that's an option, and perhaps still check it out after knocking these other options off the list on upcoming movie nights.
Homeward Bound: The Incredible Journey
In a world where we can digitally make it look like animals are speaking to near perfection, you just can't beat the classics. So what if Homeward Bound made it look like all animals communicate via telepathic link? It feels more real, which makes these animals traveling through the wilderness feel that much more perilous and high stakes. Chance and Shadow are good boys, and though Sassy the cat does have a sizable role in this adventure, her presence does not diminish the dog energy this film exhumes.
Turner & Hooch
Turner & Hooch may not top any list on Tom Hanks' greatest movies, but it absolutely deserves a slot on Disney+'s lineup of greatest dog movies. Before he was an Oscar winner, Hanks played a dog-hating detective forced to take in a pooch that was the sole witness to a murder. Of course, the two eventually become thick as thieves, which just shows that dogs can convert even the most avid of critics. In all honesty, this movie is worth a watch just to see what drove a wedge between Hanks and Henry Winkler.
Bolt
Bolt may be one of the most underrated dog movies Disney has ever made, merely because it tackles a unique subject most people would never think of or experience: do the dogs trained for television shows realize they're on a television show? We may never truly know the answer to that, but Bolt does a great job of showing how it could be confusing to a pet and lead them to misinterpret what's real and fake in their day-to-day lives. Honestly, that's pretty deep for a Disney movie, though the movie keeps things light enough that a theme will go right over a kid's head.
One Hundred And One Dalmatians
It's the animated classic about the ultimate dog lovers. Remember, Pongo and Perdita only had 15 of those puppies, but owners Roger and Anita decide to take in the rest of those doggies that appear on their doorstep after they escape Cruella De Vil. Though the live-action version of One Hundred and One Dalmatians and its sequel are also on Disney+, I'm partial to the animation because the main puppies are just so cute. Until the prequel is released, this Disney classic remains at the top of my list for Disney's dalmatian offerings.
Greyfriars Bobby
An oldie, but a goodie, Greyfriars Bobby is an adaptation of a true event in which a dog remained loyal to his owner even after death. Bobby slept near the grave of his master in Edinburgh. The dog soon becomes known by the town and is collectively cared for while the town continues to respect his love for his former master. It's a heart-warming story replicated by popular media over the years, and certainly a great show of just how loyal dogs can be when it comes to the ones they love.
Old Yeller
Old Yeller is one of the most famous dog movies of all time, albeit for a tragic reason. Few people want to watch a movie where the heroic dog dies in the end, especially when the deed has to be done by the boy who owned him. Despite that, there's a lot to love about Old Yeller that audiences will appreciate, and while it may give owners a phobia about rabies, it's still a must-watch for lovers of dog movies.
Lady And The Tramp (2019)
For those who haven't yet checked out the "live-action" adaptation of Lady and the Tramp, this should be the first stop. Unlike The Lion King remake, this movie does a great job at giving its animals emotive faces and providing a meaningful update that justifies the new version. I won't debate on whether or not it's better than the original, but I will say that it's certainly worth a watch and one of the better originals we've seen on Disney+.
The Ugly Dachshund
This movie may sound like it's pushing an anti-dog message, but I can assure you this is not the case. The Ugly Dachshund is about a Great Dane that thinks he's a wiener dog, and his owner's best attempts to change its personality. There's some funny moments in this 1966 movie, and one might be shocked to learn dog-based humor in Hollywood has not evolved much in the decades that have followed. I'd prefer if Disney named this movie "The Greatest Dane," but beyond that, this is overall a good movie.
Benji The Hunted
For those looking for the John Wick of dog movies, look no further. Benji The Hunted features the heroic Benji up against the elements and taking on some fierce predators in a high stakes adventure. Outnumbered and out of his element in the wilderness, Benji soldiers on and takes out anyone that tries to step to him. This may sound like a joke to anyone who hasn't seen the movie, but seriously, watch it for yourself and see this wild adventure that Roger Ebert rated higher than Full Metal Jacket.
The Fox And The Hound
Of all the dog movies available on Disney+, this one is a personal favorite. The Fox And The Hound is a story of friendship and how dogs naturally want to be buddies with everyone even when they're trained to be something else. This movie gave us one of Disney's best songs ("Best Of Friends") and is mandatory viewing for any Disney+ subscriber who hasn't seen it yet (and if you're not subscribed, feel free to jump on the seven-day free trial offer). Give it a watch, shed a tear, and maybe look into raising a domestic fox to be best friends with the dog in your home.
All of these movies are available on Disney+ (opens in new tab), so subscribers in need of some quality dog movies should get to streaming. As always, continue to stick with CinemaBlend for all the buzz on what's great on streaming, and for the latest news happening in movies and television.
This poll is no longer available.
Mick likes good television, but also reality television. He grew up on Star Wars, DC, Marvel, and pro wrestling and loves to discuss and dissect most of it. He's been writing online for over a decade and never dreamed he'd be in the position he is today.
Your Daily Blend of Entertainment News
Thank you for signing up to CinemaBlend. You will receive a verification email shortly.
There was a problem. Please refresh the page and try again.