Disney's Cruella: What We Know So Far About The Cruella De Vil Movie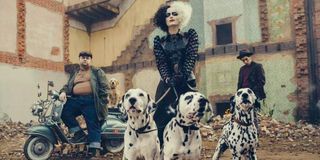 In the past few years, Disney has brought several of their most famous animated characters into live-action. Whether it is Aladdin, The Jungle Book, Maleficent, Beauty and the Beast, Dumbo, and several others, Disney has made a point of remaking or re-imagining many of their beloved titles. In that tradition, Disney's upcoming movie, Cruella, explores the origins of one of their most iconic villains. Namely, Cruella de Vil, played by Emma Stone.
Details are mostly limited regarding this new Disney blockbuster, but it is clear that the Mouse House has big plans for this new title. Cruella de Vil is an instantly recognizable character, whether you are a big Disney fan or not, and there is a lot of potential with Emma Stone in the familiar role. We'll know more about this movie once the release date gets closer, but this is what we know about Cruella, the newest live-action Disney re-imagining.
What Is The Release Date For Cruella?
Cruella is currently slated to be released on May 28th, 2021.
That currently puts it a week after John Wick: Chapter 4 and a week before Sesame Street. Disney is known to occupy the Memorial Day weekend slot on the calendar, but often to mixed results. For instance, this year's Aladdin did great business during this release date, while last year's Solo: A Star Wars Story underperformed. It's hard to know where Cruella will land, but suffice to say, Disney has high hopes for the Emma Stone movie. They gave the forthcoming film one of its prime release date slots. They want big things. It should also be noted that Cruella was originally set to be released on December 23rd, 2020. Why it moved away from the Christmas date is unknown.
Who Is Directing Cruella?
Cruella comes from director Craig Gillespie, who might not be a household name but you're probably familiar with a few of his movies. Notably, the filmmaker is behind Lars and the Real Girl, 2011's Fright Night remake, and most recently, 2017's I, Tonya. He's also behind Mr. Woodcock, as well as several episodes of United States of Tara. Gillespie has established a working history with Disney through Million Dollar Arm and The Finest Hours. Nevertheless, Cruella serves as Gillespie's biggest movie to date, as well as his most family-friendly outside of the aforementioned Million Dollar Arm.
Who Are The Screenwriters For Cruella?
Cruella has a number of screenwriters on-board. Namely, Kelly Marcel (Saving Mr. Banks, Fifty Shades of Grey, Venom), Dana Fox (How To Be Single, Isn't It Romantic?), Tony McNamara (The Favourite), Jez Butterworth (Ford v. Ferrari, Spectre, Black Mass), and Aline Brosh McKenna (The Devil Wears Prada, Crazy Ex-Girlfriend) all played a hand in crafting the screenplay, as well as Steve Zissis, who is probably better known as an actor but also served as a creator on HBO's underrated dramedy, Togetherness. It is an odd collection of writers, and it is hard to know who has more influence over the other in the movie's conception. Nevertheless, with all these writers, here's hoping this isn't a "too many cooks in the kitchen" type situation here.
What Is The Story For Cruella?
Cruella will serve as a prequel-of-sorts, one that follows young fashion designer Cruella de Vil (Emma Stone) in '70s London. As the story will tell, the character becomes obsessed with dog skins, notably Dalmatians. We will watch the character become one of the most memorable, ruthless villains in Disney history. It will serve as an interesting perspective. Notably, that the villain (who is easily among the most recognizable, most distinctive, and certainly one of the most iconic in Disney history) will also be our central lead character. How that will be executed will certainly be interesting to see.
When Did Cruella Start Production?
It was revealed at this year's D23 Expo back in August 2019 that Cruella was currently in production. After years of headlines on uncertain terms (it was originally announced back in 2013), this sudden production reveal came as a surprise. Following many delays and false starts, the cameras were finally rolling on the new Disney movie. It was subsequently revealed that production finished in November of this year, which proves that the movie had an extended production schedule. It might seem like a long time before May 2021, but that is not uncommon for movies of this scale and size.
Are There Any Teasers Or Trailers For Cruella?
At the moment, there are no official promotional materials for Cruella outside of the production still shown at the top of this article. That serves as our first (and currently only) look at Emma Stone's interpretation of the famous Disney character. When the 2021 release date gets closer, however, we should expect to see more from this upcoming blockbuster. But the earliest we can expect to see anything related to the new film is likely around May 2020.
What Will Cruella Be Rated?
It is much too early to know for certain, but one's best guess would be PG. If it follows the vein of 2014's Maleficent and this year's Maleficent: Mistress of Evil, the content might be more intense than a G rating would allow, but it likely won't push too far into PG-13 territory. Especially when you take into account the G ratings for 1961's One Hundred and One Dalmatians, 1996's 101 Dalmatians, and 2000's 102 Dalmatians, it's unlikely that Disney will want to push Cruella too far into any adult-related material. With that in mind, it is possible that this new movie might be G rated as well.
Who Is In The Cast For Cruella?
As it has been noted earlier, Emma Stone will take on the title role of Cruella de Vil. Joining the Oscar-winning actress in the cast, however, are Paul Walter Hauser (I, Tonya, Richard Jewell), Joel Fry (Game of Thrones), Mark Strong, and Emma Thompson, to name only a few. It is a starry cast, which only makes sense. Cruella is looking to be one of Disney's biggest releases in 2021, and this movie lets these actors work with one of Disney's most well-known characters. It seems like a fun opportunity with lots of exposure to boot, which should hopefully rise the profile of rising stars like Hauser.
Is Glenn Close Involved?
Since the film will follow the younger years of Cruella de Vil, Glenn Close will not be reprising her role in this live-action film. However, Close is still involved with this new movie. Specifically, the Oscar-nominated actress will be an executive producer on Cruella, which shows that she'll have a creative involvement in this new re-imagining of Cruella de Vil's origins. Hopefully, Emma Stone's take on the role is on par with Close's work.
Is Cruella A Prequel To The Live-Action 101 Dalmatians Movies?
While it has not been said specifically by either Disney or anyone involved with the production, it sounds like Cruella could serve as a prequel to the previous live-action 101 Dalmatians movies from 1996 and 2000, respectively. Nothing has been confirmed regarding this possible connection, but Glenn Close's involvement as an executive producer seems to suggest that the new film might be loosely connected to the movies from the '90s/'00s.
Who Is Producing Cruella?
Cruella comes from producer Marc Platt, who was nominated for Best Picture (and almost won) for La La Land. This film established the producer's working relationship with star Emma Stone. His other titles include Legally Blonde, Wanted, Scott Pilgrim vs. The World, Drive, Into the Woods, Mary Poppins Returns, Aladdin, and several others. Also serving as a producer is Andrew Gunn, who worked with Disney on Sky High and Freaky Friday, and Kristin Burr, who recently produced Christopher Robin and Dora and the Lost City of Gold. Also, as mentioned earlier, Glenn Close is involved in the project as well. She will serve as an executive producer, so she'll have some influence on this new movie centered around this famous character.
What Do We Know About Cruella de Vil (Emma Stone)
Ever since her first introduction in 1961's One Hundred and One Dalmatians, Cruella de Vil has been one of Disney's most recognizable, distinctive animated villains. First created by author Dodie Smith, the fur-wearing, black-and-white haired, dog-hating villainous has become one of the most famous and iconic villains in cinematic history — Disney or otherwise. Boosted by the tremendously campy performances from voice actress Betty Lou Gerson and Oscar-nominated actress Glenn Close, Emma Stone is in great company in adopting this role, and it is a fun, lively Disney villain role.
With a year-and-a-half to go before Cruella makes her way into theaters, we should expect to see and hear more details about this newest Disney blockbuster in the months to come. Stay tuned to CinemaBlend to find out more details about this new, upcoming Disney title, starring Emma Stone!
Your Daily Blend of Entertainment News
Will is an entertainment writer based in Pittsburgh, PA. His writing can also be found in The Playlist, Cut Print Film, We Got This Covered, The Young Folks, Slate and other outlets. He also co-hosts the weekly film/TV podcast Cinemaholics with Jon Negroni and he likes to think he's a professional Garfield enthusiast.
Your Daily Blend of Entertainment News
Thank you for signing up to CinemaBlend. You will receive a verification email shortly.
There was a problem. Please refresh the page and try again.