Avengers: Infinity War Test Footage Shows Vision Brutally Kill One Of The Black Order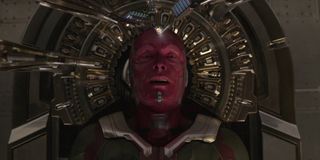 CinemaBlend participates in affiliate programs with various companies. We may earn a commission when you click on or make purchases via links.
Because of the injury he sustained early on in Avengers: Infinity War, as well as being targeted by The Black Order due to being powered by The Mind Stone, Vision sat out a lot of the action in the 2018 Marvel movie. However, he did kill Corvus Glaive before the Black Order member could eliminate Steve Rogers, though the method in which Vision took out Corvus could have been more gruesome.
In the final version of Avengers: Infinity War, Vision simply impaled Corvus Glaive with his own staff, but as you'll see in the video below, the multicolored android could have killed his opponent with his phasing ability.
from r/marvelstudios
Here we have Avengers: Infinity War VFX test footage of Vision and Corvus Glaive fighting in what looks like Doctor Strange's Sanctum Sanctorum, although it lacks any distinguishing details. Because this wasn't a fully fleshed-out scene, presumably the animators just came up with a random location that fit the kind of fight they were envisioning, as opposed to pouring in extra effort to recreate Wakanda.
Regardless, as you can see in this video that's available on the Infinity Saga box set (via Reddit), Corvus Glaive is able to block Vision's energy attack with his scepter, but before Corvus can rip the Mind Stone out of Vision's forehead, the android phases through his opponent and crushes his heart. That's, uh, nasty.
Most of the time in superhero stories, phasing is used to walk through walls, avoid grievous injury and even disrupt machinery. However, there are instances when it's used for lethal means, and Vision demonstrated how easy it is for someone who can phase to easily snuff out their opponent's life. If you can access their heart, brain or any other vital organs, then it's game over.
While Vision killing Corvus Glaive this way isn't gory per say (although it certainly could have been if Vision had pulled Corvus Glaive's heart out), I suspect the folks working on Avengers: Infinity War decided to go in a different direction to keep things in PG-13 territory. Granted, the android impaling the Black Order operative is still violent, but crushing someone's heart might have pushed the proverbial envelope a little too much and made the younger moviegoers uncomfortable, if not outright terrified them.
Either way, the end result was the same. Corvus Glaive and the other members of the Black Order, also known as the Children of Thanos, were all dead by the end of Avengers: Infinity War, although their "father" was still successful in collecting all six Infinity Stones and erasing half of all life in the universe. However, because the 2014 versions of Thanos and his forces made their way to the future in Avengers: Endgame, the Black Order was seen again, only to be snapped away by Tony Stark (except for the past Cull Obsidian, who died earlier in battle).
As for Vision, like Black Widow, he was not resurrected by Hulk's snap during Avengers: Endgame, but we haven't seen the last of him. Paul Bettany costars alongside Elizabeth Olsen in the upcoming Disney+ series WandaVision, which sees Vision somehow resurrected and living with Wanda Maximoff, a.k.a. Scarlet Witch, through various sitcom scenarios. (By the way, for those of you not subscribed to Disney+, the streaming service is offering a seven-day free trial).
WandaVision is set to debut on Disney+ sometime later this year, so keep checking back with CinemaBlend for updates on that project and the rest of the MCU. Find out what's hitting the big screen in Phase 4 and beyond with our handy guide.
Connoisseur of Marvel, DC, Star Wars, John Wick, MonsterVerse and Doctor Who lore. He's aware he looks like Harry Potter and Clark Kent.
Your Daily Blend of Entertainment News
Thank you for signing up to CinemaBlend. You will receive a verification email shortly.
There was a problem. Please refresh the page and try again.