Joker's Cinematographer Worried About Joaquin Phoenix Going Too Far Into Character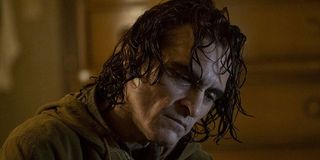 If you've seen Joker, you know Joaquin Phoenix is bleak and a little unhinged, sharing a portrayal of the effects of ill-nurturing and mental illness on individuals and in society as a whole. The movie opens with Phoenix's character dressed as a clown, who is beat up shortly after a sign he is carrying is stolen. There's a lot happening with the performance, to the point where Joker's cinematographer was a little concerned Phoenix would take the role a little too far.
Surprisingly, while the violence inherent to Joker was at the forefront of the conversation when the movie came out, less was said about how Joaquin Phoenix went really deep into character when taking on the role. Sure, his weight loss has been noted, but according to cinematographer Lawrence Sher there was at least the concern in the back of his head that the role might go too far or be difficult for Phoenix.
Ultimately, Joaquin Phoenix would lose 52 pounds in order to inhabit the look of Arthur Dent in the Oscar-nominated Joker. Phoenix would later explain that prepping for the role really happened when the weight started coming off, but that it also affected his psychology as well. Great for the movie but I'd assume not so great for his personal health.
Unlike Heath Ledger, who allegedly had trouble sleeping while playing the Joker in Christopher Nolan's The Dark Knight (he later overdoses on sleeping pills and prescription drugs), Lawrence Sher also told NME he was more worried because of the physical commitment Joaquin Phoenix took on playing Arthur Dent. It's a comparison Phoenix also seems to have taken to heart as he's said on the awards circuit he's "standing on the shoulders" of the late actor. Per Sher there were no specific examples of this beyond feeling Phoenix was taking it to the very edge:
Those involved with Joker have gone on the record of saying Joaquin Phoenix originally wanted to gain weight for the role, and the actor has noted, 'it just seemed like it would be easier," when asked why. He and Todd Phillips had a little back and forth about whether it would ultimately be weight loss or gain and the loss won out. Phoenix told us more about this on CinemaBlend's ReelBlend podcast late last year.
There's a lot that's been written about Joker in the months since Todd Phillips' big movie was released by Warner Bros. and DC. The movie has attracted a lot of notice and has been nominated for more Academy Awards than any other movie this year. Much of this may be directly credited to the way Joaquin Phoenix portrayed the iconic Batman villain and that may not have been possible without the rigorous physical and mental toll it took on the actor.
In the interview, Lawrence Sher even mentioned that Joaquin Phoenix was injured early in the process of making the movie and never complained, even running during certain scenes. He was dedicated to the role and Sher says he admired "it big time."
The work put into the performance paid off in spades. Joker has gone on to make over a billion dollars worldwide and has been a huge success for its parent studio given its relatively low budget. Joaquin Phoenix already won a Golden Globe and several other awards for his performance, and the movie as a whole has both won and been nominated for its score, its direction, its screenplay and much, much. Next up, we'll see how it fares at the 2020 Oscars, which air on ABC on Sunday, February 9 at 8 p.m. ET.
Amazing Race & Top Chef superfan with a pinch of Disney fairy dust thrown in. Theme park junkie. If you've created a rom-com I've probably watched it.
Your Daily Blend of Entertainment News
Thank you for signing up to CinemaBlend. You will receive a verification email shortly.
There was a problem. Please refresh the page and try again.