Heath Ledger's Final Days: The Events Leading Up To His Death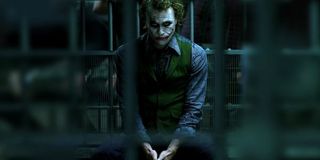 In 2008, when Heath Ledger overdosed on a cocktail of prescription pills, he was at the pinnacle of his career. He had been nominated an Oscar in 2005 for his portrayal of Ennis Del Mar in Brokeback Mountain. In 2007, he was one of seven actors to portray Bob Dylan, in another award winning performance in I'm Not There, and of course, there was his upcoming performance as The Joker in Christopher Nolan's The Dark Knight, a role that would bring widespread acclaim and even more fame. Sadly, he would experience none of it as he tragically died of a drug overdose while The Dark Knight was in post-production, at age 28, on January 22, 2008.
For months before his death, as he was working on what would be his final performance in The Imaginarium of Doctor Parnassus, Heath Ledger had what some of his co-stars and friends described as "walking pneumonia." Ledger was having a lot of trouble sleeping and he was mixing up a cocktail of sleeping pills and other prescription drugs in a desperate attempt to get some rest.
Sadly, the pills weren't helping very much. Heath Ledger's friend, Gerry Grennell, lived with him for a time in those last couple months, and he told People Magazine:
Heath Ledger's downward spiral had begun months earlier when his partner and mother of his then-two-year-old daughter, Michelle Williams, broke off their relationship and kicked him out of their house in Brooklyn. The reason for the breakup has never been fully revealed by Williams, but most reports are that she was fed up with Ledger's lifestyle and drug abuse.
After their breakup, Heath Ledger moved into an apartment in SoHo, in Manhattan. It was there that he would take the lethal combination of drugs that caused his accidental overdose. When he moved, Ledger was working on what would become the defining role of his career as The Joker in The Dark Knight. His immersion into the role and his almost insane commitment to the character clearly took a lot out of him, physically and mentally. He wanted his performance to be unpredictable. His director in The Dark Knight, Christopher Nolan, said of his performance:
It was during the filming of The Dark Knight that Ledger's illness and insomnia got worse, and those close to him got more concerned about his mental state. That said, his sister, Kate, whom he was very close to, disagrees that the role played a part in his death, saying:
Kate was also one of the last people to speak to Heath Ledger, on a phone call the night before he was found dead from a combination of oxycodone, hydrocodone, diazepam and doxylamine. She said he showed no signs of depression and there wasn't any hint that he might be suicidal.
As is the case in any situation like this, there has been and probably always will be speculation about Heath Ledger's overdose. Questions like whether the overdose was on purpose, was he trying to kill himself that dark night in the winter of '08? The answer from most of those close to him has been a resounding "no." His father blames his son for his own death, but doesn't think it was suicide, saying:
Heath Ledger's father has spent the last decade warning people of the dangers of prescription pills like the kind Ledger overdosed on.
Today, a decade after Heath Ledger's tragic overdose, his legacy still looms large. Of course, he won a posthumous Oscar for his brilliant portrayal of The Joker in the Dark Knight and in the years since, the praise for Ledger with that role and his others, like his performance in Brokeback Mountain, have only grown louder.
The legacy of his overdose also lives in on the work his father has done, and sadly, in how it has effected Michelle Williams and their daughter. Williams has recently seemed to have found peace with his tragic death, even if she may never understand it fully. In an interview with Vanity Fair, she said:
Like so many of the brightest burning stars, like River Phoenix, Philip Seymour Hoffman, Chris Farley, and many others, Heath Ledger's star burned out far quickly because of drugs, but his legacy never will.
Your Daily Blend of Entertainment News
Hugh Scott doesn't believe aliens are hidden at Area 51 or that Elvis is alive, but he does believe birds are real and Meghan Markle isn't treated fairly by the tabloids. He's been writing about music, movies, and celebrities for most of his adult life after realizing stocking shelves in a paper warehouse in college wasn't all it was cracked up to be.