Why Star Trek Should Get Back To Tying Movies To Television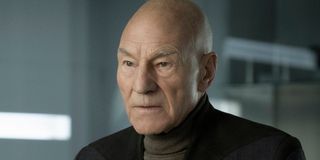 We're approaching four full years since the release of Star Trek: Beyond, and there's still no word on what exactly the next movie in the Star Trek universe will be about. There's been conflicting reports about whether the upcoming movie will be a conclusion to the Kelvin timeline or another reboot, and even a separate Quentin Tarantino movie in the mix. The floor is open for the moment, and I'd like to suggest another option to whatever is on the table in Star Trek movies in the future: a film tied to the television shows.
There was once a time where this was the only option for Star Trek movies, but obviously things changed when 2009's Star Trek hit the scene. Since then, there hasn't been an official effort to make movies based on television offerings, and I believe it's high time to re-open that door. In a world where Paramount is wondering what to do with these movies, why not find some inspiration in television? Here's some food for thought on why the Star Trek franchise should "boldly go" back to the thing it has done in the past.
Star Trek Has Greatly Expanded Its Lore As Of Late
Thanks to Alex Kurtzman, there have been some major additions to the Star Trek lore via Star Trek: Discovery, Picard and all the shows that are in or soon to be in development. There's so much that has happened in the Prime timeline as of late that television will be able to cover for years on end, and movies too if Paramount wants to.
Right now, the two main candidates for a feature film are Star Trek: Discovery and Star Trek: Picard. With that being said, it's a no brainer to put Patrick Stewart's Picard at the head of a future Star Trek movie given his Hollywood star power and love within the Star Trek fandom. With Star Trek: Picard already in for at least 2 seasons, it wouldn't hurt to have a movie or two between breaks for fans to show up in theaters for.
People may not show up for just any Star Trek movie based off the modern shows, but I'd like to believe they'd show up to see Jean-Luc Picard. With Stewart's increased age and legacy, there's no better time than the present to honor him and his legacy to the franchise than with another major motion picture sometime before he hangs it up for good. On these grounds alone, Paramount needs to be working on some Picard movie before the window to do so has passed.
Brand Synergy
Personally, I think it's shocking that there hasn't already been talk about tying Star Trek's television and movie universe together more closely. In an age where movies on streaming services are winning acclaim and all sorts of prestigious awards, one could justify Paramount making a Star Trek movie exclusive to CBS All Access seeing as both are owned by ViacomCBS. CBS All Access has not done an original movie on its platform yet, but this would be a great test run.
Let's be honest, part of the reason the rebooted Star Trek movies are successful is because they're only loosely connected to the television lore. Making a movie with strong ties to television now would alienate a mainstream audience, which is the last thing a studio producing a blockbuster movie wants to do. So then, why not scale things back just a tad and make an All Access exclusive Trek film for the platform?
In doing so, Star Trek would be bringing a movie directly to the audience it's hoping to serve. If it's released outside of a season, it may even convince those who don't subscribe to the platform week to week to hold onto their subscription for a bit longer so that they can be among the first to see the movie in question. If there needs to be a big screen debut, give it a weekend or two via a Fathom Events screening or something like that for anyone wanting that traditional theater experience.
Going The TV Route Would Be Likely Be The Cost-Effective Method At This Point
Part of the reason Star Trek: The Next Generation was made to begin with is because executives realized making a new show might be more cost-effective than continuing to meet the salary demands of the stars of the Original Series for more movies. The same could be true in regards to Star Trek 4, which would likely require a sizable payday for some of the major actors it would need to get back.
In comparison, Star Trek: Discovery has plenty of talented actors who would run a much smaller price tag. Sure, it may be a risk to put a cast with two seasons of backstory on the big screen, though the show's jump to the future does present an entry point that wouldn't necessarily require an audience to be privy to every detail that happened in the show's past. Plus, this cast could carry a movie; just look at character actor Doug Jones, who arguably has the most experience when it comes to film from the main lineup of performers.
I've already made my case previously for a Star Trek: Picard movie, but it bears repeating. There's even an opportunity there to bring in one of the many other former Star Trek: The Next Generation actors for a movie like that, which would still be more cost effective than Chris Pine and Zoe Saldana. Sure, there are some things lost in going cheap, but being cost effective leaves the odds high for a bigger return at the box office. Obviously said odds favor a blockbuster release, but with Star Trek: Beyond under performing, there's also odds a movie like Star Trek 4 could flop.
Do you think Star Trek should go back to tying its movies to the television universe? Sound off in our poll below, and throw down any additional thoughts and suggestions down in the comments. As always, CinemaBlend is the place to be for all things happening in the world of television and movies.
This poll is no longer available.
Your Daily Blend of Entertainment News
Mick likes good television, but also reality television. He grew up on Star Wars, DC, Marvel, and pro wrestling and loves to discuss and dissect most of it. He's been writing online for over a decade and never dreamed he'd be in the position he is today.
Your Daily Blend of Entertainment News
Thank you for signing up to CinemaBlend. You will receive a verification email shortly.
There was a problem. Please refresh the page and try again.