Connected Trailer: Chris Miller And Phil Lord's Spider-Verse Follow-Up Is All About Family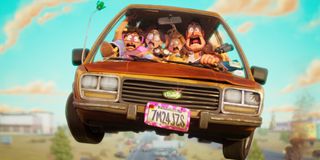 No matter the circumstances or the plot line, if Chris Miller and Phil Lord are involved with an animated project, chances are there's going to be a family-friendly storyline and some sort of catastrophe to drive it. Sure enough, the producers that brought us Spider-Man: Into The Spider-Verse have landed another film that centers on just that, as the new Sony Pictures Animation film Connected sees a family in crisis fighting through a dangerously funny robot apocalypse.
Get your first look at the end of the world below:
With a voice cast that includes Danny McBride, Abbi Jacobson, Maya Rudolph, Eric Andre, and Academy Award Winner Olivia Colman, Connected has an amazing cadre of talent behind this rather energetic looking doomsday. Though it's not all about a gigantic robot uprising, rather it's about a family that just happens to have to wade through such a scenario.
The unlucky family that has to deal with this sentient menace is the Mitchells, and it couldn't have come at a worse time as their daughter Katie (Jacobson) is about to leave home for film school. But instead of flying, like any normal kid ready to leave the nest, her parents Rick (McBride) and Linda (Rudolph) decide that it'd be a cool idea to pack up the family and drive cross-country to deposit their eager young girl themselves.
Seeing as Connected has promised us technological mayhem, there's a ghost in the machine that's looking to conquer the world, and its name is "Pal." Named after the tech giant that created it, and voiced by Olivia Colman, Pal is going to use its corporate parents' latest creation, the Helper Bot, to wage war against mankind.
While that war seems to consist of mishaps involving vending machines, toasters, and toilets, Connected still manages to inject some menace into its wacky premise. But, of course, in true Lord and Miller fashion, there's a heavy undercurrent of acceptance and family that offsets the bizarre nature of the situation at hand.
That also comes from the people who actually crafted the story for Connected, as both writer Jeff Rowe and director/co-writer Mike Rianda have a background with exactly that sort of storyline. As writers of the Disney Channel hit Gravity Falls, Rianda and Rowe know exactly how to make an audience care about a family unit, just as the weird overreaching conspiracy starts to hit the fan.
Put together an insanely talented cast of voices, the creative talents behind one of cable's most beloved animated hits, and a pair of producers that have built an empire on making audiences laugh and smile while thinking things over, and you've got the coding behind Connected. And from the looks of things at the moment, it looks like we've got a movie programmed for maximum enjoyment on our hands.
Connected goes online on September 18th, but stay tuned to CinemaBlend for further updates pertaining to this robopocalyptic event, as you'll want to be prepared for when the metal ones come for you… and they will.
CinemaBlend's James Bond (expert). Also versed in Large Scale Aggressors, time travel, and Guillermo del Toro. He fights for The User.
Your Daily Blend of Entertainment News
Thank you for signing up to CinemaBlend. You will receive a verification email shortly.
There was a problem. Please refresh the page and try again.