6 Ways Doctor Strange 2 Could Be A Game-Changer For The MCU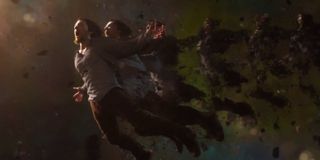 The Marvel Cinematic Universe is only getting bigger — and stranger — from here. Even after last year's climatic Avengers: Endgame, the MCU is set to grow from this point forward, and that includes a number of streaming spinoffs shows and cinematic sequels. Included in this content lineup is Doctor Strange In The Multiverse Of Madness, which could possibly change things up for Marvel.
In fact, if it's done right, this Doctor Strange sequel could turn into a game-changer for the movie-making company. It's hard to know for certain given that it isn't even in production yet, but here are some potential signs that Doctor Strange 2 could change things for the better over at the MCU and improve upon the foundation that has turned the MCU into a towering hit.
Sam Raimi Will (Hopefully) Give Doctor Strange 2 A Vibrant Vision (Assuming He Directs It)
We've already gone into significant detail about why Sam Raimi would be a great fit for this project, but one of the main reasons why Raimi possibly taking over the helm of this new blockbuster sequel is so exciting is because his hiring promises a vibrant vision that has otherwise often been lost in this extended cinematic universe. While James Gunn's filmmaking influence is apparent throughout the Guardians of the Galaxy films, Ryan Coogler did wonders with Black Panther, and Jon Favreau's directorial stamp in the first two Iron Man installments shouldn't be dismissed, the MCU has often been more inspired from a producer standpoint than from a director's perspective. That's not to discredit what Kevin Feige has done with this 20+ movie universe, but Phases 4 and 5 should allow more visually distinctive moviemakers to take over the helm.
Hiring Sam Raimi is a great step forward in this regard. His movies are kinetic and visually stunning in a specific, filmmaker-focused way. Even when he works with major studios and famous intellectual properties, as he did with the first three Spider-Man movies, his creative vision isn't watered down or drained. He thrives in budgets both big and small, so Doctor Strange 2 could open the door for more director-friendly movies inside the MCU — a factor that (for the most part) has been absent throughout the popular money-making machine ever since the early days of Phase 1.
Establishing New Marvel Characters And/Or Alternate Characters In Other Universes
As we've seen with over 20 different blockbusters throughout the past decade and change, there are a lot of characters to be found in the MCU. The world building found therein is certainly impressive and undoubtedly a daunting task. With each new installment added, the franchise only continues to up the ante and expand its horizons. In the case of Doctor Strange In The Multiverse Of Madness, the folks behind the MCU will do that literally. This blockbuster sequel will notably introduce the concept of the multiverse into the Marvel formula, as the title doth suggest. That could shake things up a bit.
With the incorporation of the multiverse within the familiar MCU, we have a chance to see a bunch of new characters — as well as possibly the addition of several different variations of familiar characters, living in dimensions alternate to the one we've seen throughout this continually-growing saga. That is certainly an exciting prospect, and one that would introduce a whole other realm of possibilities for these well-established characters.
Exploring The Vast Realms Of The Multiverse In The MCU
It's hard to know exactly how far down the rabbit hole we'll go in Doctor Strange In The Multiverse Of Madness. Certainly the mere incorporation of a multiverse suggests that there are a bunch of radically bizarre ideas set to be introduced into this familiar cinematic landscape, and audiences could be looking at a portal into many vast realms of madness within this invitation into the multiverse. Like we said before, we don't know what's in store with this movie, but it does get the imagination spinning. And if they really lean into the goofiness that can be found in this loopy premise, it'll really get wild.
As the multiverse is set to throw pretty much everything — including time and space — on its head, Doctor Strange In The Multiverse of Madness will, as the title suggests, put our time-bending character through a bender of his own. Given that it's a Disney movie, it might not go down the horror route as much as some folks would like, but it will almost certainly get kooky — more kooky, we are willing to bet, than your average MCU movie experience. We got a taste of other realities throughout key sequences in 2016's Doctor Strange, but this sequel will likely really push things into cosmic surrealism.
Allowing Doctor Strange To Grow And Mature In His Superpowers
Typically the best superhero sequels allow the central heroic characters to be challenged and changed, particularly as they grow more comfortable and assured with their powers. Doctor Strange is a character with incredible powers, even within the mystical MCU. With 2016's Doctor Strange, as well as his supporting roles in Thor: Ragnarok, Avengers: Infinity War, and Avengers: Endgame, we saw the magical character growing into his astounding powers — in both comedic and dramatic fashion. But with his own sequel coming up the pipeline, we'll see the character tested more than ever before.
With no real confirmation for what's in store for Doctor Strange In The Multiverse Of Madness's story, it's hard to know exactly how the title character will be challenged or troubled in this new movie. But with the multiverse presenting many different possibilities, this should hopefully give us a chance to really see this character pushed to his wit's ends in exciting, intriguing and hopefully thrilling and entertaining ways.
Doctor Strange In The Multiverse Of Madness Has The Possibility Of Becoming The Trippiest Marvel Movie To Date
In 2016's Doctor Strange, there are a few memorable scenes where we got a mere taste of the trippiness that the Strange mythos is capable of providing. Those scenes for many viewers, including myself, remain the high points of the Marvel blockbuster, and the sort of lucid, mind-melting sequences that we hope the upcoming Doctor Strange 2 will provide in liberal doses. Alas, director Scott Dickerson abruptly leaving the project spelt out trouble, but the rumored hiring of Sam Raimi in his place suggests Marvel will do what it can to provide a more bonkers, out-of-this-world visual extravaganza within its familiar Marvel formula. Doctor Strange 2 could end up being the most hallucinatory MCU movie yet, particularly with the Guardians of the Galaxy movies and Thor: Ragnarok, to name just a couple recent examples, helping to push the envelope in terms of Marvel's kooky visual aesthetics.
There's no guarantee that this is gonna be the case for Doctor Strange In the Multiverse Of Madness, but one should hope that it is. One of the chief criticisms that often gets lodged at the Marvel movies is the lack of visual style. Whether or not that is warranted is another discussion. If this sequel decides to really push things up a notch and let themselves get into some pretty wild stuff, we could be looking at the trippiest Marvel movie to date.
Doctor Strange 2 Will Connect The Marvel Movies With The New Disney+ MCU Shows
Beyond what we can expect from the movie itself and its broader implications for the MCU, Doctor Strange In The Multiverse Of Madness is expected to be a game-changer for the superhero movie universe in one especially key way: it's set to blend the movies themselves with the upcoming Disney+ streaming shows centered around MCU characters (as well as new, upcoming MCU characters). Namely, it has been revealed that the events in both Loki and WandaVision will tie into the storyline set to be seen in Doctor Strange 2, either in big or small ways. This is a big deal for Marvel's future.
Admittedly, I've been critical of this decision, as I'm not sure if I'll be watching two whole shows just to fully understand the plot of Doctor Strange 2. Nevertheless, it does propose a turning point for Marvel's future plans. Specifically, how the universe itself will be expanding on both the big and small screens moving forward. While there have been Marvel shows in the past, including Netflix's Daredevil, Jessica Jones, Luke Cage, Iron Fist, The Punisher, and The Defenders, as well as ABC's Agents of S.H.I.E.L.D. and Agent Carter (which did have a mini-crossover in Avengers: Endgame), they didn't have a big impact on the MCU itself. They were shows you can watch if you liked the characters, but their direct implications to the wider MCU were slim-to-none. That's set to change with Disney+'s slate of Marvel-related shows. We will see the impact of this change starting with Doctor Strange 2.
These are only a few reasons why Doctor Strange In The Multiverse Of Madness might be a big deal for Marvel. But what do you think? Are you excited to see this latest Marvel sequel? Do you think it has a chance of being something truly special for the MCU or just another installment of the elaborate movie-making movie universe? Neither? Both? Let us know your own thoughts on Doctor Strange 2 in the comment section below.
Your Daily Blend of Entertainment News
Will is an entertainment writer based in Pittsburgh, PA. His writing can also be found in The Playlist, Cut Print Film, We Got This Covered, The Young Folks, Slate and other outlets. He also co-hosts the weekly film/TV podcast Cinemaholics with Jon Negroni and he likes to think he's a professional Garfield enthusiast.