Batman Vs. Moon Knight: Can DC's Dark Knight Take On Marvel's Fist of Khonshu?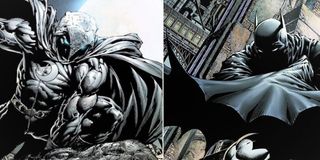 We've ruminated over a few match-ups between comic book characters in the past. We've already pit Wonder Woman against Captain Marvel, decided if Thor or Aquaman had the more powerful weapon, and came to a conclusion on whether Morbius could defeat Blade or not. But now, we're not messing around. We're pitting DC against Marvel yet again. Batman, the caped crusader, or Moon Knight, the Fist of Khonshu? Who would win?
We already know that Robert Pattinson will be yet another actor to don the cape and cowl in Matt Reeves' upcoming movie, The Batman. But we've already seen plenty of interpretations of Batman before on the big screen. Who we haven't seen yet in live-action is Moon Knight, who is set to have his own upcoming show on Disney+. A lot of DC fanboys like to mock Moon Knight, calling him a cheap imitation of Batman. But the man known as Marc Spector has gone through enough interpretations that he's become his own sort of antihero. Some might even call an insane version of Batman (though, some fans will argue that Batman IS insane). But let's get into it. Who would win in a battle and why?
Batman
Batman, the Dark Knight, was created back in 1939 by artist, Bob Kane, and writer, Bill Finger. He made his first appearance in Detective Comics #27 and has become one of the most famous and recognizable comic characters of all time. Everybody knows his backstory. Son to Martha and Thomas Wayne, Bruce Wayne lost both of his parents when they went into an alley and were shot to death by a criminal (who, depending on the backstory, may or may not have been The Joker). Born to money, Bruce swore vengeance to all criminals from that day forth, and he uses his rich playboy persona to hide his crime-fighting exploits.
Strengths
Batman is an expert martial artist, a weapons master, a detective, and a genius. He was once voted out of the Justice League in the famous Tower of Babel story line because his knowledge of how to defeat every member of the Justice League (in case they turned evil) got into the wrong hands. But keep that in mind. Batman deduced a way to defeat every member of the Justice League, which includes Superman, Wonder Woman, and the Green Lantern--three of the most powerful characters in the DC universe.
This is why most people think that Batman could defeat anybody if he had enough time and preparation. He plans, he thinks things through, and he's brilliant. Plus, to know Batman is to know his rogues' gallery, which consists of a wide assortment of villains, including the crazed Joker, the genius brute, Bane, and even Clayface, a villain with supernatural abilities. Add to the fact that Batman fights other super powered villains alongside the other members of Justice League and you a hero for the ages.
Weaknesses
Batman doesn't have many, but if he has one crippling flaw in this hypothetical battle, it's that he refuses to kill. This might seem like a virtue, but against somebody who has no problem with killing and a high tolerance for pain, it could hurt Batman in the long run. Especially if that person is just as skilled in combat as he is.
Moon Knight
Marc Spector, aka Moon Knight, was created by writer Doug Moench (who also created Deathlok) and the artist Don Perlin. He made his first appearance as a villain in Werewolf by Night #32 back in 1975, where he was so popular that he eventually got his own comic book series. He started out as a prizefighter, but quit after he punched his rabbi father in the face when he stepped in the ring to stop him. He then enlisted in the Marines, and eventually became a mercenary after he served two tours. But when a mission went wrong in Egypt with his partner-turned-enemy Raoul Bushman, he was left for dead. It was the best thing that could have happened to him though, since he was brought before the Egyptian god, Khonshu, and was offered to be brought back to life if he would be the god's Avatar. Marc accepted and became the Moon Knight. Maybe. He might just be delusional.
Strengths
Besides the whole Khonshu backstory, on a surface level, Moon Knight shares a lot with Batman. He's an expert martial artist, a detective, and a master at weaponry like swords and sticks. But because of his military background, he's also an expert marksman and is willing to kill people. He even has certain psychic resistance because of his split personalities.
Oh, and about that. Initially, Marc Spector CHOSE a few alternate aliases, like the taxi cab driver Jake Lockley, which he took upon himself to find out street level intel, and also Steven Grant, who's rich since Marc amassed a huge amount of money in investments (estimated at 2.3 billion) so he could have cool high tech weapons when he goes out as Moon Knight. But a lot of comic writers have played with this concept, with some of them making it so Marc Spector has dissociative identity disorder and that none of what he believes is real is actually true. This might also lead to his "superpowers", as Marc gets stronger with the different phases of the moon, enhancing his abilities. But could it all just be in his head?
Weaknesses
His fractured mind sometimes makes him not trust his own instincts. This could certainly be exploited by any genius who could figure this out.
Batman vs. Moon Knight
A lot of people would simply say "Batman," since they think Batman could defeat anybody with enough time and preparation, but let's even this battle up and say that Batman had no preparation. In fact, let's set the scene at night since that's when Batman would likely fight anyway since he hides in the shadows. And let's just say he finds Moon Knight making a bloody moon scar on somebody's forehead since Moon Knight often likes to do. Who would win then?
Well, it would be interesting. Batman would likely get the jump on Moon Knight since Moon Knight tends to stay focused on the task at hand. If this were to happen, Batman would have the advantage. He would likely disarm Moon Knight and try to take him down with a few batarangs. But once Moon Knight realizes that he's being attacked, he would quickly change targets.
Moon Knight's combat training would come into play here, and Batman, seeing he's equally matched, would probably switch gears and go onto having Moon Knight chase him, which Moon Knight would likely do. Moon Knight, when he is on the hunt, would likely chase after Batman, and catch up to him if it's a full Moon. Once Moon Knight grabs a hold of Batman, it will be brutal. Moon Knight will pound on Batman for awhile, feeling the power of Khonshu with every punch he delivers.
But Batman's training will likely edge out Moon Knight's. Mostly because Batman has fought alongside superheroes like Superman and the Flash, meaning he has fought against other super-powered villains as well. Moon Knight was once in the West Coast Avengers, but that pales in comparison to the types of villains that Batman has been up against when fighting alongside Supes and Princess Diana of Themyscira. For the most part, Moon Knight's villains are forgettable, so he doesn't have the training that Batman has had in his settings. That's why, as much as it pains me to admit this (Moon Knight is my favorite Marvel character), I'm going to have to give the victory to Batman. He would eke out the victory because of his experience. But he wouldn't kill him. He'd probably just throw him in Arkham Asylum with the other bad guys.
Do you agree with this, or do you think Moon Knight would manage to squeak out the victory and kill Batman (Because you know if he got the opportunity, he would kill him). Sound off in the comments below.
This poll is no longer available.
Your Daily Blend of Entertainment News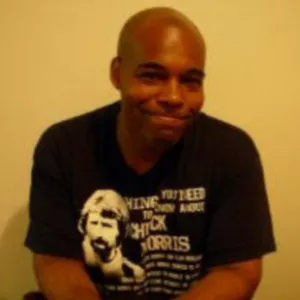 Rich is a Jersey boy, through and through. He graduated from Rutgers University (Go, R.U.!), and thinks the Garden State is the best state in the country. That said, he'll take Chicago Deep Dish pizza over a New York slice any day of the week. Don't hate. When he's not watching his two kids, he's usually working on a novel, watching vintage movies, or reading some obscure book.